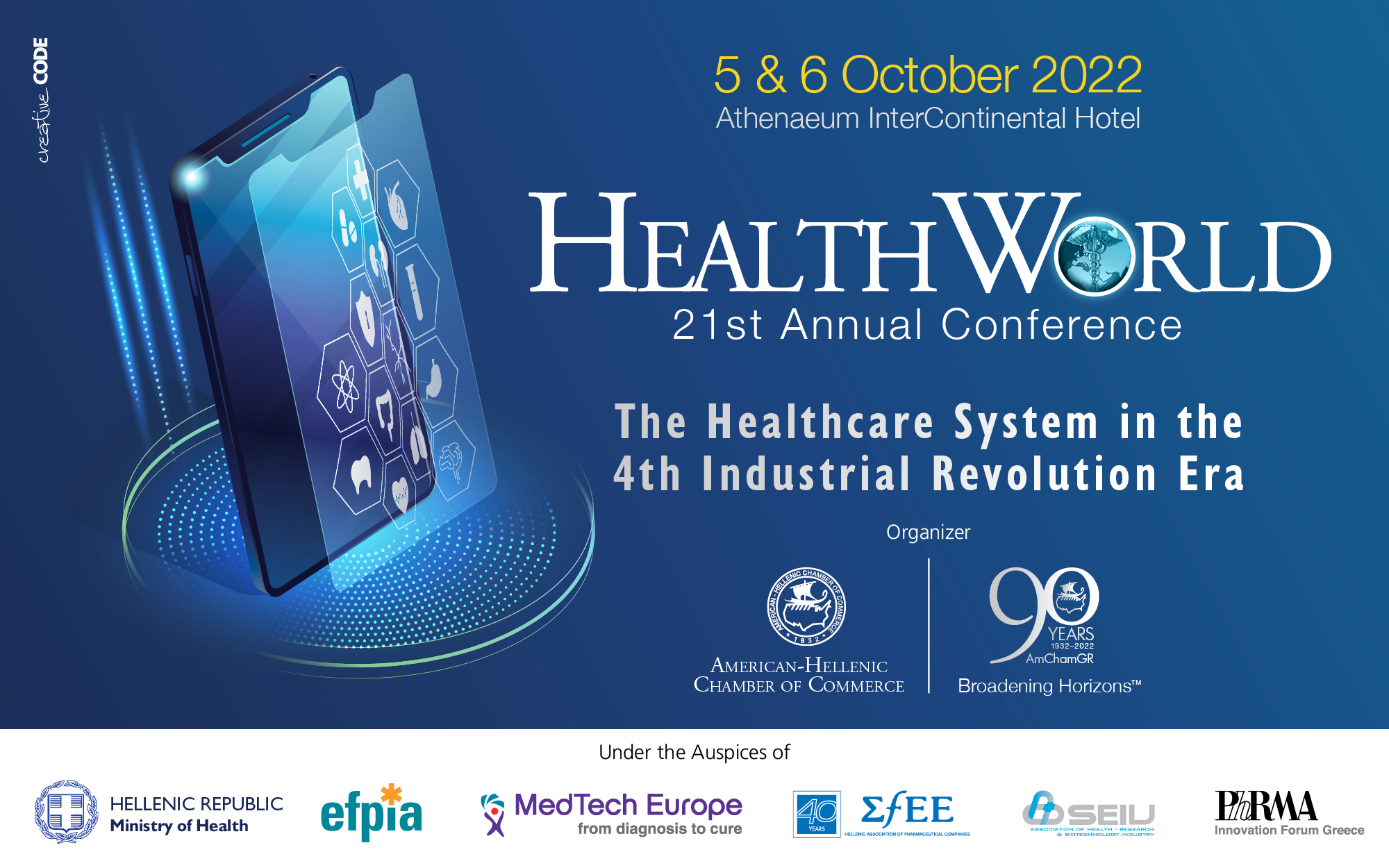 HEALTHWORLD 2022
One more successful HealthWorld Conference was completed!
The 21st HealthWorld Conference – The Healthcare System in the 4th Industrial Revolution Era was held October 5-6, 2022, at the Athenaeum Intercontinental Hotel with great success and participation of all HC sector stakeholders.
HEALTHWORLD 2022 traditionally held under the Auspices of the Ministry of Health, the Hellenic Association of Pharmaceutical Companies (SFEE), the Association of Health Research and Biotechnology Industry (SEIV), the Phrma Innovation Forum (PIF), the European Federation of Pharmaceutical Industries and Associations (EFPIA) and Medtech Europe.
More than 400 distinguished guests attended in-person the conference, during the 2 days and more than 1200 live viewers enjoyed the opportunity to watch the conference virtually, while the number of views until the end day reached 6.500.  Representatives from the political sector, health institutions, regional health administrations, patient associations, hospital governance, and the business community, attended the high-level discussions, along with distinguished speakers from Greece, USA and EU who analyzed key issues of today's health system providing a broad spectrum of ideas, best practices and solutions. Once more HealthWorld 2022 demonstrated to be the best platform for in-depth and constructive discussions on health policies and at the same time an excellent networking event.
We at AmChamGR extend our heartfelt thanks to HealthWorld 2022 75+ speakers, the sponsors who traditionally contribute to its success and to both virtual and in-person delegates for their active participation in this year's conference. Our special thanks to the organizing committee of the Conference, Kyriakos Souliotis, Professor of Health Policy and Dean at School of Social and Political Sciences at University of Peloponnese, Kostas Athanasakis, Assistant Professor of Health Economics at HTA Department of Public Health Policy at the University of West Attica, Ilias Kyriopoulos, Fellow in Health Economics Department of Health Policy at the London School of Economics and Political Sciences (LSE), Pascal Apostolides, AmChamGR Pharmaceutical Companies Committee President and Theodore Liakopoulos AmChamGR Medical Devices and Diagnostics Committee President.
We thank you all for your valuable contribution to the conference materialization in this crucial and sensitive period, and we look forward to welcoming you at HealthWorld 2023!
VIDEO DAY 1
VIDEO DAY 2
PHOTOS DAY 1
PHOTOS DAY 2