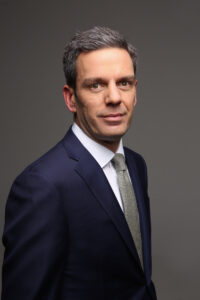 Following months of negotiations between the US tech giant and the Greek government, in October this year Microsoft announced a significant technology commitment to support the people, government and businesses of all sizes in Greece with technology and resources to create new opportunities for growth. Business Partners spoke to Theodosis Michalopoulos, General Manager of Microsoft Greece, Cyprus and Malta, about the significance of this agreement and the new prospects for Greece moving forward into its digital transformation.
photos: © Panos Giannakopoulos
At a special ceremony that took place at the New Acropolis Museum in October, with yourself alongside Microsoft President Brad Smith and Greek Prime Minister Kyriakos Mitsotakis, it was announced that Microsoft will build its first data center region in Greece. How will this contribute to the country's position in the global tech landscape?
Let me start by saying that Microsoft has a rich 28-year history in Greece, with a growing ecosystem of 3,000 partners and customers, including startups, enterprises and NGOs.
With our plans for Microsoft's first datacenter region in the country and the holistic GR for GRowth plan, we are building on this work, leveling up our contribution to the country's economy. Our commitment is to be a technology ally in driving growth, now and for the generations to come. It is the largest investment Microsoft has ever made in Greece, and it absolutely reflects our confidence that our world-leading datacenter technology will enable innovation and will accelerate digital transformation across industries, thus contributing to Greece's economy. The establishment of the data center region is adding Greece to the world's largest cloud infrastructure footprint and provides a competitive advantage to the country's digital economy. It paves the way for local companies—big enterprises and small and medium businesses, startups and institutions—to fully utilize the potential of cloud computing, while maintaining the highest cybersecurity, data residency and compliance standards combined with improved latency in Greece. We believe that this is an opportunity to push Greece forward in the global digital race, and for the first time position the country among the digital leaders of Europe.
This investment is part of Microsoft's GR for GRowth initiative, which also includes digital skills training for some 100,000 public and private sector workers as well as educators and students. What is the significance of such efforts in the context of the country's digital transformation, and what else do you think can be done to help streamline this effort?
Our mission is to help Greece advance, enabling people, businesses and the country to recover and reimagine their journey towards growth—that is what GR for Growth is all about.
Helping individuals and organizations acquire and develop the skills needed to be successful in the digital economy is key to achieving this. The Covid-19 crisis has demonstrated the power of the cloud and digital technology as never before. As our CEO Satya Nadella recently noted, "We've seen two years' worth of digital transformation in two months." In the context of continued disruption, adaptation and accelerated transformation across every industry, advancing skills has never been so critically important. When we think about skills, it's a multi-dimensional picture, so our plan targets different audiences, through different channels. For example, when it comes to IT pros and developers, we will focus on enhancing their already advanced skills. When it comes to the workforce of our broader ecosystem of customers and partners, we aim at increasing their digital capability in order to enable organizations to realize the potential of the cloud and AI. And of course, future generations need to be equipped with digital skills in order to be ready for tomorrow's world. So, what to expect over the next five years? A three-pronged skilling program that includes online and physical courses and workshops: The broad and dedicated upskilling of Microsoft's customer and partner ecosystems. The launch of a new skilling initiative in collaboration with the government specially designed for the civil servants covering the public-sector needs of modernization and digitization. Expansion and further investment in the existing programs with ReGeneration focusing on youth, unemployed and underserved communities, leveraging LinkedIn Learning, MS Learn and GitHub training programs.
To succeed, we need broader synergies and coalitions, collaboration between the private and public sector, collaboration with our country's universities and schools
In this journey, we know that we are not alone. In order to succeed, we need broader synergies and coalitions, collaboration between the private and public sector, collaboration with our country's universities and schools. Only then we can ensure that every person has the skills needed to fully participate in our digital societies and economies. And one more thing: In the digital age, learning has become a life-long endeavor: a mindset not an activity, a culture not a curriculum. Just as deploying remote working tools does not automatically lead to better collaboration, offering courses to employees is only the first step, not the ultimate goal.
You have stated that this initiative will make businesses as well as the public sector more competitive and that this will boost Greek companies and drive job creation. Can you elaborate on how Greek business, and Greek society at large, will benefit from this investment?
This investment is our contribution to creating a digitally friendly environment providing the technology that allows everyone to build a truly global business, today, here in Greece. It is a call to action for every organization that wishes to advance, and I strongly believe that the core of the Greek economy, small and medium enterprises, should grasp this opportunity to scale and move to new levels, with an eye to the world. There is no doubt that today, the cloud is transforming every industry and sector more than ever before! Unfortunately, in the past years, we have seen Greece on the last positions of the Digital Economy and Society Index, and we have also witnessed our great talent and brains leaving the country in search of opportunities and a better future elsewhere. We have also witnessed some hesitation in the adoption of cloud technologies, which is now beginning to change, especially after the pandemic. In recent months, there has been an incredible embrace of digitization, primarily out of need, which thankfully is here to stay. Also, the government is adopting cloud technology, and as citizens, we have all been experiencing the benefits of it, through the various digital public sector services now offered. To round it up, in our experience, a Microsoft data center based locally supports and stimulates all the above notions. Therefore, economic development comes by enabling companies, governments, and regulated industries to realize the benefits of the cloud for innovation and new projects, as well as bolstering the technology ecosystem that supports these projects. Regarding job creation, it is generated indirectly as a result of increased revenue.
The core of the Greek economy, small and medium enterprises, should grasp this opportunity to scale and move to new levels
Tell us a bit about the digitization of Ancient Olympia. Is this project part of Microsoft's investment in Greece as well?
Over the coming years, Microsoft is pursuing several strategic initiatives in Greece around skilling, datacenter development, and artificial intelligence, among other focus areas. The specific project is part of Microsoft's AI for Cultural Heritage global program. The company is collaborating with the Ministry of Culture and Sports to bring the Ancient City of Olympia to life using artificial intelligence, augmented reality and other technologies. The immersive, 3D presentation of the monuments and artifacts will give people around the world the opportunity to experience them as they were nearly 3,000 years ago. The project has been approved by the Archaeological Council (KAS) and will be available in 2021. It has been a great honor for all of us to be able to create new ways to digitally preserve, celebrate and experience the culture of Greece and open it up to the world—where it belongs—once again.
The American-Hellenic Chamber of Commerce has worked consistently throughout its history—and particularly over the past decade—to promote the adoption of new technologies and support digital transformation in Greece, often working in cooperation with tech giants such as Microsoft. What are your thoughts on the Chamber's role in this and on its work with Microsoft in recent years?
I agree, and I would like to stress that especially in the past three years—since the highly successful US Pavilion at TIF2018—we have been working together closely on various projects which have been quite fruitful! I believe the Chamber's role is important in bringing together all the forward thinking and creative forces of Greece, under high-end and targeted initiatives. I believe that our latest common project, the Digital Sustainability Forum has a lot to offer to the public dialogue, as it touches upon critical issues of our days such as the digitization of the public sector, AI and democracy, and AI and healthcare, to name a few of the topics already discussed. Connecting the public sector and private organizations through this initiative, and finding a common ground and understanding, will result in new ways of collaboration and will help create the broader coalitions needed to move the country forward.