With almost three decades of experience in the ICT industry, Michalis Kassimiotis, Managing Director Greece and Cyprus at Hewlett Packard Enterprise, knows a thing or two about technology and innovation and about their capacity to bring about positive systemic change. On the occasion of his election as Chair of AmCham Greece's ICT Committee, he spoke to Business Partners about the transformative power of technology, the importance of strong and inspiring company culture, and the role and ambitions of the ICT Committee in the broader scope of the Chamber's work.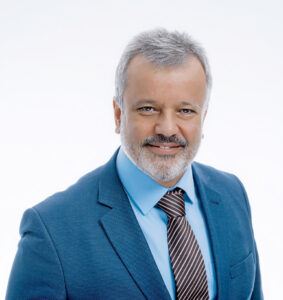 From first joining Hewlett Packard 29 years ago to stepping into your current role at Hewlett Packard Enterprise in 2018, what has inspired you through your decades-long relationship with the company?
What I believe is truly inspiring is the culture that lies at the heart of HPE's business operations: a vibrant culture that places we before I, that builds on the knowledge that together we can go further and faster. It is the kind of company culture that puts you on a path of perpetual evolution and continuous exposure to new challenges.
Building a strong culture means, first and foremost, trusting our people and investing in their talent; after all, they are the ones who bring our culture to life. Providing exciting and unique experiences for our people and investing in them is an important step forward both in their professional lives and personal development. It is a pivotal building block to further strengthening our strategic vision toward digital transformation and the way we go forward, taking bold decisions, delivering major innovations in the new Data Age, and so acting as a force for good for society by advancing the way people live and work.
Building a strong culture means, first and foremost, trusting our people and investing in their talent
These are exciting times for ICT—and for ICT in Greece. On the one hand, ongoing breakthroughs on the tech side are opening worlds of possibilities, and on the other hand, policy developments and reforms in Greece are laying the necessary groundwork for the country to establish itself as a key regional hub. What are your thoughts on the latest developments on this front?
The Age of Insight has arrived with astonishing speed and is having a staggering impact on businesses and society. Companies, governments, and organizations that embrace innovation will be the winners in the emerging digital environment and contribute to promoting changes that are fair for all, changes that will make the future easier for the next generations.
Greece serves as a prime example of how advanced technologies such as machine learning and artificial intelligence are transforming our world in the Age of Insight. In recent years, Greece has become a digital hub, attracting substantial investments from colossal companies in the field of ICT, directed towards infrastructure expansion, digital skills development, and the implementation of advanced technologies, highlighting Greece's growing potential as a thriving digital ecosystem.
Governmental initiatives such as the Digital Transformation Initiative and the National Strategy for Digital Governance have also been launched to accelerate the adoption of digital technologies throughout the country, underscoring Greece's dedication to utilizing ICT to foster economic growth, enhance public services, and elevate the overall wellbeing of its population.
Digital transformation is vital for Greece's economic growth, efficiency, citizen empowerment, data-driven decisionmaking, resilience, and global competitiveness. Embracing digital technologies can lead to inclusive development, improved governance, and enhanced quality of life for citizens.
You have recently taken over as Chair of AmCham Greece's ICT Committee. Tell us a bit about the committee's goals moving forward and what you aim to accomplish in this new role.
It is a great honor for me to be elected as Chair of AmCham's ICT Committee, a committee that serves as a strategic planning advisor for the industry, for central and horizontal coordination of all technological and digital actions, investments, and infrastructure projects for the country, for more efficient use of technology in the public and private sector. It is a powerful platform where members contribute with their expertise and best practices to the efforts of the digital modernization of the state and the extroversion of the Greek Economy.
In this joint journey that we have recently embarked on with the members of the committee, we aim to act as a trusted partner and advisor for the government but also for all those forces of the private sector aiming to put Greece at the forefront of digital transformation. To foster the development of a vibrant and sustainable ICT ecosystem in Greece that promotes investment in technology and innovative solutions and delivers best practices through advocacy and education. To strengthen the support and development of Greece's growing ICT industry across all sectors and to inspire, educate, and engage with businesses and government. We aim to promote the transformative capabilities and value of digital solutions. We catalyze actions that will help encourage the growth of Greece's ICT sector, creating an environment that will facilitate entrepreneurial efforts and economic growth.
How do you feel this ties in with the Chamber's work and initiatives across other fields? How do you see AmCham Greece contributing toward shaping a more prosperous and equitable future for the country in the years ahead?
AmCham's vision and mission is to contribute to further developing a strong and competitive business environment in our country and to support and enhance stronger ties between the United States and Greece. Thus, AmCham Greece engages in continuous efforts to ensure stability, prosperity, and social cohesion, leveraging the cumulative expertise of its members to address key issues facing business today, promoting best practices and the principles of good entrepreneurship, and driving positive change across the country's business and investment landscape, leading to the success story of Greece's transformation.