Christian Rodseth, Managing Director of Janssen Greece, Poland and Romania, has 20 years of experience in the pharmaceutical industry and has been a member of the Janssen family, Pharmaceutical Companies of Johnson & Johnson, since 2006. Committed to serving company's mission to the humanity, he has taken on key leadership roles, including as Global Commercial Strategy Leader for Hepatitis and HIV Therapeutics (2019-2022). Here, he talks to Business Partners about his role at Janssen, the company's culture and vision, his thoughts on the Greek pharma landscape, and his priorities moving forward.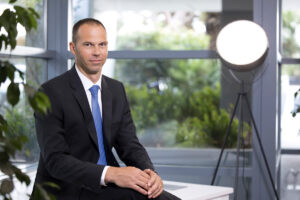 What is it like to be part of one of the world's leading healthcare companies?
Being a member of Johnson & Johnson and the Janssen family since 2006 is a real privilege, an opportunity to serve the community in pursuit of a healthier future for every person. Our compass is our Credo, a living document that guides us to put the needs and wellbeing of people first. It amazes me that not a day goes by in our organization, without someone mentioning our Credo and its impact on what we do. The Credo empowers our decisionmaking every day, at all levels in the organization. It has been a guide, helping people do the right thing in difficult and challenging situations.
We at Janssen are passionate about ensuring patients' access to innovation and life-enhancing healthcare while supporting each other to bring out the best of ourselves and meet our promise to humanity. For my part, I am grateful that Janssen has supported me to pursue so many opportunities that I would not have taken had I not been encouraged to try new things, grow, and find out what is possible.
During my career, I have learned the value of being exposed to diverse career experiences and striving for new skills rather than titles. I recall a conversation I had as a young manager with my father when he noticed my urgency for a new role in my career. He said, "Why the rush? You seem to be chasing the next position." After that, he introduced me to the Peter Principle, which points out that people in a hierarchy tend to rise to "a level of respective incompetence." From that day on, I have been focused on serving our Credo and excelling in my current role before considering future ones.
Our compass is our Credo, a living document that guides us to put the needs
and wellbeing of people first
You recently became Managing Director of Janssen Greece, Poland, and Romania. What is your role in securing Janssen's evolution and commitment to driving innovation?
We at Janssen envision and work for a world where people will have access to innovative health solutions. We are committed to providing safe and effective medicines that contribute to health outcomes and transform lives for the best. As Managing Director of this team, I am driven and inspired by what this company is and what it can become in the future. Adopting an inclusive management style, I strongly believe that each person plays a critical role in the success of our team. I pursue knowledge and value wherever it comes from, feeling comfortable with not being the expert in the room. Knowing that I am surrounded by a team of experts fills me with confidence. I do, however, aspire to have a catalytic role in implementing Janssen's mission, by inspiring and empowering our team and leading with vision and integrity. Knowing that only by working together as a strong and committed unit will we be successful in reaching our goals and having a positive social impact.
We are committed to providing safe and effective medicines that contribute to health outcomes and transform lives for the best
Our leadership team consists of talented and distinguished professionals whom I fully trust. I am confident that they will get the job done and thrive as people-oriented leaders. Reaching our goals would not be possible if we don't recognize the important role our middle management team plays in serving our mission. We achieve together, and united, we evolve a culture that encourages innovation and collaboration with healthcare institutions, governments, scientific societies, patient associations, and every other stakeholder in the healthcare sector. Every function inside Janssen follows a compelling strategic direction, serves our clear purpose to patients and society, and delivers the best results.
What can you tell us about Johnson & Johnson's diversity, equity, and inclusion culture?
At Johnson & Johnson, we have a responsibility to meet the needs of the evolving world and to continue making meaningful progress within our organization and for society as a whole. Approaching diversity, equity, and inclusion (DEI) with intentionality and rigor, allows us to remain relevant in a rapidly changing world. Our mission is to create a culture of belonging where individuals are valued and feel comfortable to unleash their full potential, accelerating progress and ensuring a healthier, more equitable world for all.
We are working in close partnership with the state, clinicians, scientific communities, and patient associations to ensure the sustainability of the national healthcare ecosystem
What are your key priorities as a Managing Director of Janssen Greece and which challenges in the Greek pharma environment do you recognize as essential to overcome?
One of my key approaches to business is to ensure that we always listen, learn, and then act. Thus, first, it is incredibly important to me to understand the needs of all stakeholders, especially those of the patients we serve. If the needs are clear, we can keep improving our organization and services, ensuring greater access to innovative lifesaving therapies for all. It is therefore my main priority as Managing Director to invest in building strong bonds with all stakeholders in the healthcare system, ensuring that we can contribute to improving health for all in Greece.
When it comes to innovation, the Greek healthcare sector faces several challenges, and we are all responsible to resolve them. Specifically, the local pharmaceutical environment struggles from a chronic lack of investment in innovation. In addition, there is a great opportunity to improve the management of expenses within the overall public healthcare budget. At Janssen, we believe that cooperation between all stakeholders, patient associations, health, and governmental institutions, and pharma companies is vital to greater outcomes in healthcare. Achieving the implementation of a strategy to rationalize prescribing and control overspending would allow for the reinvestment of such savings to support patient access to life-saving innovative therapies. This improvement will only be possible if we establish trust among all stakeholders—trust that leads to constructive dialogue, focusing on establishing common ground from which to act and collectively achieve better outcomes for the patients we all serve.
How does Janssen bring value to the conversation on patient access to innovative products and therapies?
At Johnson & Johnson, we improve access to medicine around the world. We feel very proud for earning the number two spot on the Access to Medicine Index, an important measurement of the company's longstanding commitment to making lifesaving medicine available and accessible to those who need it most. This Index is an important independent benchmark that grades the world's largest pharmaceutical companies on their efforts to distribute medicines to low and middle-income countries. Furthermore, our company is heavily investing in research and development to bring innovation forward to fight public health threats on the rise. Scientific innovation through research is in our DNA and our mission, as it creates the necessary conditions to offer more effective and accessible treatments to patients, with significant economic and social benefits for public health.
To achieve this goal, also here in Greece, we are working in close partnership with the state, clinicians, scientific communities, and patient associations to ensure the sustainability of the national healthcare ecosystem. This is only possible through consistent and increasing investments in the pharmaceutical budget. This, combined with the structural rationalization of health expenditure and increased utilization of digital health data in Greece, will contribute to improving the overall performance of the health system.
What are the benefits of the cooperation between the American-Hellenic Chamber of Commerce and Janssen?
We are very proud to be associated with such a credible organization as AmChamGR and to support the open dialogue regarding business and society. It is in our culture to create partnerships with influential leadership organizations that advocate our purpose to bring scientific excellence and innovation to the healthcare sector. AmChamGR is a partner that has shown great commitment to the Greek economy through meaningful partnerships.
Looking at the challenges and possibilities that lie ahead, what are your thoughts on the future?
Our society is still recovering from a global pandemic while continuing to struggle with several interdependent health, economic, geopolitical, and environmental challenges. Against this backdrop, we at Janssen and Johnson & Johnson see a greater need to focus on developing meaningful trust-based partnerships that will lead to solutions that are focused on improving the lives of Greek patients.
Our purpose has never been clearer, and our resolve has never been stronger so that everyone has access to needed innovative medicines. Besides the multiple challenges we may face, we remain committed to doing our part, as a leading innovative pharma company and as valuable partners within the local healthcare ecosystem—as big dreamers and bold thinkers, acting united to make diseases a thing of the past.