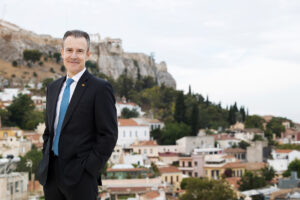 Having successfully overcome incredible challenges and navigated its way through successive national and global crises, Greece now stands at the dawn of a new era, forging a future for itself as a capable and worthy global player. What do you think are the key factors behind this transformation?
Greece stands at the precipice of a historic opportunity. Having pressed on through almost 15 years of unprecedented crises, the country faced terrible odds and prevailed, and now Greece has the chance to create the conditions for sustainable economic growth and development. This is what we have been working toward and what we have been doing over the past years. Addressing critical issues such as the fallout of recession, bankruptcies, the collapse of several sectors of the economy and soaring unemployment is no mean task—especially as progress along many of these fronts was stalled, and many issues were even exacerbated, by the pandemic. Developing and implementing the necessary policies and reforms to finally shift the country out of the decade-long economic crisis and kickstart the economy has been a long and arduous process. And what finally made it possible was striking the right balance of fiscal acuity, strategic foresight, resolve, and determination. That and the realization that it is up to us to create the conditions for our future, our new normalcy and our new outlook as we move forward.
 Greece must demonstrate a clear commitment to reforms in order to maintain market confidence
Many of these reforms and changes have required collective effort and have often seen the public and private sectors come together to shape new, effective and efficient policies. What has the Chamber's role been in this?
The American-Hellenic Chamber of Commerce has almost a century of experience liaising between the government and the private sector, in various ways and various capacities. We have a strong track record of creating and facilitating channels of communication between the public and private sector as well as within the private sector, communicating business priorities and concerns to the government, and working with businesses to identify crucial policy points and assist in shaping policy and legislation across key areas. So the Chamber came naturally to its role in this endeavor, and in a way, this role was to continue doing what it has always done: liaise between the government and the private sector and facilitate the creation of synergies that nurture growth and positive changes in the country's economy and business environment.
In this context, we have continued to push forward with efforts to promote public-private cooperation and initiatives that promote a business positive environment, economic efficiency and social cohesion. And at the same time, we are very vocally advocating investing in the future through technology, innovation and support for entrepreneurship. Notably, the European Recovery and Resilience Fund (RRF) provides the opportunity for the modernization, the green transition and the digital transformation of the Greek economy and for the adoption of a modern, sustainable and outward-looking model of economic growth. Building on this, the government's Greece 2.0 National Recovery and Resilience Plan includes a number of key reforms for the modernization and development of Greek entrepreneurship, and the Chamber supports these efforts to achieve digital transformation, tax reduction, attract foreign investments, and eliminate bureaucracy. By increasing productivity and maintaining extroversion, we can allow the Greek economy to gradually align with the other EU economies.
What are the key areas where change must be prioritized in order to prepare the ground for long-lasting and sustainable growth in Greece?
Greece is being re-introduced as an attractive and trusted investment destination in an expanded investment agenda. The Biden administration is demonstrating an active willingness to cooperate with Greece on energy, and Greece-US relations in the field are solid. And Thessaloniki has emerged as a significant, and growing, digital hub in SE Europe. The US-Greece Science and Technology Agreement, signed in Thessaloniki in 2020, has supported the region's appeal as a point of reference for US investments and more deals are expected thanks to targeted policies and reforms, signaling the country's positive investment climate. On the other hand, as the war in Ukraine creates increased risk and uncertainty, national and European policy must focus on facilitating business and stabilizing energy and product markets. EU initiatives will be needed to help countries without sufficient budgetary resources address the fallout in the business environment and to deal with the sizeable public expenditure to alleviate the financial burden on their citizens. With the help of RRF resources, Greece will be able to face this challenge as well. Yet even as it implements business and household support programs, Greece must also demonstrate a clear commitment to reforms in order to maintain market confidence.
 It is up to us to create the conditions for our future, our new normalcy and our new outlook as we move forward
In terms of foreign investment, what do you think the future holds for Greece?
Despite the energy crisis, geopolitical upheavals and changing global energy balance, Greece remains a pillar of stability in Southeastern Europe and the Eastern Mediterranean and a strong partner to the United States in ensuring energy security in Europe. It is clear, however, that immediate actions must be taken so that Greece can maintain its role on the energy map.
While we are witnessing ever-growing US investment activity in Greece, the investment footprint of US companies is not just limited to investment figures but permeates society through knowledge transfer and a growing momentum of business, innovation, creativity, and sustainable development; in the case of Microsoft's investment, this extended effect will reach a total of €1 billion. Respectively, investments such as those made by Cisco, Pfizer, Deloitte, Digital Realty, and other industry giants complete an investment map, where the numbers are not only important in themselves but are also part of an even larger picture that has to do with the overall transformation of Greek society and business.
The Chamber has a strong track record of working across key sectors to promote best practices and improve the business environment both domestically and in the context of transatlantic relations. What are some of the key initiatives that the Chamber is planning in the coming time to contribute to these goals?
I would like to start by mentioning the recent American-Hellenic Chamber of Commerce mission to the US, during which Chamber leadership met with a wide range of contacts, including senior Congress and administration representatives, with the aim of forming a framework of effective cooperation with institutions and businesses, to further strengthen trade ties between the two countries. Highlights from the mission include discussions at the US Chamber of Commerce on the future of the energy sector and the possibilities of gas exports through Greece as well as meetings at the World Bank on the key role that Greece could play in Europe's electrical power interconnection with Northern Africa.
The main goal for the Greek economy in the coming years is to increase productivity, and this can be achieved by increasing productive capital through new investments and the resulting integration of innovative production methods and new technologies. As a Chamber, we are positive regarding reforms in education and training, but also in the public sector. We believe that the efficiency and level of qualifications of Greece's workforce are very important factors for attracting investment and creating outward-looking opportunities. Working methodically and with diligence toward these commonly accepted principles, Greece will become an attractive investment destination by maintaining an investment-friendly tax framework, an efficient and credible public administration and a strong growth outlook.
Notably, this year marks 90 years of the Chamber's work and contribution. What are your thoughts on its story thus far and what do you hope to see over the next decade as the Chamber moves towards its 100th anniversary?
Since its establishment, the American-Hellenic Chamber of Commerce has played an active role in promoting strong trade and economic ties between the US and Greece, working to strengthen the close bilateral relationship and support transatlantic cooperation at all levels, and it has also taken a lead in working toward creating a modern and attractive business environment in Greece capable of sustainably driving the country's economy. In our nine decades of operations, we have been part of the country's course through wars and crises, never faltering in our commitment to serve our mission and be the foremost institution of our kind in the country. As our membership grows, so does the range of our work and initiatives, which include major national and regional conferences and forums. And of course, we are particularly proud of the work of our specialized sectoral committees, which play an important role both in advancing the interests of the Chamber's member companies and in contributing to top-level knowledge-sharing, advocacy work, and policy development in the country. This year marks the Chamber's 90th anniversary, and while we have indisputably accomplished much over the years, we are as committed and driven as ever to pushing forward with our efforts to strengthen the country's economy and business environment and create ever stronger ties between Greece and the United States.