As Greece's fledgling tech scene starts to take off, the world looks on with growing interest at the many exciting local startups and global heavyweights that are choosing to bank on Greece's strong talent pool and continuously improving entrepreneurial landscape. But for Nikos Konstakis, Group Chief Product Officer of OpenBet and Managing Director of OpenBet's Athens operation, Greece's extraordinary potential has long been plain to see.
Here, he talks to Business Partners about his choice to bank on Greece, how OpenBet Athens has emerged as a thriving tech hub, and the experience of navigating the unprecedented challenges of the last two years while maintaining the company's impressive momentum.
OpenBet is one of the world's leading global online sports betting technology companies, offering an ecosystem of sports content, technology and services to the largest operators around the world. Since the establishment of OpenBet Athens, the Greek capital has become the location of the company's main global development hub, playing a crucial role in its ongoing success. How did you know that Greece was the right fit for this endeavor?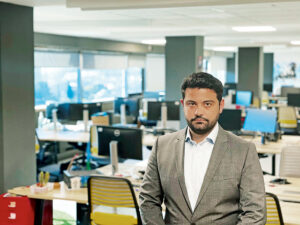 It was a decision that took into consideration lots of different factors, including the country's business environment and development outlook, its position in Southeast Europe, and most importantly, the quality and potential of its human capital. Selecting Greece was a strategic decision for the company, but it was also a personal vision, and I was happy to be part of turning it into reality. Athens has since become the largest and most important development center for OpenBet in the world, with over 400 people and growing, working and innovating on global projects for the company. And human capital continues to be a crucial factor. Our people are our number one strength and they are the focus of our investment in the country. In the last three years, we have been increasing our workforce by about 30% year-on-year — more than a hundred new jobs per year — growth that we have maintained even during the Covid-19 pandemic crisis.
We need to reframe what we mean by productivity: What we're looking for is impact, outcomes rather than outputs
Does the growing number of significant US-based and other foreign investments in Greece that we've been seeing lately validate your decision to choose Greece?
Our validation comes primarily from our results and the successes of our Athens branch, and from our continued growth in numbers as well as in quality, upskilling and training our people to excel at a global level.
Being "early believers" and having invested in the country since all these years, we have sent a clear message to other international companies to invest in Greece, which has been evolving into an attractive investment destination. At the same time, our presence in Greece has been a reference point for development and business activities on a global scale.
It is extremely positive for the country that significant foreign investment is taking place and that there seems to be an investment trend developing. Investments in Greece, on a global scale, serve to improve the environment in which we are already established and operate and will undoubtedly assist our continuing growth momentum, as well as that of the country.
We are in an evolving situation, so it is important to listen, adapt and evolve
Looking at the steps the country has taken so far and the attractive entrepreneurial environment that is taking shape, what does Greece need to do, in your opinion, to sustain and expand this positive foreign investment momentum?
Momentum itself cultivates conditions for further growth. Public administration modernization and friendlier tax policies are obviously a given. The great opportunity for the country, however, can be realized in the adoption of a sustainable and competitive production model. The necessary reforms, which have already placed the country on a strong development path and have been instrumental in attracting foreign investments, need to continue, factoring in digital transformation, which has become a top business priority, as a main driver for productivity, innovation and ultimately competitiveness.
Going back to what you said about the quality and potential of the human capital in the country being a major decision point for OpenBet's investment in Greece, how can you maximize this resource? And, indeed, what challenges have you faced?
One of our goals from the get-go has been to provide the best possible workplace and working conditions for our people, and we are proud to have been recognized for these efforts as one of the top-rated large employers in the country. Achieving this recognition and winning awards is a testament to our culture and our commitment to our people — and it is our culture and our people that have helped us deal with the unprecedented disruption the pandemic has brought to the way we used to work.
A major human resources challenge we face is connecting education and the workforce; onboarding, upskilling and developing graduates into globally competitive human capital.
This is a challenge for all companies coming to Greece, but at the same time, it is a major opportunity for the country. Our focus and our contribution to the quality of the workforce in the country is equipping our people with the toolset necessary to operate in the global market. It is a win-win cycle for the country's potential as well as for the companies who are looking to invest in making Greece a more attractive investment destination.
The Covid-19 pandemic drastically accelerated the digital transformation of the workplace, necessitating a sudden and en masse switch to remote digital work. Tell us about some of the measures that you have taken to adapt to this new reality.
Adapting to the new conditions was something forced on everyone overnight. The nature of our work meant that we were better prepared to deal with this disruption without an impact on business continuity. The main question is, however, how can we thrive in this new working environment. We have accepted and applied a few key principles in order to do so: We are in an evolving situation, so it is important to listen, adapt and evolve; and we have made sure to get the basics — such as connectivity, collaboration tools and processes — right and to do so in a way that allows us to build a sustainable and creative environment.
We are dealing with the new conditions as more than just a temporary setback; we believe it is a mistake to view it as such. Flexible work, or dynamic work as we like to call it, is here to stay — it is the evolution and the future of work, so we need to embrace it if we want to harness the opportunities it presents.
How have your people adapted to the new work and workplace conditions? What steps have you taken to support your workforce?
These are unprecedented conditions that require empathy and understanding. We are very responsive when it comes to the human aspects of work; our people are what fuels our business, so we needed to support them as much as possible during this transition. We are adapting our organizational toolkit and putting in place the right engagement tools, while at the same time making sure we are treating people fairly and equally. In this, we also need to be very aware of the boundaries between home and work, which need to be respected. One major difference between physical and remote work is that it's not always easy for people to feel like they belong to a team when working remotely; some fragmentation is inevitable, and this has a negative impact on teamwork and collaboration. To address this we have been working on the culture: exercising trust, fostering communication and operating with transparency.
What impact have the new conditions had on productivity, in the context of OpenBet Athens's role as the company's major global hub?
Our productivity specifically was not impacted due to the nature of our work. However, we need to reframe what we mean by productivity: What we're looking for is impact; outcomes rather than outputs redefine productivity in the new environment. It signifies the distance between the effort required, the production of value, and the impact all this has on our companies, our markets and our industries.
Along with a sense of responsibility toward your people, social responsibility is also central to OpenBet Athens. What are your priorities when it comes to giving back and how does this factor into the company's broader planning?
The sense of social responsibility is one of the main pillars that frame our business planning and development. Giving back to society creates a cycle that defines healthy entrepreneurship and gives it real value and purpose. Through this vision, the inseparable connection of healthy entrepreneurship with society, we formulate our code of ethics, which constitutes our commitment to social, environmental and moral goals — values that define our culture.
Corporate responsibility begins through respect and recognition among our executives, a principle that creates the background for the transmission of the concept of social responsibility to our people. At OpenBet, we believe that social responsibility is synonymous with personal responsibility towards our neighbors and the environment, with our executives as ambassadors. In this context, we have adopted a number of initiatives that assist vulnerable groups, alongside our work in education and youth programs, in our effort to support the most vital cells of society.