Kleopatra Kalogeropoulou, International Liaison Partner, CPA, ACA, at BDO Greece and Member of the Supervisory Council of the Institute of Certified Public Accountants of Greece, talks to Business Partners magazine about the importance of embracing challenges, the positive impact of leading sustainably and how to empower people to come into their own in the workplace.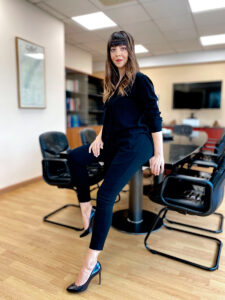 Over the past 15 years, you've worked with some of the foremost companies in your field. During this time, what was the single most valuable lesson you have learned in leading for growth?
It was probably something I learned seven years ago, when we decided we wanted—and frankly needed—a fundamental change in our professional firm. It had already been more than 21 years that the firm had been established, representing an international network in Greece and forming various partnerships. But the anticipated internal common vision sharing, aligned strategy and consequent growth had not happened. Instead, we would have smaller fragmented businesses within the business, with different partner views that could not come together into one big picture. The easiest thing to do would be to stick to what we were familiar with, continue having the same service offering and stay within our traditional sectoral experience. And most importantly, let a tremendous opportunity pass by for fear of change.
You have to accept the challenge if you want to get somewhere you've not been able to get to by doing business as usual
Nothing truly worth it comes when you do not step out of your comfort zone, when you do not try things a different way. I am not saying that it is easy, especially in a risk averse country like Greece. During a Young Leadership program organized by BDO International, I remember being struck by the fact that in a large scale global survey, Greece ranked second in risk-aversity, after Japan. The feeling of uncertainty embedded in our way of thinking and due to the long years of financial and social crisis that Greek society has experienced have made us extremely risk-averse, which has also led to us being reluctant to embrace change. It is very common that people opt for security rather than taking bold decisions. But more often than not, it has been proven that despite the difficulties and risks inherent in every change, you have to accept the challenge if you want to get somewhere you've not been able to get to by doing business as usual.
Leadership isn't easy under the current circumstances we live in. What is your approach?
A high-ranking executive, a leader, needs to always be switching between tasks of different levels of abstraction and specificity. The upper level ones involve seeing the big picture: What is our vision and mission and what is our corporate strategy to achieve those? Do our people understand the key elements? Do they embrace our core values? Is the tone-at-the-top showing the way towards the quality we want to achieve? Are we bringing change in society through our organization? How can we accelerate this process? The lower level tasks include day-to-day and on-the-ground operations: Did we win that RfP? How many days of debtors do we have outstanding? And then there is everything in between: What are our staff requirements for the audit season? Should we make that lateral hire or not? How much budget shall we allocate to investment in IT? What training schedule we will roll out for the year? How will we achieve full integration of our systems?
It is empowering when everyone feels heard, understood and helped
I am always ready to switch from one level to another at any given moment. It is crucial, as it is efficient and time saving, especially in times of uncertainty, like the past year has been. I also try to ask myself how sustainable, in the long term, any approach I adopt is. One approach could have an immediate desired result but might be good for only once. I want to be able to manage my firm's assets and human capital in a sustainable way to secure good working conditions for employees and capitalize on the positive impact on business performance and employee engagement.
What is your reaction when an urgent matter forces out and replaces an important one?
That was a constant battle I had to give—and that battle was with no one else but myself. I always wanted to tackle urgent tasks first, especially if they were, supposedly, brief. I had this illusion that once those were settled, I would have all the time in the world to invest in the important. But unfortunately, very few people can actually prioritize their requests and treat only the actually urgent tasks as such. I would soon end up feeling like I am extinguishing fires all over the place, which was clearly not the case. After a while, it was evident that that late request could have waited for another 24 hours.
I have matured enough since then to not allow myself to forget about other important things that do not demand my immediate attention. It is always essential to revisit your longterm plans and make sure you make progress on them on a regular basis. I do not need leaps, just a small victory at a time is sufficient for me to know I am progressing towards my larger-scale goals, which are usually the most important ones.
To what extent do you feel there is a conflict between being the person you want to be and upholding the responsibilities of an audit firm?
I am extremely happy to say that the person I want to be and the values I have are very much aligned not only with our core responsibilities as an audit firm towards stakeholders but also with our own vision for our international organization. The responsibilities reflect what we need to achieve: integrity, objectivity, professional competence, confidentiality, professional conduct and due care, quality. The vision reflects who we want to be: People helping people achieve their dreams. Both bode extremely well with me.
How do you empower and engage others?
Our line of work involves a lot of processes, strict deadlines and regulatory requirements and demands efficient time management skills. There are periods during which we cannot afford to waste a second of work. In those stressful times, it is very important to maintain a positive attitude and a good spirit. When you have a more senior role, you see things from a different perspective. You do not get lost in the details of an issue, but you rather see the bigger picture; what is relevant, what is not, what is material, what is not, what entails a big risk, what entails less risk. I have always found it very helpful to encourage an open conversation with my teams, in order to address the issues clearly and early on. It is empowering when everyone feels heard, understood and helped. People also feel empowered when they know someone is there to listen to their concerns. That said, there is a very fine line between being present for them and becoming the problem solver. None of us will ever learn, if there is always someone around to solve a problem. I do want my colleagues to have given an extensive consideration of the matter in hand, and come eventually to me with one or two thoughts on how to address it. It is beneficial for both parties: for them to speak their mind and for me to find out what they think. Consultation is encouraged in our firm not only with the experts but with all team members, regardless of seniority.
What strategy did you and your organization adopt in order to stay resilient amid the current situation?
We simply executed our Rethink strategy! First came the reaction to the situation: The primary goal was to safeguard our business. We then gradually embedded resilience in our operations and made sure to keep our business running. At the last stage, we laid the foundations for the realization of the new business approach that would enable us to succeed in the new reality.
The pandemic has also been a true accelerator of our already routed digital transformation. We have put in place the strong fundamental pillars of our IT framework and now we are ready to grow with strength. By doing so, we will also allow our people and clients to grow with us. They will be equipped with the tools, information and insights they need, at every stage of their growth journey.
One last comment on leadership?
There was a very well put comment I read in an article by Suzanne Lucas: "Leadership isn't glamorous. It's hard work. If you are looking for recognition, try Hollywood."
Kleopatra is the first woman to be elected to the Supervisory Council of the Institute of Certified Public Accountants of Greece