A Greek company through and through, since its establishment in 1974, pharmaceuticals manufacturer Medichrom International has carved a place for itself as a key player in the domestic market and a respected exporter to countries around the world. From crucial medicines to natural supplements and beauty products, Medichrom continues to be on the frontlines of homegrown entrepreneurship, prioritizing health and wellbeing through innovation and prevention. In this interview to Business Partners, Medichrom President and CEO Georgios Fabios discusses the company's story, commitment to innovation, and plans for the future.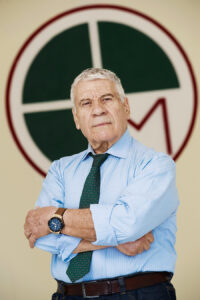 Tell us a bit about how it all began. How did you get started in the pharmaceuticals industry how did Medichrom come about?
In a way, you could say it runs in the family. After graduating from the Athens University of Economics and Business (AUEB), I took over the family business, a pharmaceuticals company called Pefanic. Alongside my work there, in 1974 I also founded Medichrom and soon after the Greek-Cypriot group Medichrom International. While Pefanic was eventually sold to Sanofi France in 1993, Medichrom kept evolving and expanding. Today the group comprises ten companies: Medichrom, Medichrom International, Farmellas Enterprises, Raldex Enterprises, MTF Holdings, Assosfarma Enterprises, Gefa Brokers Corporation, Formoza Development, and Farmin Business. And through hard work and perseverance, we are still growing and expanding our operations, both in terms of our portfolio and in markets we are active in.
Our customers know that they can expect the same consistent high quality from our products every single time—and that's what our reputation is built on
Over almost five decades of operation, we have enlarged and upgraded the company's headquarters in Markopoulo, east of Athens, leading to the present-day 8,000 sq. m. state-of-the-art facility, which houses the manufacturing department as well as various administrative and commercial departments and a dedicated storage unit. We also have branches in Thessaloniki and Cyprus.
Over the years, Medichrom made a name for itself as one of the most trusted producers of high quality pharmaceuticals in the country. Tell us a bit about your current portfolio.
Fully certified by the Greek National Organization for Medicines, Medichrom manufactures a broad range of pharmaceutical products, from original patented formulas—extensively researched, tested and proven safe and effective—to generics, dietary supplements and natural products. Our formulations target a broad range of ailments and conditions, and fall into several categories; we manufacture analgesics, antibiotics, antifungals, anti-inflammatory agents, antibacterials, antilipidemics, antipyretics, antitussives, antivirals, anxiolytics, bronchodilators, cholinesterase inhibitors, as well as treatments for various conditions including psoriasis, acne, and sun-damaged skin. Correspondingly, our medicines and medicinal products come in many different forms, such as hard capsules, standard and slow-release tablets, powders and dry syrups, oral solutions and syrups, as well as ointments, creams, lotions, gels, liquid soaps, and medicinal shampoos. Alongside our own product lines, we have also taken on manufacturing contracts for major international brands.
From our very first products to our newest formulations, we've been driven by a strong work ethos and a commitment to maintaining the highest quality standards throughout every step of the development and production process. Our customers, consumers and businesses alike, know that they can expect the same consistent high quality from our products every single time—and that's what our reputation is built on.
You mentioned that you have expanded your portfolio to include a growing number of dietary supplements and natural products. What prompted this move?
Our exacting quality standards, reliable output and low prices help us stay ahead of the competition, and we also work to keep up to date with market trends and consumer demands. In that spirit, in the last ten years or so we have expanded into dietary supplements and natural products, building on almost 50 years of development and manufacturing knowhow to create straightforward, effective products that help improve quality of life and boost our customers' wellbeing—often working preventatively. This is particularly important in a world where increased daily stress, a more sedentary lifestyle and poor dietary habits are making us ever more susceptible to a range of ailments.
Flexibility is one of Medichrom's key features and it gives our company a crucial competitive advantage
Our goal, in other words, is to naturally support and strengthen the body's own defenses with high quality products, safeguarding customers' health and wellbeing against the ever-increasing stressors of modern life. These products energy boosting formulations, prebiotics and probiotics to enhance gut health, omega 3 and omega-3-6-7-9 products, hyaluronic acid for healthy joints, products rich in antioxidants, aloe vera products, moisturizing creams, insect repellent lotion, soothing cough syrups, nose sprays, muscle ointments, antiseptic hand gels, vitamins and multivitamins, and supplements to support the immune system.
It is clear that your dedicated R&D department is constantly working to develop new products and preparations, and it's one of your company's key strengths. What does the future hold for innovation at Medichrom? Can you share some of your plans moving forward?
Medichrom's ongoing success owes much to the outstanding work of our specialized R&D department, whose methodical efforts have helped strengthen and expand our portfolio with innovative high-quality products—including pharmaceuticals and patented formulations, dietary supplements, herbal products, and cosmetics—designed to meet the needs and expectations of our customers in Greece and abroad.
As well as keeping up to date with the latest scientific developments in the field and market trends locally and internationally, we always uphold our commitment to maintaining a flexible approach. This flexibility is one of Medichrom's key features, and combined with our exacting quality standards and consistent output, it gives our company a crucial competitive advantage.
You've long been exporting to countries across four continents and now you are stepping up your efforts to further expand into major foreign markets. How does the American-Hellenic Chamber of Commerce factor in to this endeavor?
From pharmaceutical preparations to dietary supplements and beauty products, Medichrom has been supplying foreign markets with quality products for close to half a century. Our first exports were to Cyprus, followed by Azerbaijan, Nigeria, Saudi Arabia, Russia, Turkey, Ukraine, Georgia, Albania—and the list kept growing.
Our primary objective right now is to promote our high-quality, competitively-priced products around the world, with a focus on the United States—a country I feel particularly connected with through family ties. We're confident that the American-Hellenic Chamber of Commerce, thanks to its extensive network and active member base, can play a key role in helping us strategically position the company so that we can continue to successfully expand and forge new partnerships with key Greek and foreign businesses.