In April 2023, Labrina Barmpetaki took over as President and Managing Director for AbbVie Greece, Cyprus and Malta, marking the beginning of a new chapter for the company in Greece. In August, AmCham Greece also welcomed her as the new Chair of its Pharmaceutical Companies Committee.
Business Partners reached out to find out more about her passion for the industry, her plans to carry on AbbVie's legacy in the country, and her commitment to working with AmCham to promote innovation and reform for sustainable and accessible healthcare in Greece.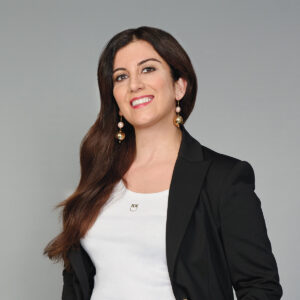 Congratulations on your appointment. Stepping into this role, you have brought with you your extensive international experience in the pharma and biotech industry. To start at the beginning, what motivated you to study pharmacy and pursue a career in this industry? What does this appointment mean to you?
From a very young age, I was curious to see health from the scientific and the business side. I was intrigued to study pharmacy because it is purely patient oriented. I focused on its foundations, from theoretical to practical, as well as on the law and ethics and the business perspective. This broad skillset helped me with my second degree, in business administration. The combination of both studies enhanced my knowledge and enriched my professional capabilities. Being versatile and inquisitive, looking beyond the expected to find solutions to different challenges, and believing in breakthrough but feasible solutions are some of the skills that paved my way toward the pharmaceutical industry.
Governments, the research community and the pharmaceutical industry must reach a consensus and implement a longterm national policy to ensure that pharmaceutical innovation will keep evolving and will be accessible to every patient
After many years of working and gaining experience around the world, it has been an honor to assume the role of President and CEO of AbbVie Greece, Cyprus, and Malta. I'm driven to face up to this challenge and take AbbVie one step ahead. We are working hard and methodically in creating strategic pathways to strengthen our partnerships and alliances to address tough challenges that lead to improved lives.
AbbVie is the fourth largest pharmaceutical company in the world, with a legacy of the most powerful and innovative portfolios, with extensive research and development activity in critical therapeutic categories, such as immunology, oncology, hematology, neurology, ophthalmology, and medical aesthetics. We are fully committed to taking quick steps and making an impact that lasts. We want to be useful and effective both for our company and for the Greek healthcare system. As President of Pharma Innovation Forum Greece, I find this challenge even more important. We will fight for a fully accessible healthcare system and innovative therapies, we are ready to propose realistic solutions that keep people at the heart of our decisions, and we will promote constructive dialogue with all stakeholders and the government. Cooperation is the key to moving forward into the future. We are willing to work together to amplify the impact of scientific progress, because we know that patient and healthcare challenges cannot be solved alone.
A longtime global leader in developing and delivering innovative medicines and solutions, AbbVie is always at the forefront of biopharmaceutical research. In your new role as President and Managing Director of AbbVie Greece, what excites you the most about where the company is heading?
AbbVie has made scientific strides by advancing medicines that demonstrate strong clinical performance and benefits to patients with serious and chronic conditions. For more than 25 years, first as Abbott and then as AbbVie since 2013, we have been making significant advancements with a robust pipeline of potential new medicines, as we look to find the treatments of tomorrow. Every solution starts with the patient's perspective because transformative medicines only matter when they are safe, effective, and accessible to everyone. We are privileged with vast experience in immunology, and we are raising the bar for treating immune-mediated diseases in rheumatology, dermatology, and gastroenterology. We have been able to develop and market innovative therapies that address complex medical conditions whereas in the past, hope for patients was minimal. And we are not stopping until we are sure that every patient with an autoimmune disease reaches a complete clinical remission or achieves a fully functional daily routine.
We are fully committed to taking quick steps and making an impact that lasts
We are inspired by our revolutionary contribution in hepatitis C, a serious chronic viral infection, fatal for patients who don't receive treatment. Our scientific excellence and perseverance helped develop medication that can eliminate the virus within a few weeks, radically changing the lives of patients. This success story is our credentials to achieve the same benchmark in other therapeutic categories we are involved in.
We continue with new mechanisms of action and work relentlessly in areas where we detect therapeutic gaps and unmet medical needs, with an emphasis on immunology, hematology-oncology, and neurology. The future is bright. We have more than 90 compounds, devices, or indications in development (individually or under collaboration or license) and 60% of these compounds in clinical development with a novel mechanism of action.
AbbVie was the first multinational company to establish a clinical trials hub in Athens. Given Greece's highly skilled healthcare professionals and experienced scientific staff, as well as ongoing improvements to infrastructure, what opportunities for further investment do you see down the line?
Conducting clinical trials is a key priority for the welfare of society, the patients, the progression of science, and the advancement of highly educated professionals. It's a boost for the economy, employment, and growth. At AbbVie, every clinical trial program we run aims to offer equitable trial access and an enhanced experience for patients and physicians.
The quality for conducting clinical trials in Greece is more than adequate, in terms of skills, infrastructure and workforce. Several challenges have hindered investments in clinical trials, including budget restrictions, clawback and rebate payments, and system inefficiencies such as the unwillingness of the governments to recognize the value of innovative medicines, in practice. Governments, the research community and the pharmaceutical industry must reach a consensus and implement a longterm national policy to ensure that pharmaceutical innovation will keep evolving and will be accessible to every patient.
Greece has the potential to become a regional leader in Southeast Europe. It's a golden opportunity to attract investment funds and create a positive effect for healthcare professionals, researchers, students, scientists, pharmaceutical companies, the healthcare system, and the national economy.
The pandemic era was particularly trying for the global healthcare sector, often testing limits, and highlighting key problem areas. How has the sector responded to this and what steps are being taken to improve its reflexes and ensure that the world is ready to respond with agility and efficiency to the next global healthcare challenge?
The pandemic underlined that health is fundamental. As a member of the scientific family, I feel proud that scientists came together to quickly provide effective and safe solutions for the prevention, diagnosis, and treatment of coronavirus. The collaboration between the scientific community and governments for the development of vaccines was exemplary, and within nine months, humanity had access to effective and safe vaccines. This offers a great lesson on the value of collaboration and the importance of supporting science and innovation with adequate resources, and it is proof that where there is a will, there is a way to achieve great things. We need to build on the positive and reflect on the inefficiencies. This is critical since pandemics are here to stay and an outbreak of a new pandemic can occur at any moment. We must demonstrate the necessary will and be adequately prepared to deal with new threats. Governments must recognize that public healthcare spending is an important investment for society. We must ensure a holistic approach to innovation, access to medicines, vaccines, diagnostics, imaging, medical devices, surgical techniques, and AI, along with integrated models for designing, delivering, managing, and financing health services, as innovation is the answer to the most complex and current health challenges. Innovative therapies are fundamental for a sustainable healthcare system, as there is no efficient primary healthcare system that prevents hospitalizations, minimizes hospitalization days, and reduces surgeries and extensive ICU stays.
As a member of AmCham Greece, AbbVie has been consistently active and involved. How do you see the future of this relationship, particularly in terms of opportunities to promote meaningful reform in the Greek healthcare sector and to foster innovation and job creation in the country's pharma industry?
AmCham Greece and AbbVie have a longstanding strategic alliance, with a common vision to serve society and promote entrepreneurship and innovation. We share common values, and we search for strategic activities to support business extroversion and healthy competition. AbbVie believes in strong and trustful ties with partners and organizations that promote practices and synergies that create a better world for business and society. It is only through synergies that we can respond to the challenges of our modern world. AbbVie pledges to be an active citizen and to take part in top quality events, fora, and congresses so that we amplify our voice, contribute efficient proposals, and make a significant difference.
The healthcare sector in Greece is at a critical threshold. We need to be bold and decisive to achieve essential reforms, toward a more sustainable and accessible health system. We need to act fast and with conviction to ensure that a solid national pharmaceutical strategy is acknowledged by all stakeholders, governmental institutions, pharma companies, and patient associations. It is imperative to ensure the orderly operation of the healthcare system, transparency regarding financing, and the seamless operation of evaluation and negotiation processes, as well as to promote innovation itself and create a deep understanding of what it brings to people's lives and to society and of what it means for economic growth and social welfare.
We are confident that our commitment to innovation and modernization, and our collaborative mindset with dynamic, trustworthy and extrovert allies such as the American-Hellenic Chamber of Commerce can bring the positive changes that we are striving for.