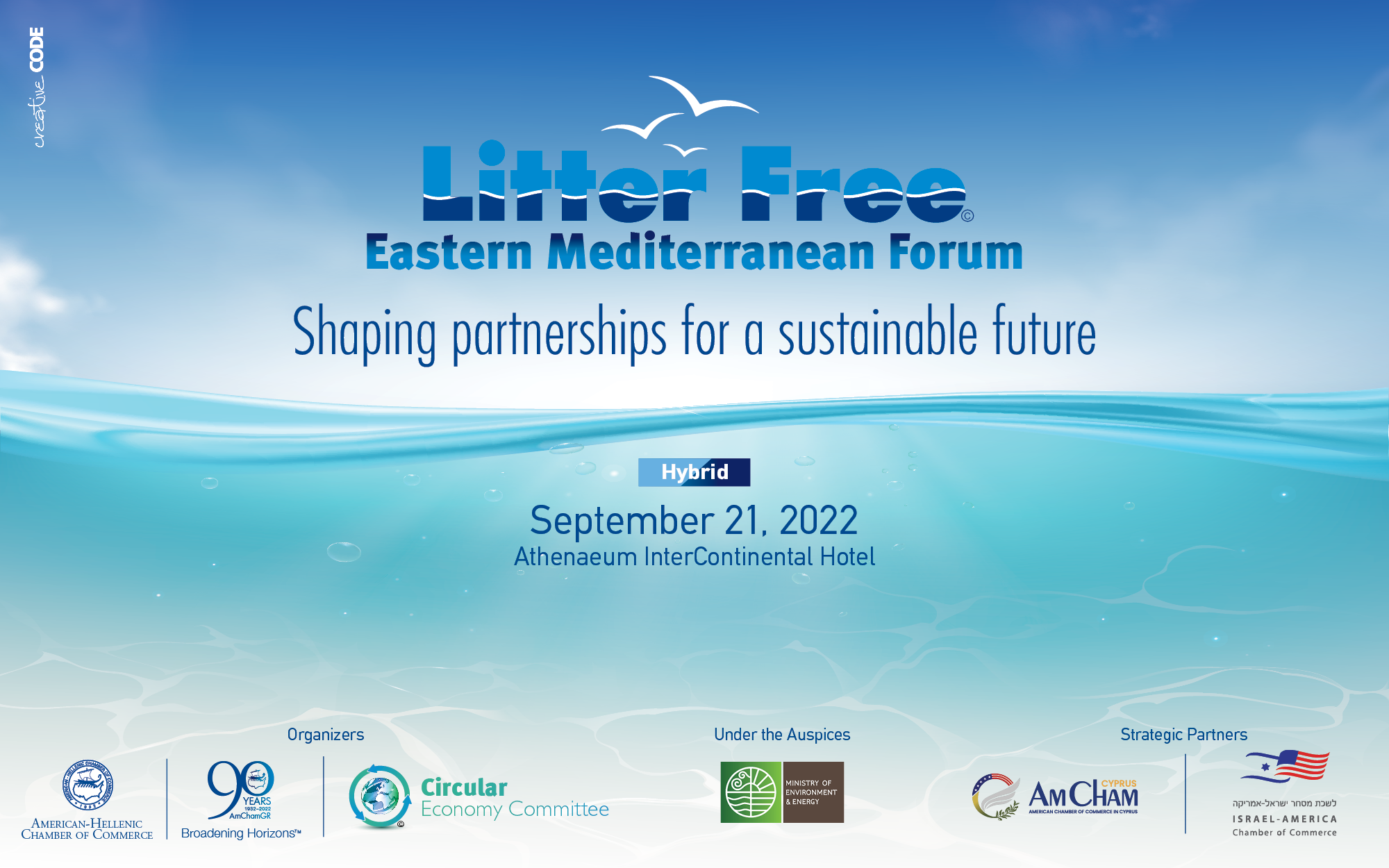 The American-Hellenic Chamber of Commerce and its Circular Economy Committee taking into consideration the increasing environmental and Mediterranean's marine ecosystem pollution are initiating the organization of the Litter Free Eastern Mediterranean Forum (LFEMF). This forum aims to present ways to limit marine pollution by calling companies to explore and implement innovative environmental solutions, and citizens to adopt and promote a litter free environmental mindset. The regional AmChams with this forum are setting the foundations for the maintenance of a sustainable ecosystem that will evolve Eastern Mediterranean countries.
To this end, AmChamGR is launching a joint regional initiative with the AmChams of Cyprus, and Israel that will be held with the support of their US Embassies, governments, academic institutions, organizations, and corporate members. The Forum will address the issues of litter pollution mainly from plastic, highlight latest technologies and best practices and outlay activities that should be taken to limit this problem affecting the Mediterranean's marine ecosystem. Our AmChams anticipate organizing annually the Forum with the participation of more Mediterranean countries joining each year. Our goal is to engage as many regional AmChams down the road, create new regional business collaboration and demonstrate the AmChams network capabilities in mobilizing stakeholders in addressing major challenges.
The issues that will be discussed are:
– The Eastern Mediterranean Today
– Start-ups and Technology as the Driving Forces for the Eastern Mediterranean Circular Policy Adaptation
– Sustainable Maritime Environment
– Microplastics Challenges
– Unregulated Fishing as a Threat for a Viable Ocean Economy
– Sustainable Blue Economy
In this context, we are envisioning LFEMF to develop a significant platform for regional collaboration, to enhance environmental agility, create strategic business partnerships, and promote policies, actions, and best practices for a clean Mediterranean Sea with the support of all involved countries, businesses, and citizens as well.
Stay tuned for more updates!