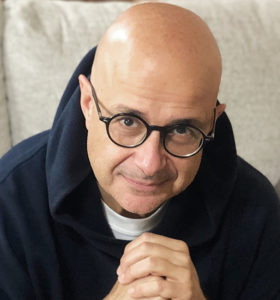 An asymmetric threat. A virus with global reach. Emergency measures, restrictions, lockdown.

The images around us have changed: hospitals, patients, doctors, masks, gloves, disinfection, dead bodies. Deserted cities, shadows, silence. And our feelings have changed too: fear, terror, anxiety, sorrow, panic. But if we just stop for a moment, if we shut out the drone of the newscasts and the radio or televised debates, if we turn our eyes away from our computer screens and smartphones, we'll see that life goes on. Just as it always does. Next to us. All around us. Everywhere.
The sky is the same, the sun shines the same, the clouds drift the same, the sea is as tantalizing as always, flowers are just as fragrant, dogs stare up at you with those same big soulful eyes, and cats chase each other on rooftops the same as they always did.
But if you turn your eyes away from the screens, if you shed the anxiety, if you manage to make time stand still for just a minute, you'll see that life still goes on. Life, which is beautiful no matter the circumstances. Life, which can offer you all kinds of joy, provided that you want it.
Take her in your arms and tell her "I love you". Hold her hand and go out for a walk down the city's empty streets. Go to the supermarket, and when you hear a song you like, grab her and — never leaving your assigned floor area — dance…
Are you laughing? Good. You have just taken the first step. The next one is much easier than you think. She is next to you. Every crisis, they say, is an opportunity. For everything. For life. For love. And opportunities should not be missed. So seize it! Shift to love mode! Change your perspective, and put on your rose-tinted glasses. You will become more productive when working from home. You will choose your meals better and invest in selecting the ingredients and aromas. You will pick the book that will accompany you on the couch with more gusto. You will get off the couch and go out to run. To walk. To listen to the change of season and fill your lungs with fresh air. Focus on what pleases you, and let toxicity lie where it belongs.
Seize the day. Today! In the time of the coronavirus. Don't let life slip through your fingers.
Love is the answer.