When its exterior was illuminated on September 11, 2021, Saint Nicholas once again became a beacon of community, faith and remembrance.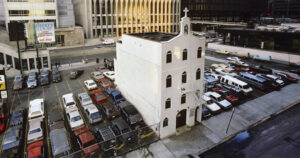 When the original building on 155 Cedar Street was first erected in the 1830s, no one could have imagined the immense cultural, spiritual and historic significance that it would go on to acquire. Beginning its life as a modest row house and then tavern, the building became home to the congregation of Saint Nicholas Orthodox Church in 1919, thanks to the efforts of five Greek families that raised $25,000 to buy the property and convert it into a church. Modest by any account, it steadfastly served as a place of worship for the local community as well as for travelers, sailors and even shipping magnates passing through New York for decades, while the urban landscape around it changed dramatically. At the dawn of the 21st century, and having resisted years of pressure to sell to developers, the church stood surrounded by a parking lot, standing as a humble bastion of community and faith among the skyscrapers of Manhattan's Financial District.
Everything changed on September 11, 2001, when Saint Nicholas was buried under tons of debris in the collapse of 2 World Trade Center, the South Tower, with decades of history and numerous invaluable religious relics, including items donated by Russian tsar Nicholas II, lost forever under the rubble. But much like the rest of New York and indeed America, the congregation didn't give up. Donations started pouring in from around the world — from the Greek government and the Ecumenical Patriarchate to local parishes across the US and Greece and from collection box donations to major private gifts — and planning began to commence rebuilding.
Today, with construction in its final stretch, the new Saint Nicholas stands on 130 Liberty Street, just 45 meters east of the original site. On September 11, 2021, it illuminated its façade and joined NYC and the world in observing the 20th anniversary of that tragic day. Three times larger than the original and clad in brilliantly white Pentelic marble, Saint Nicholas Greek Orthodox Church and National Shrine is set to open for the public in spring 2022. Notably, it will also include a non-denominational ecumenical remembrance room where people of all faiths and backgrounds will be welcome to come together to pray, remember and reflect — a reminder to us all that our shared humanity truly is a light that never goes out.