As we mark the 90th anniversary of the American-Hellenic Chamber of Commerce, our values and mission are as relevant today as they were 90 years ago.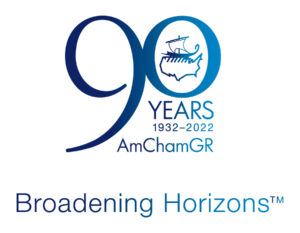 Established in Athens in 1932, the American-Hellenic Chamber of Commerce (AmChamGR) has tenaciously pursued its mandate to promote and foster commercial, financial and business relations between the United States and Greece for almost a century, rightfully claiming its place as one of the largest, most active and dynamic American Chambers in Europe. More than 750 strong and growing, the Chamber's membership includes virtually all American companies that do business in Greece and Greek companies that engage, or plan to engage, in trade with the United States — companies that are at the forefront of their respective fields and seek to further expand their business horizons, create new partnerships and synergies, explore exciting trade and investment opportunities, and enjoy access to the Chamber's many services and resources.
In its nine decades of operation, the American-Hellenic Chamber of Commerce has taken an active role in enhancing and strengthening the country's economy and business environment, emphasizing the importance of the transatlantic economy and ever working to further develop and reinforce the close relationship between Greece and the United States. Through thick and thin — through challenges that included a world war, civil conflict, regime change, prolonged economic crisis, and most recently a pandemic — the Chamber has remained steadfast in its efforts, emerging as a leading institution in the country's economic and business environment. Through its 25 specialized committees, the Chamber uses its accumulated knowledge and expertise to contribute to the development and competitiveness of the Greek economy, by engaging with decisionmakers, putting forth policy recommendations, participating in top-level discussions, and implementing a range of key initiatives.
Today, as we celebrate our 90 years of operation, we look with pride on our efforts and accomplishments, but equally on the people who have made it all possible — our members, committees, staff and leadership, past and present. It is our commitment at AmChamGR to continue to strive for continuous improvement of US-Greek commercial and financial relations, through increased membership, effective advocacy and our signature events — including high profile conferences, exhibitions, forums and seminars — on both sides of the Atlantic and to continue to push forward for a better, more prosperous, sustainable future.