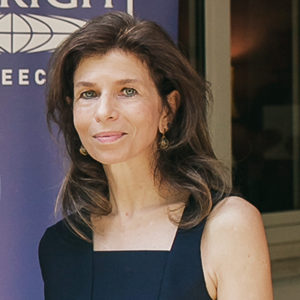 The Fulbright Program is the premier educational exchange program in the world, operating in more than 160 countries. The Fulbright Foundation in Greece, a non-political not-for-profit educational organization, is the first Fulbright exchange program in Europe.
Since its inception in 1948, the Fulbright Foundation in Greece has served as an educational, cultural and intellectual bridge between Greece and the United States providing scholarships to more than 5,500 U.S. and Greek citizens. Grant recipients include students, scholars, researchers, scientists, teachers, artists and professionals who show promise to excel not only as leaders in their respective fields but as responsible global citizens as well. In its early years, the Foundation also awarded scholarships to more than 2,500 Greek high school students to attend the four U.S. affiliated schools in Greece: Athens College and Pierce College in Athens and Anatolia College and The American Farm School in Thessaloniki.
Today the Fulbright Foundation in Greece serves the academic community and awards scholarships in nearly every discipline, initiating collaborations between academic institutions, offering information about studies in the U.S. and showcasing Greece as an educational destination. The Foundation's archives offer a wealth of examples of the valuable contributions U.S. and Greek Fulbrighters have made in both countries and demonstrate the Foundation's role in promoting Greece and Greek culture in the United States.
Fulbright scholarships and programs have a multiplier effect because the benefits extend beyond grant recipients to their broader academic, professional and scientific environment. Fulbright alumni are an integral part of the Program. Alumni continue to participate and stay active in a variety of ways well beyond completion of their grant period.
It is a testament to the strength of the Fulbright Program that it has continued to thrive even in the midst of great economic and social challenges for Greece and the world. For the current academic year, the Foundation awarded a total of 72 scholarships evenly distributed to U.S. and Greek citizens who are about to commence their grant period in Greece and in the U.S. respectively.
The Fulbright Program's distinct hallmark is its bilateral quality. Primary funding comes from the Government of the United States with support from the Government of the Hellenic Republic. The growth of the scholarship program also relies on the invaluable support from the Foundation's donors—foundations, organizations, corporations and individuals—in Greece and in the United States. Donors invest in the future, confident in Senator James William Fulbright's belief that education carries within it immense power.