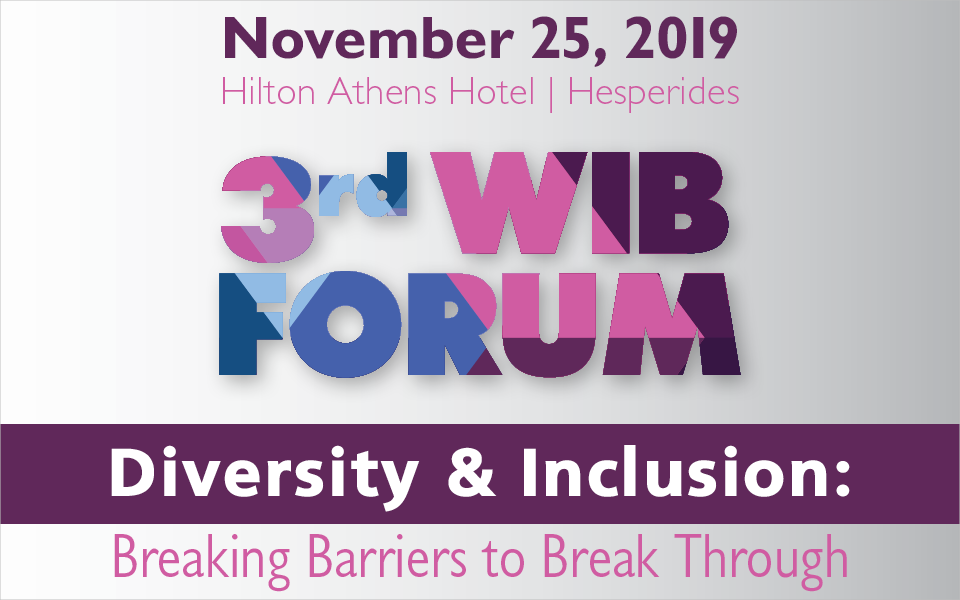 The Women in Business (WIB) Committee hosted its 3rd WIB Forum, Diversity & Inclusion: Breaking Barriers to Break Through on November 25, 2019 at the Hilton Athens Hotel. The forum shared the findings of a research conducted among 28 CEOs, analyzed the recent trends and reasons contributing to persistent gender gap and inequalities and focused on the ways in which diversity & inclusion can create more value for organizations, and on how decision makers can inspire their people to reach for more of their potential, no matter their age and gender.
Noteworthy speakers shared their stories about breaking glass ceilings, challenging myths about gender and age, and bringing valuable and useful insights on embracing diversity and inclusion.
Forum conclusions include:
-The issue of diversity and integration in the workplace is now more relevant than ever and can be an important lever to boost sustainable growth and social cohesion in the post crisis Greece.
-We are all victims of unconscious bias integrated in our everyday narratives that impede inclusion. We need to be aware of and fight them consistently.
-Companies need to adopt a more flexible way of working – new technologies allow this – which will allow more women to get jobs and seek higher positions.
-Investing in modern skills is also a contemporary issue, and programs are needed here for all generations of women, from young girls to older women who find it difficult to join work after maternity leave or for other reasons.
-Corporate leaders have a responsibility to create a culture that not only promotes diversity, but also ensures integration so that employees feel they belong in the workplace, that they are heard, that they add value.