Brothers Leonidas and Vassilis Zaimis are the heart of MAS, the Greek company that provides innovative energy and power management solutions to some of the biggest projects in Greece and beyond. Vassilis Zaimis, Vice President and Deputy CEO of MAS, talks to Business Partners about the company's history, the key role of talent and innovative thinking in a company's success, and his optimism about the future.

MAS has been a leader in energy and power management solutions for more than 30 years. Tell us a bit about the company's background.
MAS is a Greek company, founded in 1974, that initially operated in the marine sector as an engineering specialist, undertaking the upgrading of engine room and bridge control systems in all kinds of vessels. Since the very beginning, MAS offered highly specialized services and therefore quickly grew into a leader in automation and control solutions in and beyond the Greek market.
In the 1990s the company started investing in land-based markets where it focused its activities in the power production sector. After establishing itself in complex retrofit projects for thermal plants, it expanded its solutions to rentable energy installations. At the same time, it established a network of strategic partnerships with leading international companies such as Woodward in the United States.
MAS is first and foremost an engineering company. Our product is the knowledge and expertise which our people have gained through the years.
Today, MAS operates in 28 countries, specializing in the design, development and installation of power management, control, protection and monitoring solutions with emphasis in the energy sector. MAS is a company that continues to grow in knowhow and is always ahead of the competition with regard to technology and innovation.
Can you give us some examples of significant projects that allowed you to grow your expertise?
For us, every project is significant because every project is unique. Each of our clients has different reasons for upgrading their installation. It could be because the installation reached its end of life, or because their production has increased and therefore an increase in energy demands is unavoidable, or because upgrading their installation to the latest technology systems could decrease the cost of production in various ways.
Three examples come to mind. The first is the upgrading of hydroelectric facilities on the river Acheloos (Kremasta, Kastraki, Stratos 1 and Stratos 2), often used for peak power and grid frequency moderation. MAS undertook the upgrade of the control and monitoring systems, achieving an increase in both the response speed and efficiency of the turbines. Our advanced monitoring systems have also contributed to the safe and effective management of the power stations with a reduced number of staff.
Companies that made it through the Greek economic crisis and survived have come out stronger and more ready to contribute to the revival of the Greek economy
The second example is the total overhaul and upgrade of two 27MW GT10A gas turbine installations inside a refinery. The machines had over double their hours of operation and were running to failure. We took on the task, not only to upgrade the automation, protection and auxiliary operation of the plant but also to find a solution for their actual machines. Within a very short period of time, we located two gas turbines identical to the ones used in the refinery and practically brand new (15,000 hours of operation). We overhauled these and delivered them to our client with more or less zero hours of operation. Our client is now running both turbines, as new, and with the latest power management, and engine protection systems, not to mention a brand new SCADA system. The project was very successful and provided a solution to a common problem at a fraction of the price of a new turbine train.
Lastly, we are very proud of our contribution to the Greek islands, where MAS's award winning GMS solution was successfully implemented in over 27 power plants, successfully improving power quality and increasing the penetration of renewables while at the same time increasing the operational efficiency of the thermal plants. Our system is now one of the biggest SCADA systems in Greece, monitoring and processing more than 650,000 inputs and outputs every second and enabling unified operational and control capabilities of the islands from a control center based in Athens.
This year MAS will present the ACROSS energy management platform. Can you tell us more about it?
The fourth industrial revolution is at the forefront of today's development. This is especially true for the energy sector where new technologies and tools are required to cope with the changes needed to manage the diversity in available energy sources and the new market structure that calls for smaller independent grids.
ACROSS is a state of the art software solution that offers backward compatibility with existing field devices plus native support for constantly evolving technologies such as big data, AI, and IIOT. ACROSS is the result of the innovative thinking and hard work of our people, who blended their experiences and expertise with emerging trends and needs. We are extremely proud not only for creating a cutting-edge tool for the energy market but mostly for allowing our people to unleash their potential and creativity.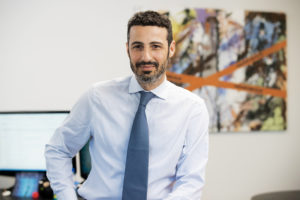 MAS has been constantly investing in its people, their talents and innovative ideas, even during the worst years of the crisis. How important have your people been to the company's success?
At MAS, it is our people who fulfill our promise and make us a key player in the industry. During the worst years of the crisis, we made the brave decision to continue investing in our people instead of taking a step backward.
Our wide range of services and products puts us in a unique position in the marketplace and we're always on the lookout for talented, passionate people to join us in our journey to shape the future of global commerce. Let's not forget that MAS is first and foremost an engineering company. Our product, therefore, is the knowledge and expertise which our people have gained through the years.
The COVID-19 crisis hit the world just as Greece was emerging from a decade-long recession and moving forward toward new opportunities and to attracting new investments. What are your thoughts on what lies ahead for the country?
It is true that companies that made it through the Greek economic crisis and survived have come out stronger and more ready to revive the Greek economy. The global pandemic is undoubtedly changing our word once again at a time when all of us in Greece needed a break from fighting immense challenges. All of us will have to adapt to a new way of living and working, and although some will lose more than others—while tragically we see so many who have lost far too much already—as business, we try to shape new opportunities out of every crisis or change.
To that end, with regard to the energy market, we believe that in this new economic reality, retrofitting existing plants to recapitalize assets and maximize cost efficiencies will become a top priority. At the same time, new developments such as OT-IT conversion, load balancing, energy smart metering and the rapidly expanding EV are practically transforming the energy sector, putting MAS in a unique position at the forefront on significant opportunities. With all this in mind, we are gearing up for this new fight.