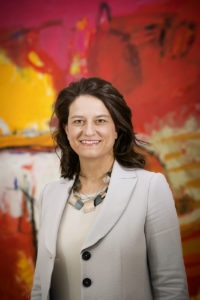 As the government doubles down on its commitment to enhance education and boost entrepreneurship among young Greeks, Minister of Education Niki Kerameus speaks to Litsa Panayotopoulos, Chair of AmCham's Education, Innovation and Entrepreneurship Committee, about the importance of investing in education and listening to the younger generation.

Just half a year after the elections, the new administration is moving forward with a new education bill that aims to enhance and modernize higher education in Greece. Can you tell us a bit about the bill?
There are two bills concerning higher education in Greece. The one that recently passed through Parliament, aims at fostering a more qualitative, progressive and outward-looking landscape of higher education. Among the important changes that this new law introduced is the creation of an independent body that evaluates the needs and deliverables of each university based on criteria that the universities themselves set. The evaluation of each university will affect, to a certain extent, the allocation of state funding (which until now was up to the complete discretion of the Minister), so as to allow for a transparent and fair process of state funding. More specifically, 80% of the state funding will be based on quantitative, objective criteria, such as the number of the students, and 20% will depend on qualitative indicators chosen by the universities, such as their research impact, extroversion, etc. In addition, the new bill abolished the red tape associated with research funding and granted a lot more freedom to universities to invest in research.
Our upcoming legislative initiative seeks to grant more freedom to our universities to set up foreign language programs and attract international students. As such, we are granting easier procedures to our institutions to set up foreign language programs, without having to adhere to complex and unnecessary bureaucratic processes, as the previous system dictated. There is great, growing interest from foreign students to study in Greece, thus our universities will consider the data and decide on their next steps. Our government's mission is to provide them with efficient and flexible tools. We strongly believe that the autonomous nature of our universities should be respected and enhanced.
One of the administration's key tenets is that our country's higher education needs to be more open and outward-looking, not only to retain bright young minds but also to attract foreign talent. How does the bill aim to address this?
Our main ambition, as expressed by the creation of this new legislative initiative, is to provide our universities with the opportunity to establish new courses taught in foreign languages, with increased academic standards, in order to facilitate a broader range of prospects for our institutions. Furthermore, by having already linked part of their regular state funding to their performance, through a set of both objective and qualitative standards, we ensure that the proper motives are in place in order for our universities to become of even higher quality and enhance their ability to attract foreign students that will benefit first the universities themselves but also the country as a whole.
We believe in and actively promote an educational system that is extroverted and internationally minded. This is particularly true for institutions of higher education, whose structure and student population makes them optimally positioned for international collaborations. In addition to being thirsty to explore what lies beyond our national borders, however, we also believe that our country, Greece, has a lot to offer to foreign nationals.
Moreover, through our upcoming bill, we are also trying to remove additional procedural obstacles that complicate the process of attracting international students.
You recently accompanied the Prime Minister on his official visit to the United States and had the opportunity to engage in talks with your U.S. counterparts. What are the key takeaways from those talks as concerns plans to open up education?
We had very fruitful talks at the highest level with President Donald Trump and with the Assistant Secretary of State for Educational and Cultural Affairs, Ms. Marie Royce. I should also mention our outstanding collaboration with the United States Embassy in Athens and his Excellency the Ambassador, Mr. Geoffrey Pyatt. Through the International Academic Partnerships Program (IAPP) for Greece that the Institute of International Education (IIE) and the Hellenic Ministry of Education and Religious Affairs are jointly running, U.S. institutions will have an opportunity to engage with their Greek counterparts in order to craft durable and substantial partnerships. The program will bring a delegation of U.S. institutions to Greece at the end of March 2020 to meet with Greek rectors and visit a number of Greek universities. The purpose of this visit will be to build an avenue of inter-institutional communication, allowing the universities themselves to develop the types of collaborations that they believe best suit their needs, such as joint or dual degrees, or exchanges of students/researchers/professors.
Another field of cooperation between Greece and the U.S. is the Fulbright Program, a flagship international educational and cultural exchange program that the United States administers in partnership with more than 160 countries worldwide. Regarding Fulbright, Greece is the oldest U.S. partner in Europe and the second oldest in continuous operation globally. In essence, the program offers academic scholarships to U.S. and Greek citizens. The Greek Education Ministry's financial contribution flows to the Fulbright Foundation have recently been reinstated, after the recession that Greece underwent over the past few years. We were recently happy to announce that we will be tripling the amount offered to the program, from $20,000 in 2019 to $60,000 in 2020, indicating our focus on enhancing extroversion and student exchange.
We should bear in mind that the growing tendency for students, particularly from the United States, to choose Greece as their study destination is reflected in the latest IIE statistics on international student mobility. According to the 2018 Open Doors Report, the number of students choosing to study in Greece in 2018 grew by more than 20% compared to the previous year!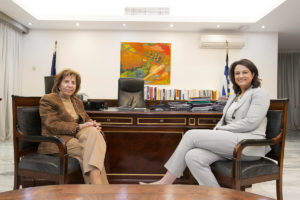 Another key issue is the need to introduce students to entrepreneurial thinking at an early age. What are your plans concerning the introduction of entrepreneurship in schools?
One of our upcoming initiatives includes the introduction of new curricula in schools in order to develop the kinds of skills, such as soft and digital ones, that young people will need in order to thrive in a job market that is constantly changing. Among those new curricula, one that we consider especially important has to do with entrepreneurship and developing the type of skills necessary to become a successful entrepreneur. As such, besides cultivating cooperation, creativity, adaptability and communication skills in general, we are also going to have a program of study dedicated to the topic of entrepreneurship. I strongly believe in bridging the gap between our educational system and the needs of the job market, and I believe that cultivating entrepreneurial skills among young people is a promising avenue for doing so.
A STUDENTS' PERSPECTIVE
"What is a perfect school? It's a school that allows us to study a wide range of engaging topics and learn through projects and assignments, supported by our teachers and professors to explore and learn on our own terms, respecting our individual strengths and needs. It's a school that emphasizes teamwork and encourages healthy, respectful disagreement and debate, teaching us to recognize our own—and each other's—talents and to make the most of them. It's not a sterile white box, but a place of creativity and discovery, where education includes social and environmental awareness and respect for each other and the world around us."
The students that contributed their thoughts and were photographed with Ms. Kerameus are: Konstantinos Dasios, Ariadne Daskalaki, Konstantinos Daskalakis, Thomas Georgiou, Panagiotis Patikos, and Thodoris Patsourakos
In December, you participated in an open discussion at AmCham's Greek Economy Summit and participated in a panel with secondary and higher education students—a kind of informal student advisory board. How important is it to continue giving a voice to young people and listening to their needs and experiences, as well as their expectations, especially after the first meeting you had with students from the advisory board?
Ever since the beginning of my term I have taken advantage of every available opportunity to reiterate how important I think it is that the voices of students be heard. During the discussion at AmCham's Greek Economy Summit, I was able to hear some very interesting ideas and to truly listen to the needs of students and their desires for the future of our educational system. I think it is especially important to note that increasing English language programs and opening up our universities as well as introducing processes for evaluation were mentioned by those very students as important steps for the future, so we are happy to hear that the measures we are introducing are in tune with what students prioritize as needs as well!
With your term as Minister of Education just beginning, what are your hopes and goals for the coming years? Do you have a message for the country's youth?
I am fully aware of the great responsibility of my assignment and of the Government of Kyriakos Mitsotakis as a whole. Greek people, parents, pupils, and educators have high expectations, and we can assure them that we will do our best—and more—to meet those high standards and lead the Greek educational system towards a better future. There is no magic recipe or solution; the only way to achieve these challenging goals is to work hard in close collaboration with the broader society. Our main priority is to upgrade public schools and universities and align them more with the best international practices. Our vision is to build a new, bright future for Greece and its youth.