The FedEx Small Business Grant Competition aims to empower businesses with 50 or fewer employees to grow and achieve their business dreams. Held for the first time as a single pan-European contest with a total grant pool of nearly "250,000, this year's competition also saw Greece's first participation in the event. Business Partners asked Maria Andrianakou, Marketing Manager South East Europe and Turkey, FedEx Express, to share a few words on the competition.
The FedEx Small Business Grant Competition was established in the United States in 2012. It was first launched in Europe in 2016 in just three countries, building to five countries by 2019. Chosen from thousands of inspiring entries, this year's 15 exceptional finalists were announced in November 2021, signaling the start of the contest's final stage in which they competed for the Grand Prize of €50,000 or for one of the three Judges Choice Awards: Digital Excellence, Sustainability Champion, and Innovation Mastermind, with winners receiving €15,000 each. The final stage also invited the public to vote for eligible companies to win the People's Choice Awards in their respective countries.
The Small Business Grant is one of the ways we support SMEs to make their business dreams come true
"The Small Business Grant Competition is a great opportunity for us to identify innovative and passionate startups and small businesses and support them in turning their ambition into action. It is an open call to SMEs to share publicly, via a user-friendly and easy to complete online platform, their ambitions and plans, specifically in the areas of digital experience, sustainability, and innovation. Participating companies can win a financial reward to facilitate their business ambition for what's next. Acknowledging the fact that SMEs are the engine of the European economy, the Small Business Grant is one of the ways we support them to make their business dreams come true. We are connecting with SMEs not only as logistics partners but also as a growth enabler for them. FedEx is one of the few companies in the world that has the network and capabilities to keep commerce moving, and this competition is part of this too.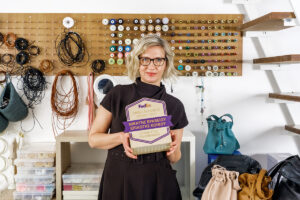 Notably, this year was also the first time that we launched the competition in Greece, and we exceeded our own expectations in terms of pa
rticipation, feedback, and enthusiasm from the market. The success is a combination of many factors: the targeted communication that created a word of mouth effect in the local market, the multiple judges' and people's choice awards, and many more. But overall, the success stems from the essence of this competition, which is designed to touch upon the real needs of startups and small businesses."
The winner of the 2021 People's Choice Award in Greece was Greek Chic Handmades, a company that crafts bespoke leather footwear and accessories for women. Eleftheria Tyraki, the company's Owner and Creative Director, shares her thoughts on the experience of her company's participation in the process:
Which characteristics do you think helped Greek Chic Handmades stand out and win the 2021 People's Choice Award for Greece?
I believe the aesthetic of the brand was what helped our participation stand out. Particularly, our work on leather sandals, a very popular type of women's footwear, in order to offer authentic, original and quality designs for the modern woman. We are very happy that at this level, in the FedEx Small Business Grant Competition, the public voted in favor of our work and our proposals on women's accessories. We would like to extend our heartfelt thanks to them, as well as to FedEx, which not only actively supports international business but also focuses on important topics, such as sustainability.
Which benefits have you identified so far from your participation in this competition?
Participation in a competition conducted by FedEx, which is one of the world's largest brand names, only has advantages. We were introduced to a new wide audience and were boosted in terms of brand awareness. The distinction that really delighted all those who already knew and love Greek Chic Handmades strengthened us in terms of prestige. It is a huge honor to win an award from the public and for this award to have the signature of a global heavyweight like FedEx. Even though we did not come first, participating in such an important and well-organized international competition that gives you the opportunity to express your own story to a wider audience has great benefits.