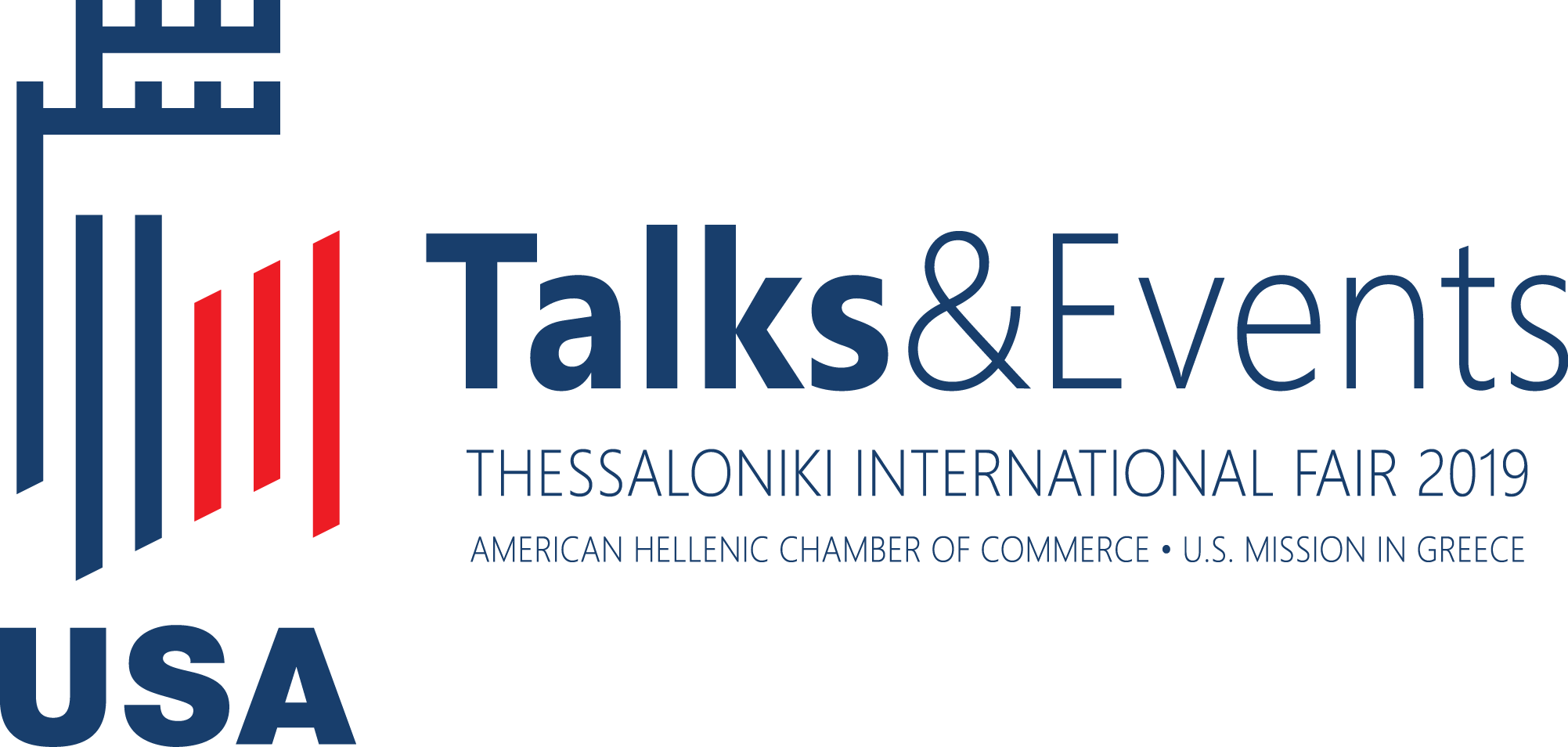 Following the successful organization of the US Pavilion (honored country) and the parallel events in Thessaloniki International Fair 2018, the American-Hellenic Chamber of Commerce with the cooperation of the US Embassy and the US Consulate in Thessaloniki, organized the USA@TIF-TALKS & EVENTS.
Innovation, healthcare, technology, agri-food and energy, were the key areas the participating companies focused, presenting a series of lectures that took place at Vellidis Olympias Hall, during TIF (September 7-15, 2019).
Companies that participated in Talks & Events 2019 included:
ANATOLIA COLLEGE
CISCO
COMPETEGR
DELOITTE
GOOGLE
GS1 ASSOCIATION GREECE
HEWLETT PACKARD ENTERPRISE
IBM
JANSSEN-CILAG PHARMACEUTICAL S.A.C.I.
MICROSOFT
NEW AGRICULTURE FOR A NEW GENERATION-RUTGERS UNIVERSITY
ORACLE
PAPASTRATOS (AN AFFILIATE OF PHILIP MORRIS INTERNATIONAL)
ONEX SHIPYARDS
PwC
STANLEY BLACK & DECKER
THE AMERICAN COLLEGE OF GREECE
Additionally, TEXAN ENVIPCO presented the 1st Mobile Integrated Recycling Center using Photovoltaic Panels.
TALKS & EVENTS 2019 was sponsored by MICROSOFT, TEXAN ENVIPCO, IBM and GOOGLE.
PFIZER, ABBVIE and AMERICAN-HELLENIC HULL INSURANCE COMPANY supported the events.
Geoffrey R. Pyatt, Ambassador of the United States of America to the Hellenic Republic
Nikolaos Bakatselos, President, American-Hellenic Chamber of Commerce
Thanos Savvakis, President, Federation of Industries of Greece
Gregory W. Plefger, US Consul General in Thessaloniki
George Georgantas, Deputy Minister, Ministry of Digital Governance
Nikolaos Bakatselos, President, American-Hellenic Chamber of Commerce
S imos Anastasopoulos, President, Council on Competitiveness of Greece
Nikolaos Bakatselos, President, American-Hellenic Chamber of Commerce
Alexandros Costopoulos, Secretary General, American-Hellenic Chamber of Commerce
Niki Kerameus, Minister for Education, Research and Religious Affairs
Vasilis Kikilias, Minister of Health
Claudia Carydis, Vice President of Public Affairs, The American College of Greece
Prof. Panagiotis Behrakis, Director of the Institute of Public Health of The American College of Greece and Head of the Committee of Experts Responsible for the Implementation of the Anti-smoking Law throughout Greece
Elias Spirtounias, Executive Director, American-Hellenic Chamber of Commerce