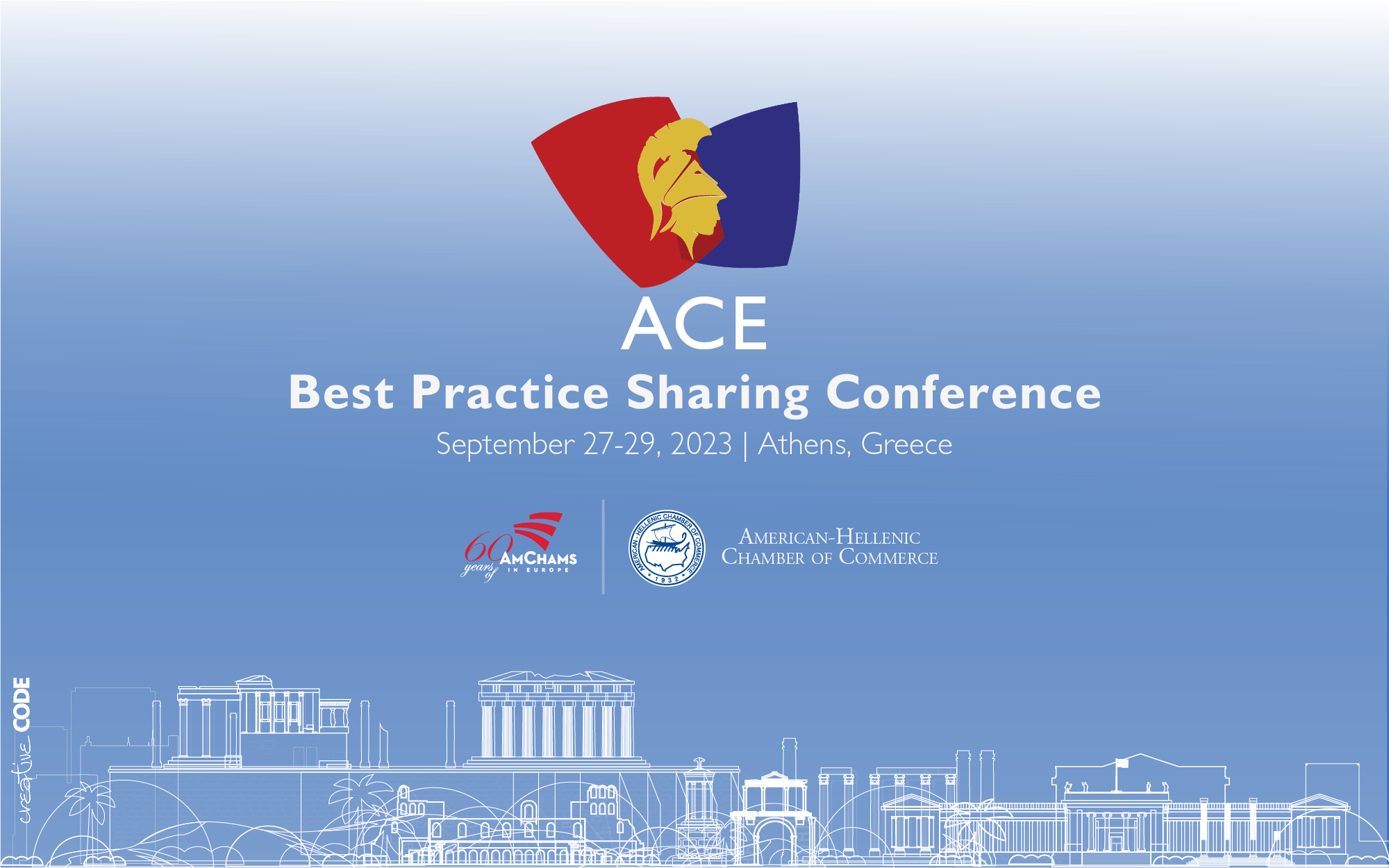 The ACE Best Practice Sharing Conference organized by AmChams in Europe (ACE) and the American-Hellenic Chamber of Commerce (AmCham Greece) was an outstanding three-day event featuring discussions, enlightening insights, and valuable connections. AmCham Greece was proudly chosen to host this year's ACE BPC in conjunction with the anniversary celebration of the 60 years of AmChams in Europe. ACE BPC underscored our collective purpose of furthering transatlantic ties. More than 60 individuals from over 35 AmChams gathered at the origin of democracy to foster transatlantic relations and motivate cooperation. This year, we had the honor of connecting with AmCham Presidents who enriched the network. AmChams in Europe (ACE) serves as the umbrella organization for 46 American Chambers of Commerce (AmChams) from 44 countries throughout Europe and Eurasia to create partnerships, create cooperative relationships, and achieve shared prosperity to lead to a dynamic and sustainable future for AmChams across the globe.
Three Days of Insight, Innovation, and Collaboration
On September 27, the opening Welcoming and Brainstorming Session set our perspective for the future of AmChams and revealed our united commitment to progress. We participated in dialogues during Breakout Sessions that addressed Organizational Sustainability, Member Engagement, Economic Challenges, Accountable Business, among several other topics. We had the privilege of gaining insights from Dimitris Fragakis, Secretary General of the Greek National Tourism Organization, who demonstrated the resilience of Greece's tourism industry. United States Ambassador George J. Tsunis welcomed the ACE delegation at a reception at his residence and reinforced AmChams contribution in promoting cooperation between the United Sates and Europe.
On September 28, we examined the EU Pharma Package and explored the challenges and opportunities in the European pharmaceutical sector in which industry experts provided valuable insights. An exclusive tour of The Ellinikon Experience Centre presented an ambitious sustainability-focused urban development project at Athens' former airport. AmCham Presidents had the opportunity for an insightful roundtable discussion with Ministers of Economy and Finance Kostis Hatzidakis and of Development Kostas Skrekas, as well as with the Deputy Minister of Foreign Affairs Kostas Fragogiannis. The ACE 60th Anniversary Gala Dinner marked a significant occasion with a fireside chat featuring Dr. Albert Bourla, Chairman and CEO of Pfizer, creating a perfect blend of networking opportunities and reflection on six decades of AmCham collaborations.
On September 29, the day opened with the ACE Presidents & CEOs Breakfast Briefing with industry & investment leaders who examined the optimistic opportunities for the future. The Creative Network presentations showcased innovative ideas from various AmChams worldwide, featuring projects that advance economies, improve corporate governance, foster digital education, and strengthen resilience. At the Creative Network Awards Ceremony, AmCham Ukraine received recognition for their outstanding contributions and constant commitment to innovation. The conference closed with a dinner hosted at Athens City Hall by Mayor Kostas Bakoyannis, concluding three enriching networking, education, and collaboration days.
The ACE Best Practice Sharing Conference was a great success, building inspiration, insight, and motivation to strengthen transatlantic relations and promote innovation within the business environment. We want to thank all participants for their dedication and contributions to the AmChams network. We also thank Susan Danger, Chair, AmChams in Europe, Ajša Vodnik, Vice-Chair, AmChams in Europe, and the ACE Secretariat Team for their support and trust.
We also extend our sincere appreciation to our sponsors: Public Power Corporation, Citi, Pfizer, AbbVie, BCG, Enterprise Greece, GE Healthcare, Hill International, Iron Mountain, Johnson & Johnson MedTech, Lamda Development, Mondelez and the support of the National Greek Tourism Organization.
ACE BPSC 2023 in Athens Photos