Part database, part networking hub and part resource platform, Elevate Greece is the Greek government's official gateway to the Greek startup ecosystem,
a one-stop shop for all things startup in Greece.
Launched in September 2020 by the General Secretariat for Research and Innovation (GSRI) under the Ministry of Development and Investments, Elevate Greece is an initiative designed to identify and support promising startups—through knowledge sharing, funding and networking opportunities—and contribute to the creation of a robust innovation and entrepreneurship ecosystem that empowers Greek startups to grow and succeed, establishing Greece as a major innovation hub in South East Europe. To this end, the initiative has partnered with a number of major national and global corporate heavyweights, academic institutions, professional associations and business organizations, including the American-Hellenic Chamber of Commerce.
Elevate Greece serves a number of key goals. Serving as a National Startup Registry for startups that meet certain eligibility requirements and key innovation and scalability criteria, it monitors startup development through a set of KPIs in order to deliver targeted support more efficiently where it is needed and to provide a metrics dashboard to attract foreign and domestic investment. Processing a wide range of pertinent data, it maps the country's innovation ecosystem, allowing registry users to filter member startups using criteria such as industry, location and technologies applied. Prioritizing startup growth and extroversion, the initiative further focuses on promoting networking between startups as well as between startups and investors and identifying opportunities for international visibility and expansion, streamlines the development and implementation of startup-boosting policies and benefits, connects startups with funding opportunities through government programs and access to venture capital funds and angel investors, and serves as a platform for job posting, talent matching and publicizing key startup-related events.
"Capitalizing on the MoU with Elevate Greece signed in March this year, a main goal of the American-Hellenic Chamber of Commerce is to facilitate the creation of a startup nurturing environment and set strong foundations that will empower aspiring Greek entrepreneurs and innovators to pursue the development of competitive new products and services. Through training, mentorship and support, and building on the Chamber's extensive expertise and network, this collaboration will enable startups to hit the ground running and confidently enter international markets, creating new opportunities and employment prospects for young scientists and business-minded graduates, and creating added value for the country. At AmCham Greece, we believe that, when combined, innovative thinking, entrepreneurial spirit and STEM prowess create a synergy that can significantly boost our country's prospects of economic development and social prosperity, both directly and by fostering stakeholder and investor optimism in Greece and abroad."

– Nikolaos Bakatselos, AmChamGR President
Elevate Greece is also home to the National Startup Awards, which award the highest scoring member startups across 10 key categories with cash prizes and access to exclusive benefits and services. The first National Startup Awards competition was held in 2021, with the awards presented to winners at a special ceremony that took place at Emilios Riadis Conference Center within the context of Thessaloniki International Fair (TIF 2021). Ten startups, each at the top of their respective category, were awarded a total of €50,000 as well as a range of bespoke startup services provided by the event's official partners, which are some of the leading corporations in Greece.
Today, just three months short of its two-year anniversary serving the Greek startup ecosystem, Elevate Greece has a membership of more than 618 companies that together employ more than 5,900 highly skilled and talented people. Given the initiative's success, Greece's National Recovery and Resilience Plan, Greece 2.0, includes provisions for a reform that will see the establishment of a distinct organization named Elevate Greece SA, which shall provide accredited startups with promotion services globally, aiming to speed up the integration and advancement of the Greek innovation and entrepreneurship ecosystem around the world. The reform, which further aims to expand these services to the entire national innovation ecosystem including research centers, innovation clusters, competence centers, and highly innovative companies, is set to be completed by 31 December 2025.
The Greek Startup Ecosystem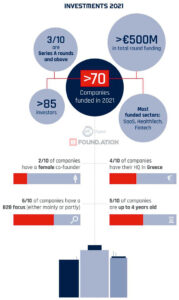 The startup ecosystem in Greece is growing rapidly, attracting increasing international interest and driving a surge in investments. In 2021, Greek startup funding hit over €500 million, with about 80% of that capital going to 10 companies. The amount, which was more than triple compared to disclosed investments in 2020 (which stood at a little over €150 million), went to a total of over 70 startups, marking a 30% increase in the number of companies getting funding and pointing to increasing early-stage activity in the Greek startup ecosystem. Another important milestone for the development of the ecosystem is that now 3 out of 10 rounds are Series A or later.
The American-Hellenic Chamber of Commerce actively participates in supporting the effort of the National Startup Registry, Elevate Greece, which is a flagship initiative of the General Secretariat for Research and Innovation, under the Ministry of Development and Investment. Through an integrated set of actions and provisions that it offers to members of Elevate Greece, the American-Hellenic Chamber of Commerce is meaningfully contributing to the development, strengthening and extroversion of the Greek innovation ecosystem. Enjoying access to the Chamber's extraordinary network of experts and executives, Elevate Greece members have the opportunity to tap into a wealth of knowledge, knowhow and international entrepreneurial outlook. We are very grateful to AmCham Greece for its comprehensive support in this endeavor and its important contribution to this national effort.

– Christos Dimas, Ph.D., Deputy Minister of Development and Investments
The Greek startup ecosystem saw six exits in 2021, three of which were particularly notable: Network analytics company Niometrics was acquired by US-based Mobileum, dataops platform Lenses.io was purchased by enterprise software giant Celonis, and email marking service Moosend was acquired by global customer experience platform Sitecore. The past year also saw the emergence of Greece's first unicorns—PeopleCert, a leader in the assessment and certification of professional skills, and Viva Wallet, Europe's first entirely cloud-based neobank of which a 49% stake was acquired by JP Morgan—while a number of soonicorns are on their way to billion-dollar valuations.
According to Elevate Greece data 67% of startups are based in Athens, with a further 16% in Thessaloniki, 7% in Heraklion (Crete), and 4% in Patras, while the top startup sectors are health/biotech (13.3%), tourism and leisure (9.4%), environment/energytech (8.3%), agri/foodtech 7,7%), and advertising/marketing (6,6%). Over the coming years, startups are expected to benefit from the growing local VC and Angel investor ecosystem as well as from several targeted accelerator programs, including Capsule T, enter-grow-go (EGG), MITEF, OK!Thess, OrangeGrove, and ThEA. Not least, startups are set to benefit from new legislation designed to streamline and support entrepreneurial efforts and investment through a series of benefits, incentives and other measures.
Innovative entrepreneurship, scientific and technological innovation and forward-thinking investment in new ideas are key to building a bright and prosperous future for our country. The Education-Innovation-Entrepreneurship Committee has always worked to bridge the different aspects of this process, connecting academia with the real economy, fostering R&D in the academic and business community, and creating opportunities for people of all ages, entrepreneurs and innovators to access mentorship and networking opportunities. Through this MoU with Elevate Greece, we can further utilize our expertise to help startups develop competitive and innovative products and services and become financially viable. We can facilitate their access to investment opportunities and international markets, adding to the country's startup success stories, elevating Greece in the eyes of Greeks and foreign investors alike, and setting the foundations for longterm growth and prosperity.

– Litsa Panayotopoulos, EIE Committee Chair
Elevate Greece and AmChamGR
In March 2022, Elevate Greece and the American-Hellenic Chamber of Commerce signed a memorandum of understanding to utilize the Chamber's extensive business network and considerable entrepreneurial knowhow and expertise to boost the country's startup ecosystem and contribute to the robust and sustainable growth of Greece's national economy. Building on the work of the Chamber's Education-Innovation-Entrepreneurship (EIE) Committee, the collaboration allows startups to benefit from key Chamber resources, including the Startup Toolkit business manual as well as training, mentoring and networking opportunities made possible through the Chamber's committees and membership.