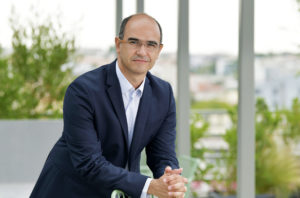 George Tousimis, Country Director, Amgen Greece and Cyprus, talks to Business Partners about the importance of turning around recent trends in Greece's pharmaceutical budget and of stakeholders from across the board coming together to ensure a sustainable future for the country's healthcare and pharmaceutical industry.
You were recently appointed Country Director of Amgen Hellas. What are your priorities for the near future, and how can Amgen contribute to Greece's economic growth?
At Amgen, our mission is to serve patients. This remains our first and most important priority. We are committed to making our medicines available for every patient, every time.
Being one of the biggest independent biotechnology companies in the world, we exploit cutting-edge science and technology to study the subtlest biological mechanisms in search of therapies that will improve the lives of those who suffer from serious diseases.
Being the first local Country Director for Greece and Cyprus after many years, I feel honored, and at the same time responsible to lead our company in times of such critical importance for the future of our homeland.
We are committed to making our medicines available for every patient, every time
Amgen has been investing increasingly in Greece and Cyrpus for the past 12 years. With innovative treatments, we improve every day the lives of more than 100,000 Greek and Cypriot patients with life-threatening diseases in oncology, hematology and nephrology, as well as cardiovascular disease and osteoporosis.
At the same time we continue to heavily invest in clinical trials: As we speak, we are running 22 interventional studies in Greece, being among the top 10 Amgen affililiates globaly. In 2019, for example, we managed to have double the number of active recruited patients in Greece than in Canada in our clinical trial programs. This is an outstanding achievement, underpinning Amgen's trust in the high-calibre skills and scientific excellence of our medical community in Greece. This is not the case however for clinical research at national level. I am confident that we can do more to improve country's footprint and establish Greece as a country of excellence in clinical research across Europe.
The elections of July 7 led to a change in Greece's political landscape. Can their outcome become a turning point for the future of the Greek pharmaceutical industry? Which are the most pressing challenges for Greek pharmaceutical companies right now?
The healthcare system and the pharmaceutical industry are indeed at a historic turning point in Greece.
Safeguarding system sustainability, to ensure that patients have access to innovative treatment options in the long run, is a major challenge for the newly elected government.
In recent years, the aggressive reduction of public pharmaceutical expenditure budget, which decreased by more than 50% in this last decade, in combination with significant delays in the implementation of structural reforms has led to a huge overspend and therefore a dramatic increase in clawbacks and rebates. For 2019, we estimate as a company that we will have to give back ~40% of our annual gross sales, taxation aside. Clearly this can not continue any more.
The review of public pharmaceutical expenditure along with the implementation of key structural reforms are essential to constructing a viable healthcare environment
In the recently published third enhanced surveillance report following the end of the latest bailout program in August 2018, the European Commission warned that the rising levels of clawback payments in Greece are becoming unsustainable. The elections of July 7 are an opportunity to reinitiate public dialogue with all relevant healthcare and pharma stakeholders, aiming at a constructive and fruitful conversation for the benefit of patients.
We need to co-create a healthcare roadmap with a 3-5 year horizon, where the notions of co-responsibility and predictability are established. In this respect, dialogue with the government has already started. Today, more than ever before, I am optimistic about the odds of success, and I am confident that Amgen will actively contribute to it, via our strong and solutions-oriented voice in the Boad of Directors of PIF, AmCham's Pharmaceutical Committee as well as SfEE.
What are the policies that must be adopted in order to ensure the sustainability of the pharmaceutical industry in our country?
As mentioned above, the sustainability of the pharmaceutical environment in Greece has reached a critical point. Further delays can challenge the sustainability of the whole healthcare ecosystem. The review of public pharmaceutical expenditure along with the implementation of key structural reforms are essential to constructing a viable healthcare environment.
An important condition is to revise and redefine a realistic budget for pharmaceutical spending. Per capita spending must be close enough to the average across European countries to ensure decent conditions in public healthcare provisions.
It is of critical importance to follow best practices from other countries and to implement strategies and reforms that promote the rationalization of the healthcare system's spending. Biosimilars are a clear example of how healthcare systems ensure that more patients can have access to safe and effective treatments for serious diseases at a significantly lower cost. Savings generated can then be reinvested to ensure that patients can always gain access to new innovative therapeutic solutions.
Most European countries have developed policies that support and encourage the use of biosimilars. In Greece such measures have yet to be adopted. The latest proposed draft legislation is a step in the right direction. Biologic products losing their patent protection in the next few years are numerous, providing an opportunity for significant savings from the introduction of biosimilars.
What can you tell us about Amgen's R&D focus and how this will impact patients' everyday lives?
To support Amgen's mission of serving patients, our R&D aims to discover, develop, and deliver transformative medicines that address the leading causes of death and disability. Amgen is a pioneer in the science of using living cells to make biologic medicines. We are proud to be advancing the largest oncology pipeline in our history, with about 20 different investigational assets in differentiated cancer types.
Our goal is to quickly bring new treatment options with the greatest potential benefit to patients. We are currently investigating the BiTE® immuno-oncology platform that represents molecules that we believe have great therapeutic potential and versatility. Our aspiration is to beat those forms of cancer which are currently considered as "unbeatable."
By leveraging Amgen's long-standing strengths in science and biotechnology innovation, we're confident we can deliver solutions that patients and society will embrace.