Education, innovation, digital tech, and the future of work. Panos Papazoglou, Managing Partner at EY Greece, talks to Business Partners about the importance of human skills, forward-thinking education and stakeholder collaboration in our rapidly changing world.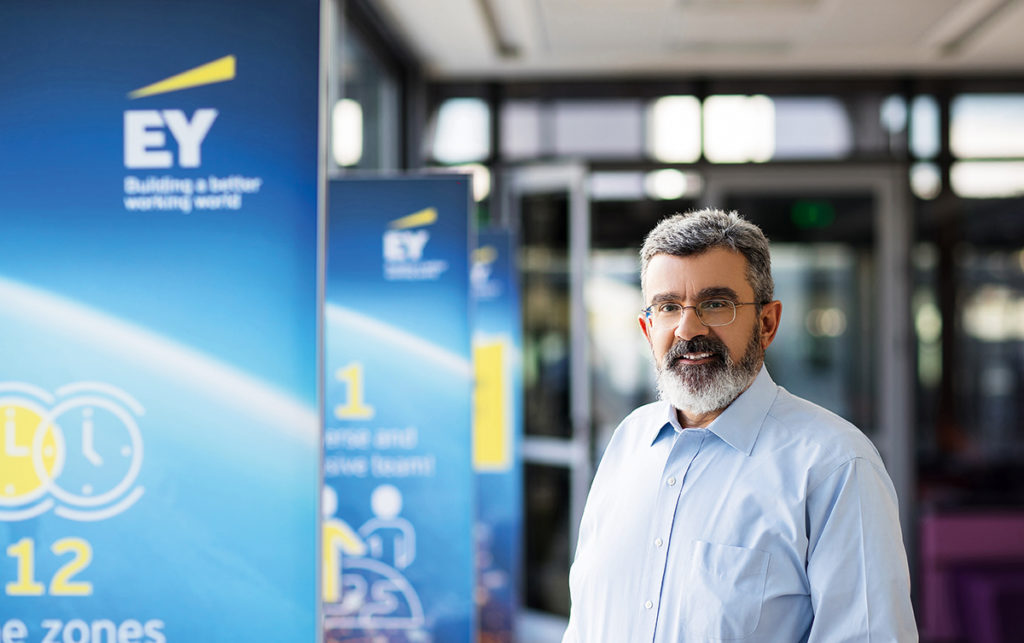 You have argued on several occasions that Greece needs to focus on the technology sector during the coming years. Why is that?
The technology sector in Europe, today, and indeed globally, is attracting the lion's share of new investments and is growing at a much faster rate than the rest of the economy, creating a significant number of well-paid jobs. Technology companies throughout the world are breaking the barriers between sectors and are currently challenging established companies in areas such as banking, telecoms, transportation, and others. Greece needs to join this race if it wants to compete at a global level and return to high and, most of all, sustainable growth rates. At the same time, traditional companies need to embrace new technologies and proceed with their digital transformation if they are to remain competitive and relevant to the needs of what we call "the consumer of the future." According to the World Economic Forum's The Future of Jobs Report, more than 70% of companies worldwide will expand the adoption of technologies, such as the Internet of Things and app- and web-enabled technologies, and will make extensive use of cloud computing, while 85% of companies are planning to adopt big data analytics. There is no available comparable data for Greece, but I suspect the figures are much lower.
Has Greece been successful in attracting foreign investment in the technology sector?
Not yet! According to our recent survey, Attractiveness Survey 2019: Greece, although overall investors' interest in Greece is on the rise, the country's technology sector does not appear to be among the ones that foreign investors are actively considering investing in. Only 18% of respondents believe that technology will be a growth driver for Greece in the coming years—a figure that is much higher for other European countries. We need to work hard to reverse this perception. It is encouraging, on the other hand, that, according to the same survey, investors consider the level of local labor skills as one of the country's key strengths. This is critical as, according to the World Economic Forum, 74% of employers will base their decision of location upon the availability of skilled local talent—a full 10 percentage points more than those who will consider labor costs as a factor.
The future of work will be nothing like what we know today
However, we need to keep working on improving these labor skills. In this dynamic, ever-changing environment, our educational institutions are constantly called to adapt their programs to the skills and vocations required by the market; something which is not happening at the necessary pace. The mix of graduates from Greek universities has hardly changed during the last two decades, at a time when the rest of the world is moving at a breathtaking pace. As a result, we are facing serious shortages in specific specializations, such as programmers, data analysts, AI professionals, and cybersecurity specialists, while we are still burdened by one of the highest unemployment rates in Europe. To deal with this, we must also focus on reskilling the existing workforce to help it adapt to the changing requirements of the market, an area where the private sector is not doing enough. According to the European Centre for the Development of Vocational Training, the percentage of employees who have participated in reskilling programs paid by their employer is close to 30% in Greece, compared to 73% for the rest of Europe.
What you are saying is essentially that the educational system and Greek entrepreneurship are out of sync. What are the implications of this?
Yes, exactly that. It is evident that we need to create an environment that will foster a free and much closer interaction between universities and private enterprise—a concept that was considered taboo until recently. This will allow academics and students to better understand and adapt to the requirements of the real economy. It will also ensure access to funding for meaningful research and development. Today we are spending 1.13% of GDP on R&D, less than half of the OECD average. More importantly, we are not focusing on applied research, which can transform bright innovative ideas into marketable applications. International experience has shown that this can only come about if academic institutions and private enterprise work hand in hand. Our joint research project on AI with NCSR Demokritos, launched last year, is a prime example of the kind of cooperation I have in mind.
The main victim of this dichotomy between educational institutions and entrepreneurship is, of course, innovation. According to the Global Innovation Index, Greece is ranked first in terms of tertiary education enrollment but 112th in terms of university-industry research collaboration. It is no surprise, therefore, that we are mediocre or poor performers in all the main indices relating to innovation, such as knowledge absorption, creation and diffusion. We can do much better than this, and we need to, if we want to create sustainable, futureproof jobs and reverse the brain drain that has plagued the country over the last ten years.
Are you arguing that new jobs will come exclusively from the digital economy?
I am saying that the future of work will be nothing like what we know today. The transformation driven by digital, especially cloud, artificial intelligence, big data, and the widespread use of high-speed internet through mobile telephony, are reshaping the boundaries between tasks performed by humans, machines and algorithms. Many traditional tasks carried out today by workers are expected to be eliminated, but, at the same time, new tasks are emerging every day, while existing jobs are being enhanced by the power of technology. So, the jobs of the future will be digitally-enabled, but they will also require strong human skills, such as creativity, initiative, critical thinking, persuasion, empathy, and negotiation, to maximize output. These changes will also drastically affect the global geographical distribution of economic activity, as businesses will move to wherever they can find the necessary skills.
Therefore, we all need to re-skill and up-skill if we want to remain relevant as employees or managers, but also, if we want to see our economy grow and prosper. To achieve that, we need to be openminded and welcome changes as they come. We need to learn how to unlearn—what we consider relevant today may not be applicable tomorrow.