In December 2022, a delegation of undergraduate students from the Department of Economics at the University of Piraeus participated in AmChamGR's 33rd Greek Economic Summit – GES 2022. The group, which was led by Professor Yannis Pollalis, founder and Director of the Master of Science graduate program in Economic and Business Strategy and Chair of the Department of Economics, participated as part of a broader effort by the American-Hellenic Chamber of Commerce to foster stronger partnerships between universities and companies and to support students in leveraging their knowledge toward a successful transition into the workforce. The students subsequently wrote an article, based on GES 2022, which they presented to Chamber Executive Director Elias Spirtounias at a meeting at AmChamGR's Athens headquarters on January 24, 2023. The full text is presented below.
With eyes turned to the future, the American-Hellenic Chamber of Commerce convened the 33rd Greek Economic Summit, titled "Big Bets in Challenging Times," focusing on various important issues that highlight Greece's economic development.
There is no doubt that, if properly managed, Greece has the potential to become a significant economic, energy, and innovation hub in the coming years
The Greek economy is expanding steadily, as evidenced by the recent decline in inflation. Of course, prolonged inactivity in the investment sector has resulted in a significant investment gap; however, as confirmed both at GES 2022 and by the 2021 edition of EY's Attractiveness Survey Greece, the country is expected to fill this gap thanks to its steadily increasing appeal as an investment destination.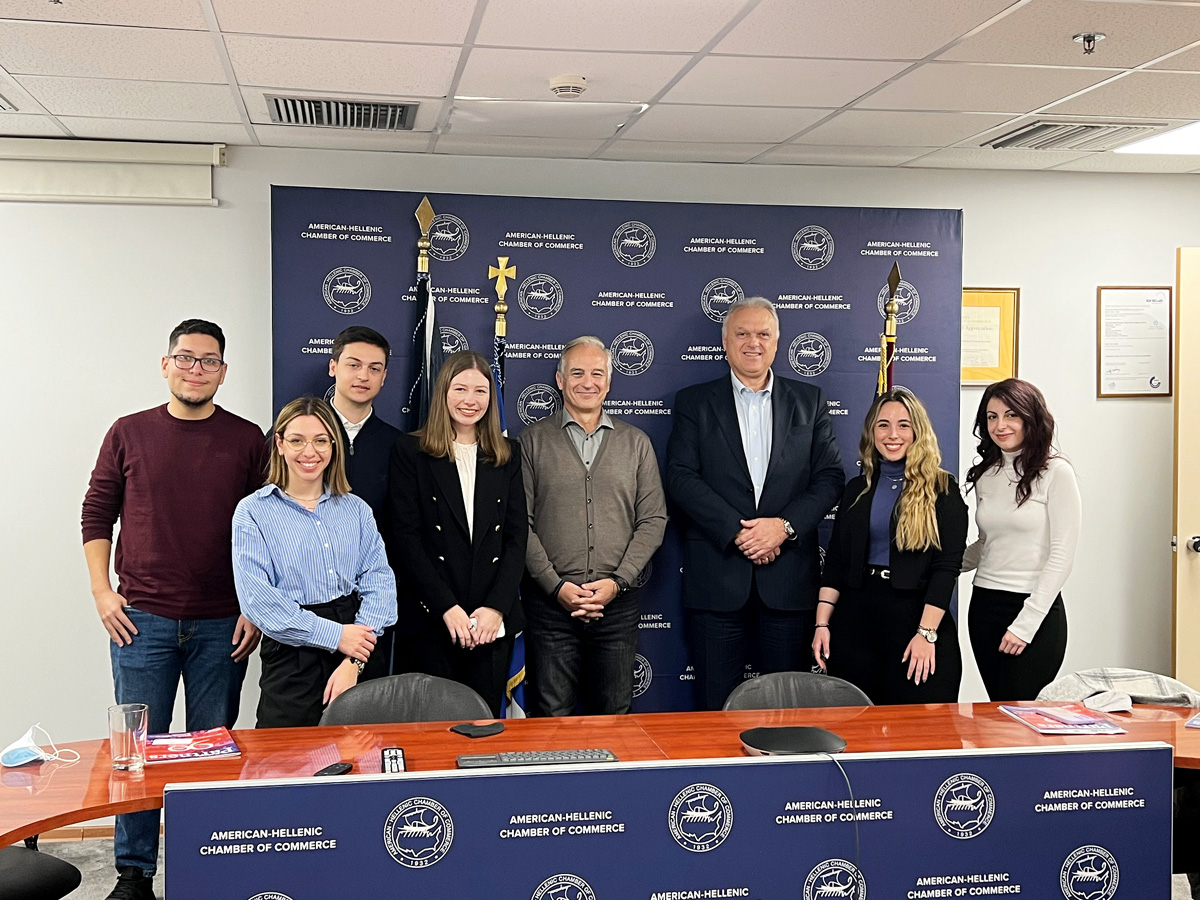 A counterweight to the prevailing international economic uncertainty is Greece 2.0, Greece's National Recovery and Resilience Plan, which was approved in 2021, supported by €30.5 billion in grants and loans from the EU's Recovery and Resilience Facility and with plans to mobilize approximately €60 billion in total investment in the country by the end of 2026.
In terms of digitalization, while Greece has not traditionally been a pioneer in the field, it is now moving forward at a rapid pace, filling the previous gaps and aspiring to be a leader in the technological sector. Examples include 5G, the digitalization of public administration services, and the widespread adoption of teleworking, which most businesses implemented in recent years.
Aside from the benefits already mentioned, Greece is also dealing with several crises, one of which is the ongoing energy crisis. Many enterprises are concerned about rising energy costs, yet if this crisis is effectively managed, energy can become a major pillar for Greece's prosperity and the prosperity of other countries too. Greece must also manage its green transition, which will benefit the country if implemented correctly. Several initiatives, including biodiversity initiatives as well as initiatives to reduce energy and promote the circular economy, are already underway.
Without a doubt, society and labor market demands are rapidly changing, and this is impacting the education system, which is being called upon to implement several reforms. Examples include expanding STEM education and emphasizing a mix of hard and soft skills. Furthermore, there is an urgent need for more training in digital skills, and digital upskilling employment programs have already been established. People are constantly being asked to improve themselves, whether through traditional or informal education.
In assessing potential areas for development, the judicial system cannot be overlooked. The realignment of three axes—people, legislation, and infrastructure—has already begun, with the desired result of immediate and longterm change.
Finally, one of the most significant achievements of the country's progress has been the consolidation of Greek-US relations, which has created a sense of stability and mutual interest. There is no doubt that if properly managed, Greece has the potential to become a significant economic, energy, and innovation hub in the coming years. Greece has learned from the past, made the necessary decisions and changes, and become more appealing in terms of attracting investment, while also developing strong relationships with other countries. As a result, we are talking about a Greece that is competitive and has the potential to take on a leading role, regionally and globally, in the coming years.
—
The University of Piraeus students' participation at AmCham's 33rd Greek Economic Summit, GES 2022, including the subsequent report and meeting, was part of a broader initiative and series of actions that aim to strengthen the links between academic institutions and business and to facilitate the process of converting academic learning and knowledge into competitive advantages that will empower young people and recent graduates to smoothly enter the job market.