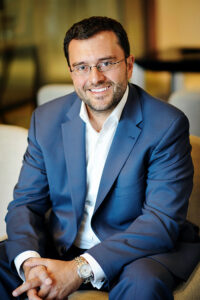 Microsoft recently announced a 40% YOY increase in security revenue—a testament to the trust our customers have placed in us. What drives us now is creating a true Zero Trust mindset: the cornerstone of effective protection and organizational resilience and the future of security.
What makes us different? Our approach to security is unique in the industry. Microsoft has two security superpowers—an integrated approach and our incredible AI and automation. We tackle security from all angles—inside-out and outside-in. It's why we combine security, compliance, identity, and management as an interdependent whole. In security, a silo is an opportunity for an exploit. No one else brings these critical parts of risk management together, not as a suite but as an approach that solves problems for customers on their terms across clouds and platforms.
Given Microsoft's footprint across so many technologies, we've been in a unique position to think holistically about the core aspects of security: stretching from identity and access management; through endpoint, email, and application security; to data loss prevention and into cloud security and SIEM. We have an approach that is truly end-to-end, and it is notable in how deeply this is embedded in our culture. Microsoft's security organization is an intense, massive collaboration that drives services, intelligence, technologies, and people—all coming together with a single mission.
Next, consider the tremendous number of signals we take in across our platforms and services: over eight trillion security signals every 24 hours. Using the latest in machine learning and artificial intelligence techniques—plus the power of smart humans—we put these signals to work on behalf of our customers. In 2020, six billion malware threats were blocked on endpoints protected by Microsoft Defender.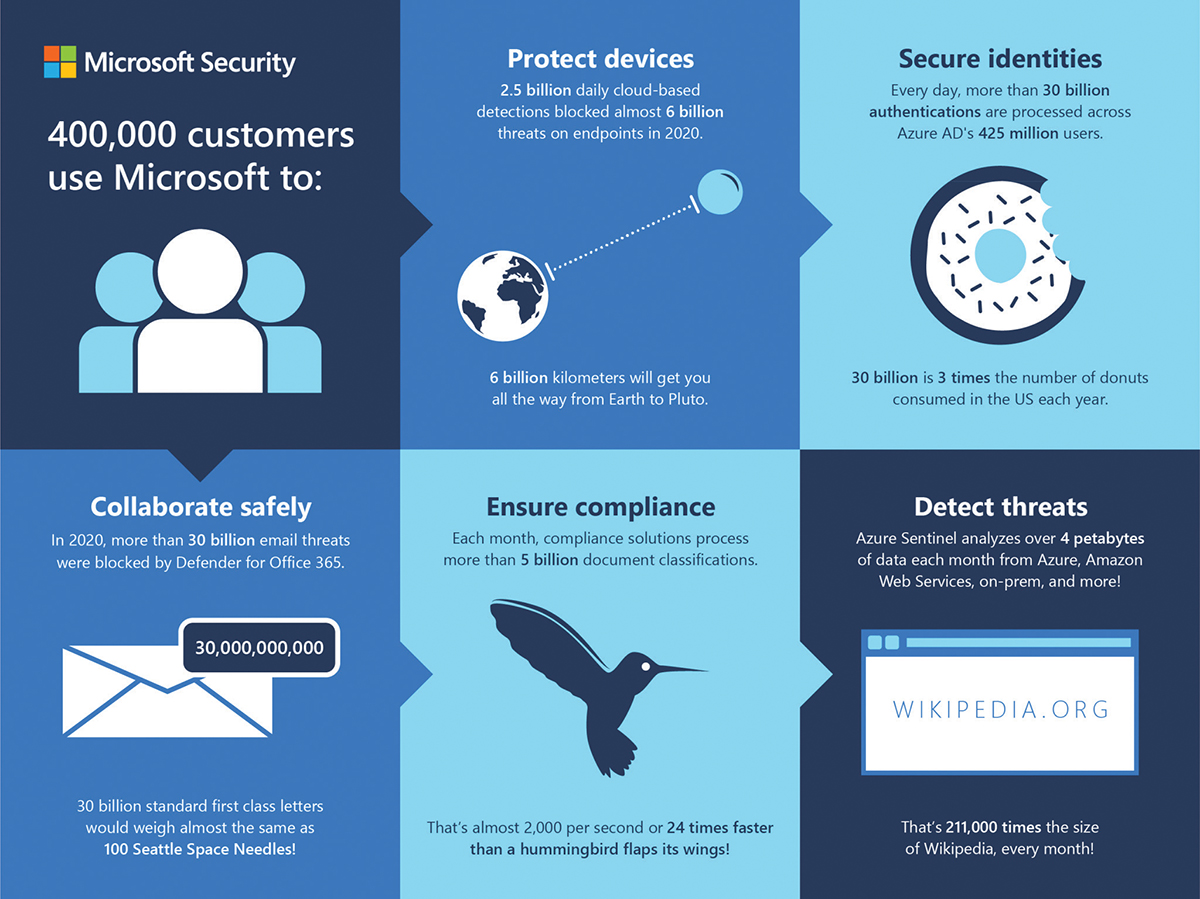 Today we help secure more than 400,000 customers across 120 countries, from small businesses to large enterprises, while 90 of the Fortune 100 use four or more of our security, compliance, identity, and management solutions.
It's about protecting our customers. Today's world of security is really a cat and mouse game. You have to know what the adversaries and threat actors are up to every single day. However, a cyber-attack is ultimately about safety, a fundamental human need. We've seen what happens to people as they're going through attacks, and it's not pleasant. So, when we're talking to customers around the world, our mission is really to give them peace of mind. Anything less than comprehensive security is no security at all. Our security, compliance, identity, and management solutions work seamlessly across platforms, and we strive to extend to all clouds and all apps, whether or not Microsoft is being used throughout the computing environment. Our commitment to comprehensive security is so absolute that we are empowering our customers to protect their cloud workloads wherever they are hosted, including Amazon Web Services and Google Cloud Platform, iOS, Android and Linux.