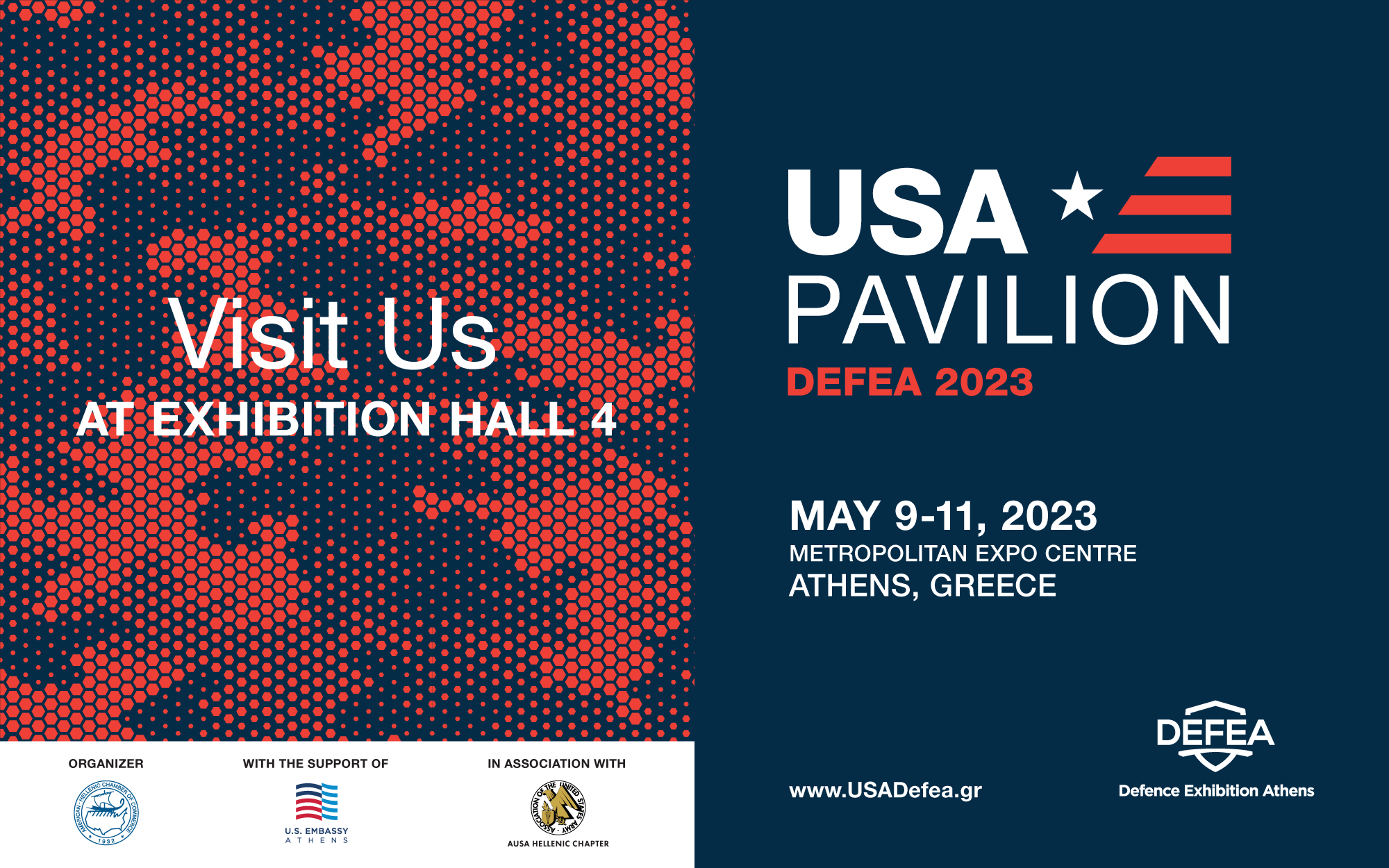 The American-Hellenic Chamber of Commerce (AmChamGR), continuing the success of DEFEA 2021, is organizing the USA Pavilion at DEFEA 2023, the high-profile international defense exhibition for land, naval, aerospace, national and cyber security defense systems Exhibition, to be held May 9-11, 2023, at Metropolitan Expo Centre in Greece. DEFEA 2023, will be held under the auspices of the Ministry of Defense, the General Directorate for Defense Investments and Armaments (GDDIA) and the Ministry of Shipping and the USA Pavilion with be organized with the support of the Embassy of the United States of America.
The USA Pavilion, occupying more than 1.000m2, will feature 24 leading U.S. and U.S. affiliated defense and security industries, showcasing state-of-the-art equipment and services. U.S. Army heavy vehicles and helicopters are expected to attract Defea visitors' interest. The USA Pavilion will be the meeting point for the defense & security industry professionals, providing a platform for networking and exchanging ideas on joint ventures and formation of partnerships, as well as to come into direct contact with key decision makers of the defense and security markets internationally.
USA Pavilion Sponsors are Boeing and Lockheed Martin, Platinum Sponsor is Onex Shipyards & Technologies Group, Gold Sponsor is PRATT & WHITNEY, a division of Raytheon Technologies Corporation and Silver Sponsors are Aeroservices, Cubic Digital Intelligence and Erickson, Inc.
USA Pavilion Exhibitors: Aeroservices, Αir Industrial, Αviation Procurement Systems, BAE Systems, Boeing, By-light – By-linear, Cubic Digital Intelligence, D&M Ammunition Manufacturing Solutions, Dillon Aero, Inc., Erickson Inc., General Atomics Aeronautical, Lockheed Martin, Missouri  Department of Economic Development – EWR Radar Systems and Masterclock –  Northrop Grumman, Onex Shipyards & Technologies Group, Pratt & Whitney -a division of Raytheon Technologies Corporation, S3 Aerodefense, Summit Aviation-Alpha Systems, Textron Aviation Inc., Titanium Industries, Inc., TotalView, Velos Rotors, Inc.
USA Pavilion Media Partners are Naftemporiki, Athens-Macedonian News Agency, ArmyVoice, Epixeiro.gr, Kranos.gr, militaire.gr
DEFEA will gather once again key stakeholders from the Greek State and international military delegations for fruitful dialogue and direct networking with the exhibitors. Indicative of the success of DEFEA 2021 is that it welcomed 12,129 visitors from 54 countries while 315 exhibitors from 22 countries participated and 45 official delegations from 36 countries, 14 Ministers and Deputy Ministers and 13 Chiefs of Armed Forces attended.
We are looking forward to welcoming all Exhibitors and Visitors at Defea 2023!
V. Tseritzoglou | v.tseritzoglou@amcham.gr | +30 210 699-3559
G. Mamali | g.mamali@amcham.gr | +30 210 699-3559