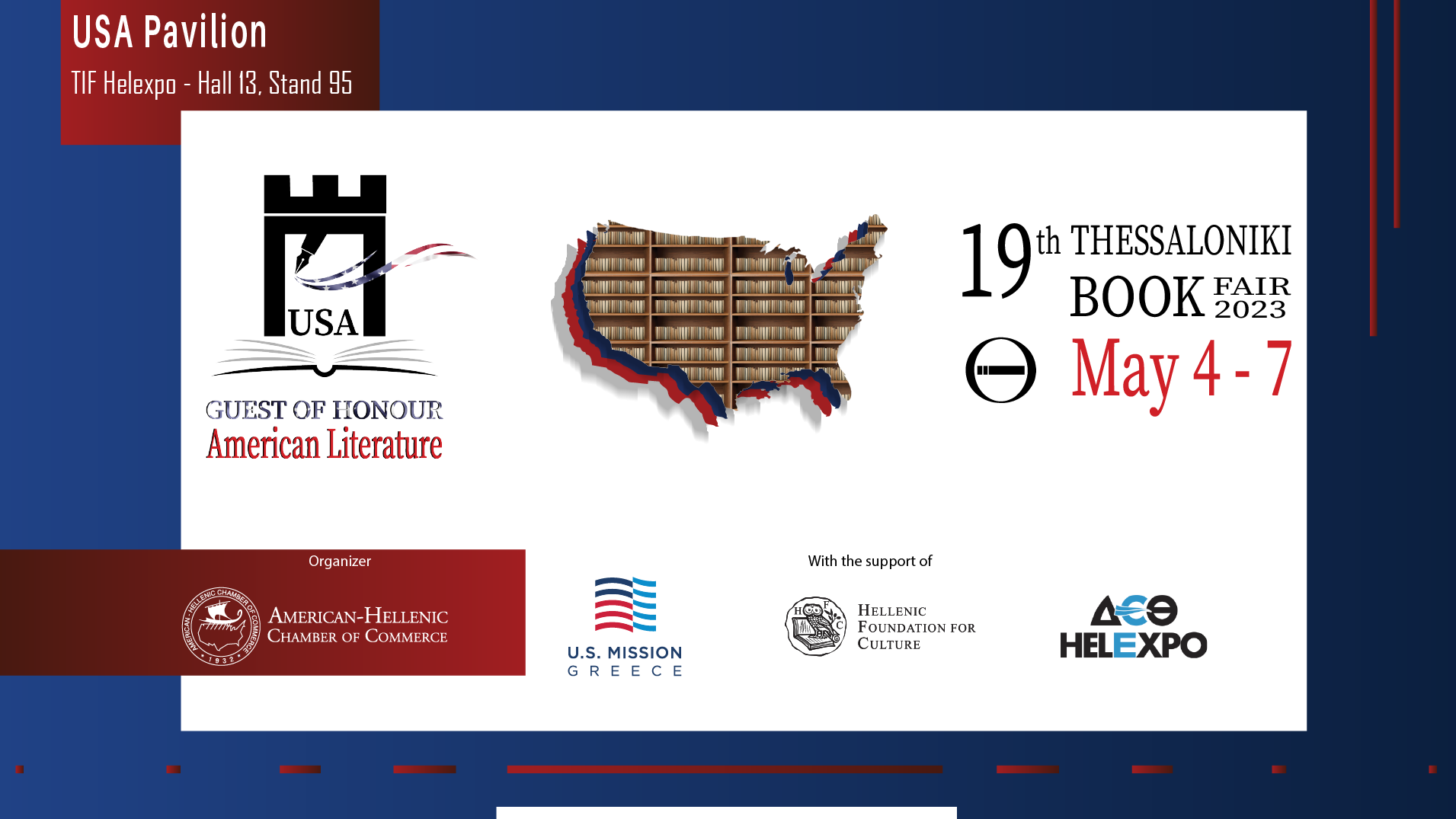 With American Literature as its guest of honor, for the first time in Europe, the 19th Thessaloniki Book Fair (TBF) was held on May 4-7, 2023, inaugurating new cooperation and opening new perspectives in the international book market. TBF 2023 presented an extensive program of participations in the Greek and international book market, hosting more than 600 Greek and foreign book professionals and almost 500 events with the participation of more than 1.200 speakers.
USA Pavilion (Hall 13, Stand 95) aimed to highlight the contemporary literary voices and the United States book market through the participation of authors, publishing houses and people of letters and culture. The organization of the USA Pavilion and the parallel program of events had been undertaken by the American-Hellenic Chamber of Commerce in cooperation with its Culture Committee.
The U.S. publishers had been recruited by The Combined Book Exhibit. The response was impressive as 22 topnotch U.S. publishing houses took part in the USA Pavilion, including Abrams Books Publishing Company, Georgetown University Press, Harvard University Press, Macmillan Publishers, Merriam-Webster, MoMa Publications, Penguin Random House, University of Chicago Press, Yale University Press, among others.
The Greek readership had the chance to meet with significant American authors traveling to Thessaloniki, including James Wood (Antipodes), Claire Messud (Dardanos-Gutemberg), as well as Nell Zink, Saskia Vogel, Meg Rosoff, and Ismini Lamb invited by the Hellenic Foundation for Culture.
The American-Hellenic Chamber of Commerce donated the 608 books of the USA Pavilion to a newly established refugee library, the 2nd General High School of Stavroupoli and the following educational institutions: American Farm School, Anatolia College, Thessaloniki Techlab. For more details and info please contact: