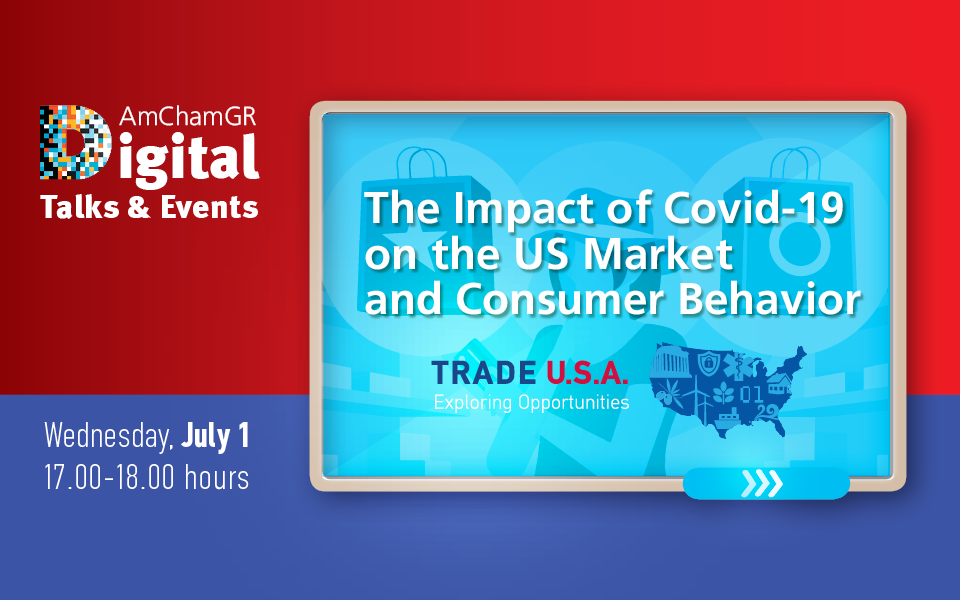 The COVID-19 pandemic is forcing us to change how we do business. It is critical to understand the effect the crisis is having on both sides of the Atlantic and how it impacts trade between Greece and the US. How is the new consumer landscape evolving and how it is likely to impact their behavior in the near term and long term? What should Greek exporters do to adapt to these changes?
To this end, The American-Hellenic Chamber of Commerce and its International Trade Department "TradeUSA" held a special webinar addressed to all companies and professionals who are involved or plan to get involved in trade with US, titled "The impact of COVID-19 on the US Market and Consumer Behavior" on July 1st, 2020.
During the virtual session, the impact of the pandemic on the US market, the shifts in the American consumer behavior and the challenges and opportunities that emerged for Greek exporters aiming to penetrate or further expand their business operations in the US Market, were examined.
The webinar was presented by Dina Athanasiou, Head of the International Trade Department "TradeUSA", American – Hellenic Chamber of Commerce and Dimitris Karavasilis, International Trade Advisor, American-Hellenic Chamber of Commerce, Founder and CEO, DK Marketing & Idea Monkeys.
Elias Spirtounias, Executive Director of the American-Hellenic Chamber of Commerce, during his welcome remarks stated that Covid-19 has significantly influenced trade around the world and especially the sectors related to catering and hospitality services. Also, the rapid increase in the use of communication technologies is shaping a new landscape in consumer behavior, new trends in the field of trade and the way in which supply chains operate. According to Mr. Spirtounias, these circumstances create a new environment, part of which will continue to exist even after the corona crisis, and it is important for companies that want to operate in the US to be very well prepared and informed so as to successfully penetrate in this large and promising market.
Dina Athanasiou, analyzed, among other things, the challenges faced by Greek exporters in their business activities with the US market during the COVID-19 crisis and explained that the most important were: decline in demand, delays in supply to customer delivery due to delivery service delays, delays at customs, rise in price of freight transport and cash flow and credit risk issues.
Dimitris Karavasilis, stated that the COVID-19 pandemic has changed the habits of consumers, with one in two consumers reducing their visits to physical stores, storing more supplies each time they shop and preferring long-lasting packaged products, with more consumers choosing more carefully than in the past the products they consume, but also turn to much healthier lifestyles in order to shield their health.  As Mr. Karavasilis pointed out: "The pandemic can offer many opportunities to the Greek economy and entrepreneurship."