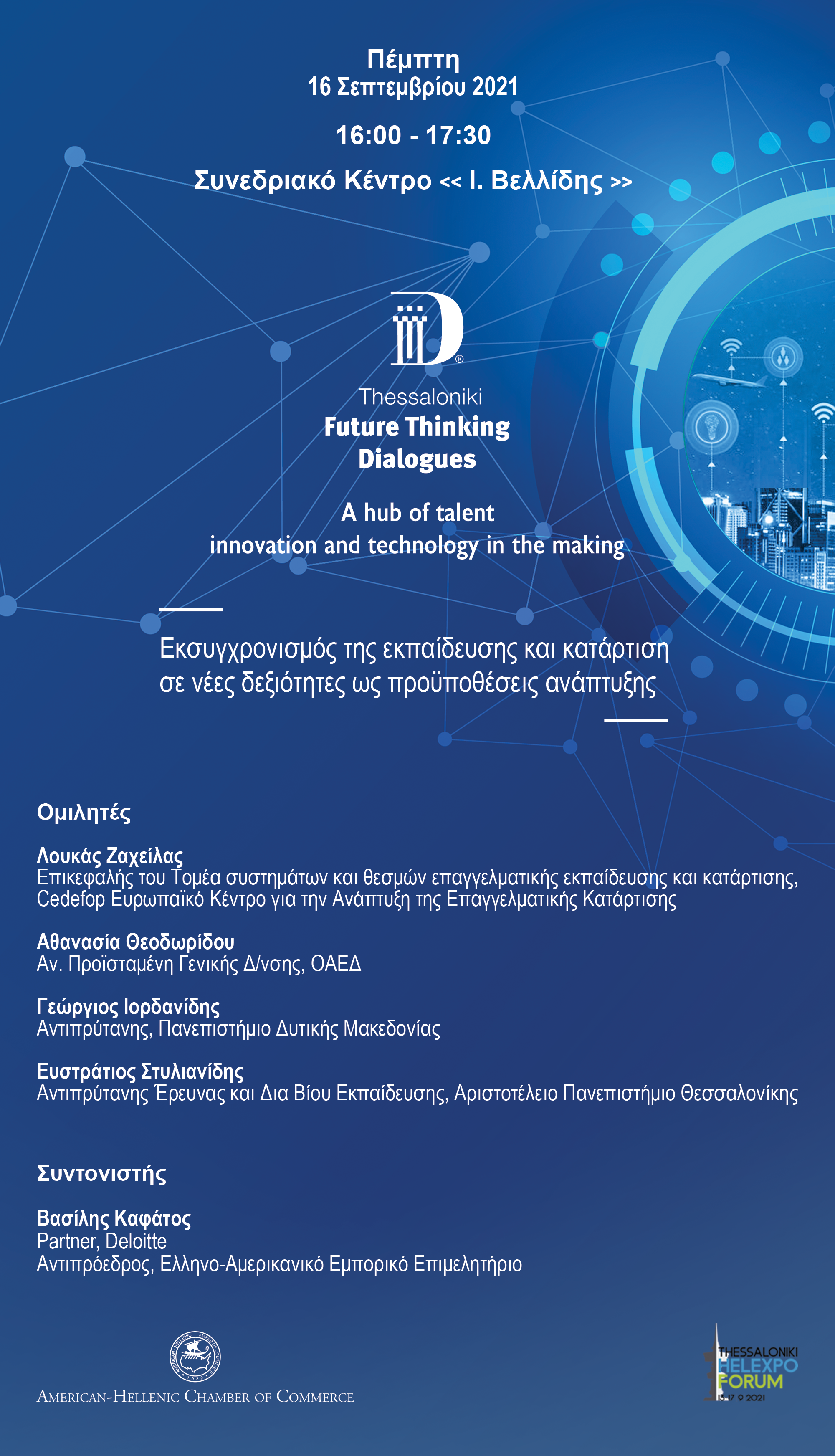 AmChamGR Vice-President, Vassilis Kafatos, briefly summarized the main conclusions of the "Thessaloniki Future Thinking Dialogues: A Hub of Talent, Innovation and Technology in the Making" Conference held between June 1-2, whereby the adequate supply of skilled talent was deemed crucial to support and strengthen the development of the innovation ecosystem that has recently been forming in Thessaloniki. In a rapidly changing world, education is being transformed, reskilling and upskilling is becoming a priority while talent is evolving into the rarest and most valuable asset for businesses and consequently for cities and countries.
All speakers expressed their concern towards what seems to be a weakness in understanding future market needs as far as qualifications are concerned which is exacerbated by rapid changes in the job market. The speakers also acknowledged the importance of current support tools whilst recognizing significant opportunities that lie ahead.
Dr. Stylianidis referred to the skills matching index where Greece ranks last among EU countries and stressed that the removal of current counter-incentives is far more important than the development of new ones. Universities have an array of financial incentives at their disposal stemming from the EU Recovery Fund as well as the Ministries of Education, Environment & Energy, and Employment. In Northern Greece the Aristotle University, the Universities of Macedonia and Western Macedonia and the Democritus University can be viewed as a unified area with a significant talent pool, and all should make the most out of existing relationships with businesses and industry. Aristotle University has already opened talks with local business organizations to better understand and map current job needs and is set to start the first English language bachelors degree which will pave the way for more to come.
Ms. Theodoridou noted that the unenviable ranking of Greece at the skills matching index applies to higher education as well as all levels of vocational education and training. Despite a 17% unemployment, one in three businesses reports difficulties in finding appropriately skilled labour. OAED has assumed a range of extrovert initiatives with various third parties including Universities and business organizations like the American-Hellenic Chamber of Commerce, to better understand business needs, inform companies of its programmes and redesign existing ones. Most notably and at no cost to OAED, MoUs have been signed with multinationals leading to programmes completed by 26,000 unemployed, reporting high satisfaction rates and fueling further demand for such initiatives.
Dr. Iordanidis acknowledged that every human resource management endeavour is challenging particularly if it involves reskilling and upskilling tasks which warrant patience, persistence and better coordination between the various entities engaged in vocational education & training. To stop and reverse the brain drain local companies should provide new recruits with a satisfactory remuneration package and opportunities for advancement. The University of Western Macedonia in particular is called upon to play a crucial role in retraining a local workforce that has long been focused on the energy sector but now needs to make the transition to other related professions in the field of green energy. It also plans to respond to the growing demand for skills in the agrotechnology sector.
Dr. Zahilas noted that there are no easy solutions to the problems facing vocational education and training programmes. Developments in the jobs market are so rapid that two thirds of children currently at a school age will be employed in jobs that do not exist today. A reinvention of educational and vocational training systems is therefore needed and whilst most EU countries have developed fairly good initial vocational education and training systems, there is huge room for improving programmes that tackle continued training; these cannot simply be an extension of initial training ones. As only 3 out of 10 EU citizens have above average digital skills, Greece should embrace and further the digital transformation experience gained by the pandemic, learn from past errors, borrow other countries' best practices and move fast. Modernizing its vocational education and training system will require more flexibility towards all forms of learning including informal and non-formal ones as in the case of micro-credentials.