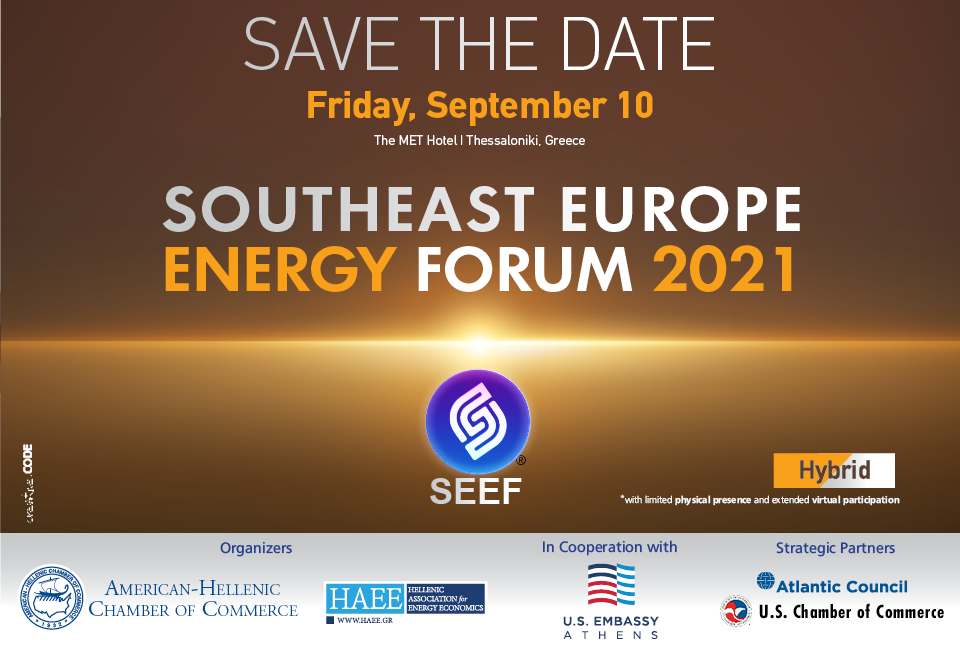 For the fifth year in a row the American-Hellenic Chamber of Commerce and the Hellenic Association for Energy Economics, are organizing in cooperation with the U.S. Embassy in Greece and with the strategic partnership of the Atlantic Council and the U.S. Chamber of Commerce the 5th Southeast Europe Energy Forum on Friday, September 10, 2021, at the MET Hotel in Thessaloniki, Greece.  The Forum will be held in hybrid format and as usual on the day prior to the official opening of Thessaloniki International Fair.
More than a year has already passed since the outbreak of the Covid-19 pandemic and the global economy is trying to gradually be moving towards its prior levels of activity. Under the present conditions, we are witnessing profound changes in the Energy sector with oil hitting high prices, with the European Union (EU) legislating for more emissions reduction, the auto industry moving towards to electromobility and the rapid growth of exploiting renewable sources and as such energy demand is fluctuating continuously. In Greece, the National Energy & Climate Plan incorporates the EU's latest 2030 targets, while the recently presented National Recovery Plan, "Greece 2.0", will use European recovery funds to accelerate the green and digital transitions.
In that context, the Energy Transition includes the upgrading of critical infrastructure, enhancing energy security, with emphasis on the diversification of resources, networks resilience, their digitization and efficiency. In parallel, market and geopolitical developments over the last years highlighted SE Europe countries as important players of EU's energy strategy. Based on the above, SE European region needs to adapt the energy sector to the challenges of the Energy Transition, with transparency and innovation.
The 5th Southeast Europe Energy Forum will bring together key policy makers, thought leaders, regulators, top market players, financiers, academics and experts to present and discuss all the latest developments in the dynamic energy field in Greece and the wider SE European region.
The topics that will be presented and discussed among others are:
Energy Transition: Opportunities and Risks
Rising Energy & Supply Chain Cost: A Challenge to be Addressed
European Green Deal, Greece & Delignitization: Investment Opportunities
The U.S. Perspective on SE Europe's Energy Role
Southeast Europe: Energy cooperation beyond borders
Geopolitics, Networks & Pipelines in the SE Europe Region
Developments in the Energy Exchanges of SE Europe
Digitalization, Automation and AI in the Energy Sector
For more info: a.dikeoulia@amcham.gr