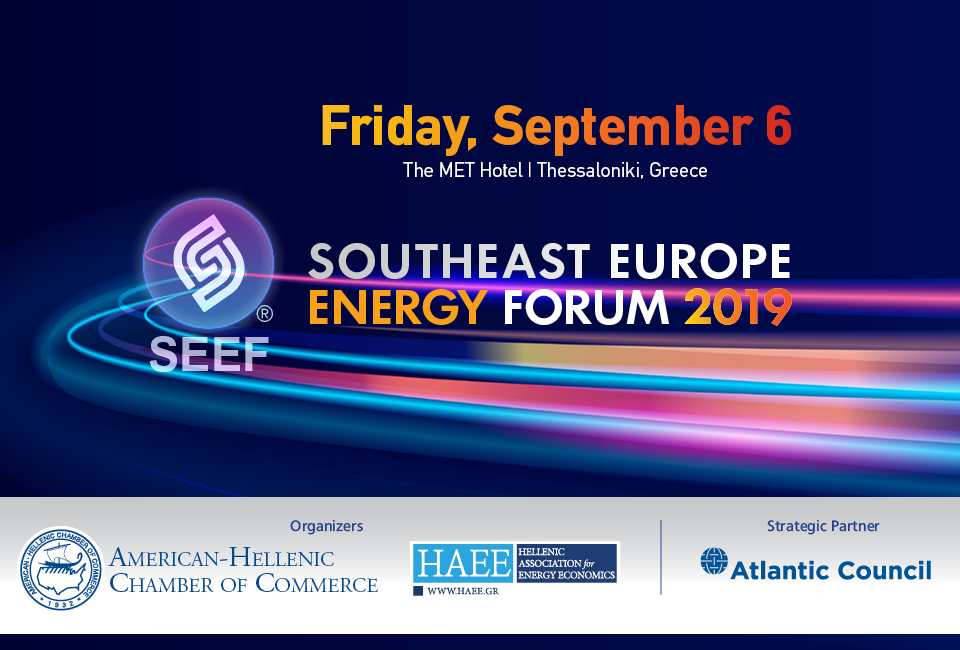 The American-Hellenic Chamber of Commerce and the Hellenic Association for Energy Economics, with the strategic partnership of the Atlantic Council, hosted the Southeast Europe Energy Forum on Friday, September 6, 2019 at the MET Hotel in Thessaloniki, Greece.
The highlight of the Southeast Europe Energy Forum was the panel discussion with the Ministers of Energy from the SE Europe region consisting of the Greek Minister of Environment & Energy, Kostis Hatzidakis, the Albanian Minister of  Infrastructure & Energy, Bellinda Balluku, the Minister of Environment and Physical Planning of North Macedonia, Naser Nuredini and the Deputy Minister of Energy of the Bulgarian Republic, Zecho Stankov.
The US Ambassador to the Hellenic Republic, Geoffrey Pyatt, addressed the Forum and presented the US perspectives for the energy sector.
The Southeast Europe Energy Forum brought once again together key policy makers, regulators, top market players, financiers, academics and experts who presented and discussed insights and observations on up-to-date topics in the dynamic energy field in Greece and the wider region.
During the Forum bilateral and multilateral ministerial meetings and discussions on the SE European energy policy took place as well.