LEADERSHIP FORUM: "ΣΥΖΗΤΩΝΤΑΣ ΜΕ ΤΟΥΣ ΝΕΟΥΣ ΓΙΑ ΕΠΑΓΓΕΛΜΑΤΙΚΕΣ ΕΥΚΑΙΡΙΕΣ ΚΑΙ ΕΠΙΧΕΙΡΗΜΑΤΙΚΟΤΗΤΑ"
▶ Elias Spirtounias, Executive Director American – Hellenic Chamber of Commerce
"The young people attending the Leadership Forum, as well as all of us, have the opportunity to exchange valuable experiences and ideas."
▶ Nikolaos Bakatselos, President American – Hellenic Chamber of Commerce
"I don't always have the opportunity to socialize with young people. I feel that I always have something to gain from our meetings. "
▶ Costis Frangoulis, President The International Propeller Club of the United States, Port of Piraeus
"The shipping industry is much more accessible than it used to be and I encourage young people to choose shipping. After all, our country is known for its shipping and now we are happy to say that shipping is reviving in Greece."
▶ Ilias Tsakiris, CEO, Hellenic Hull Management (HMA) Ltd.
"The shipping industry needs young people, it needs new talent and I am here to say that there is room for everyone. "
▶ Artemios Miropoulos, President Leadership Committee, American – Hellenic Chamber of Commerce, Managing Partner, Linkage Greece & Cyprus
"The young people who are with us today must be business leaders in 10 years. We give them the opportunity today to talk to people who are already at the top."
Enlightening insight from shipping industry leaders during today's Leadership Forum:
▪ The people who make up the panel at today's Leadership Forum manage billions. I would say 10 times more money than the Ministry of Finance distributes in benefits every year.
▪ The Greek shipping industry offers great opportunities to today's youth. Life in the navy is clearly easier than it was in the past with technology being only one factor of improvement. We invite and strive to attract the best in an industry that offers a great career with financial security and high camaraderie among crew members.
▪ Shipping is the only sector that can offer a young person global perspective and limitless possibilities.
▶ Nikolaos Veniamis, Director, Golden Union & Secretary of the Board of Directors, Union of Greek Shipowners
▶ Spyros N. Vlassopoulos, Managing Director, Ionic
▶ Jerry Kalogiratos, CEO & Director, Capital Product Partners L.P.
▶ Paris Xanalatos, Director, Tide Line Inc.
▶ Ilias Tsakiris, CEO, Hellenic Hull Management (HMA) Ltd.
▶Vangelis S Marinakis, Managing Director, Prodromos Shipping Agencies & Coo, Island Oil
▶George Xiradakis, Senior Maritime & Investment Banker, Founder, XRTC Business Consultants Ltd.
▶Maria Prevezanou, Director, Evmar Marine Services Ltd
▶Kuriakos Spiliopoulos, Sales Executive, SeaGull Maritime
▶Yiannis Floutakos, Managing Director, Ursa Shipbrokers
▶Costis Frangoulis, President The International Propeller Club of the United States, Port of Piraeus
Moderator
▶Artemios Miropoulos, President Leadership Committee, American – Hellenic Chamber of Commerce, Managing Partner Linkage Greece & Cyprus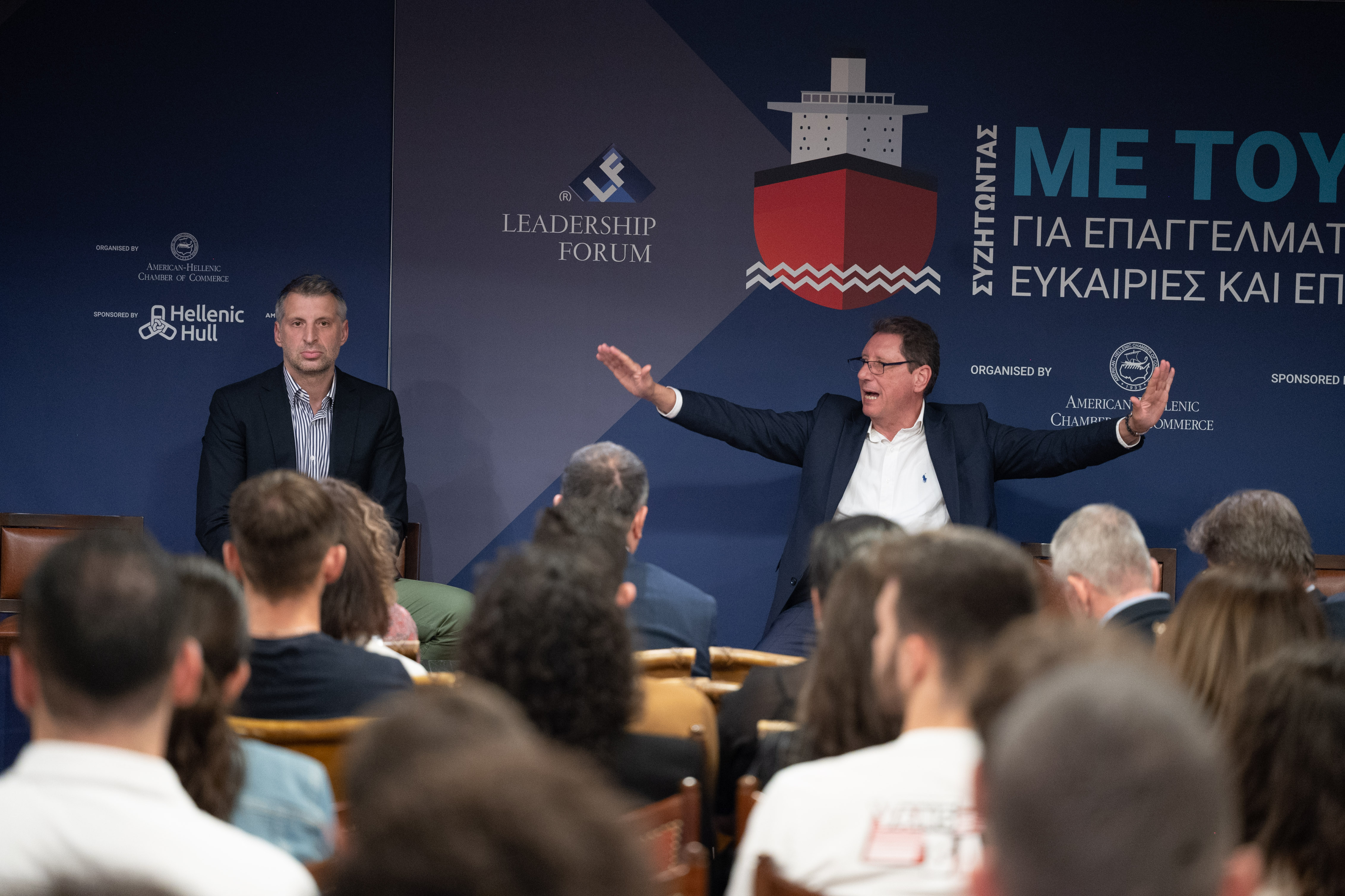 Inspirational Speakers
▶ Thodoris Papaloukas, Businessman, Former International Basketball player
"I want to say to young people: No one will hand you anything. You have to get out there and do your best. Try. Fail. Succeed."
Moderator
▶ Artemios Miropoulos, President Leadership Committee, American – Hellenic Chamber of Commerce, Managing Partner Linkage Greece & Cyprus