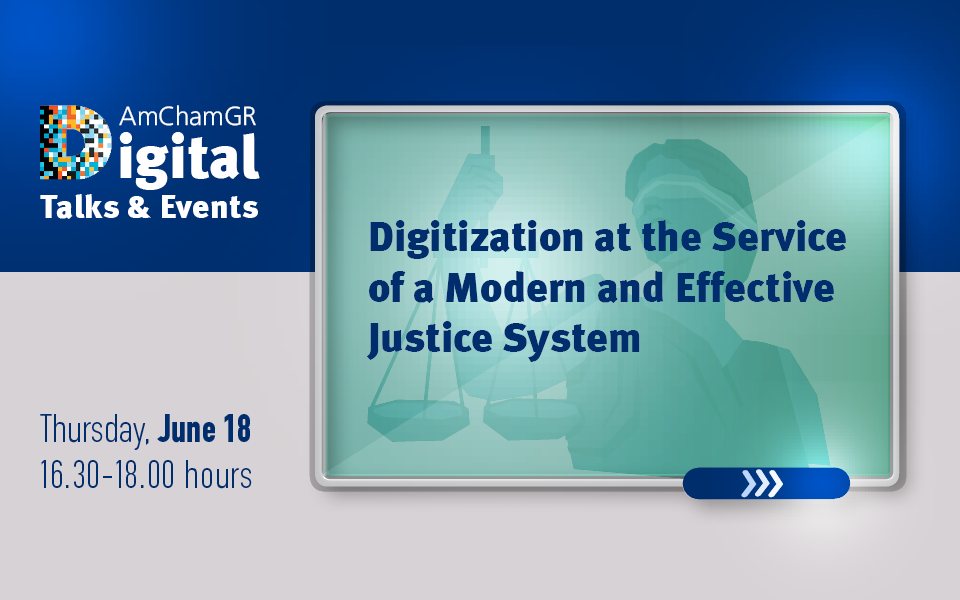 In the current and developing environment of the fourth industrial revolution in which disruptive technologies and trends such as the Internet of Things, virtual reality and artificial intelligence are changing the way we live and work, Court systems around the world modernize their approaches and implement innovative solutions in order to deliver timely and effectively justice.
The Greek judicial system has already made significant steps in this direction but there is still a lot to be done with respect to e-filling, the electronic exchange of briefs and exhibits by the litigant parties, the e-signature of court orders, the use of video-conferencing for the examination of witnesses.
The digitalization of justice and the use of modern technologies in local and cross-border disputes will render justice more efficient and cheaper.
To address the challenges associated with e-Justice, the American Hellenic Chamber of Commerce organized an interesting virtual discussion with prominent speakers:  John Kyriakides, Managing Partner, KYRIAKIDES GEORGOPOULOS Law Firm and Chair, Committee of Legal Issues, American-Hellenic Chamber of Commerce, Leonidas Christopoulos, Secretary General of Digital Governance and Simplification of Procedures, Ministry of Digital Governance, Panos Alexandris, General Secretary of Justice and Human Rights, Ministry of Justice, Panagiotis Lymperopoulos, Judge by the Court of Appeal, Appeal Court of Athens and Themis Sofos, Vice President of the Athens Bar Association.
During the roundtable virtual discussion the general secretary of the ministry of Digital Governance Leonidas Christopoulos, mentioned that it is time to speed up the reforms in the sector of e-justice to render the Greek judicial system more effective as it constitutes a fundamental pillar for the trust of citizens the towards the institutions. He also referred to the joint efforts and the mutual agreement to be signed with the Ministry of Justice, who is 'the business owner' of the reforms and along with the general secretary of the Ministry Justice and Human Rights Panos Alexandris, announced 27 new digitalization reforms amongst which the possibility to file petitions for the issuance of court payment orders online, the full digitalization of divorces by mutual consent and the examination of witnesses through video conferences.
The event was moderated by the Chairman of the Legislative Reforms Committee and member of the Executive Committee of the Chamber, John Kyriakides a lawyer by profession himself who mentioned that the right steps have already been made towards a more friendly, innovative and digitalized e-justice system but for which still a lot remains to be done in order for the Greek judicial system to become more effective and attracting to foreign investors.