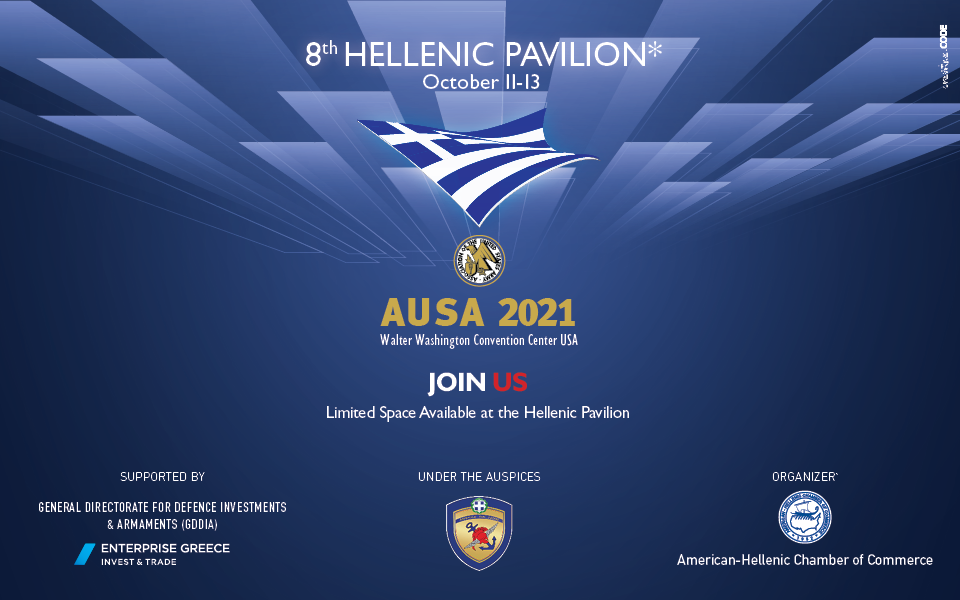 BE A PART OF THE TOP MILITARY EXPOSITION AND NETWORKING EVENT
The American-Hellenic Chamber of Commerce, following the successful organization of the Hellenic Pavilion at previous AUSA annual meetings, is excited to organize for the 8th consecutive year the the Hellenic Pavilion at AUSA 2021 Annual Meeting & Exhibition. AUSA 2021 will take place October 11-13, 2021 at the Walter Washington Convention Center in Washington DC.
The Hellenic Pavilion held under the auspices of the Ministry of National Defense- General Directorate for Defense Investments and Armaments (GDDIA) and supported by Enterprise Greece Greece — the country's official state investment and trade promotion agency — consists already of ten prominent Hellenic industries, either private or state-connected.
AUSA presents a great opportunity for Greek Defense Companies to demonstrate their exceptional capabilities and their reliability as a valuable partner and supplier of advanced technology defense equipment to USA and other Allied Countries. It is recognized as the leading international exhibition that attracts key decision makers and allows defense experts, government officials, and representatives of the armed forces from all over the world to be informed about the latest developments in military technology.
Greece and the United States maintain excellent relations in the area of defense and security, and in this framework we encourage initiatives that ensure the evolution of technological progress and international stability. In addition, by supporting the outward-oriented efforts of the Hellenic Defence Industry, we promote security cooperation and international partnerships.