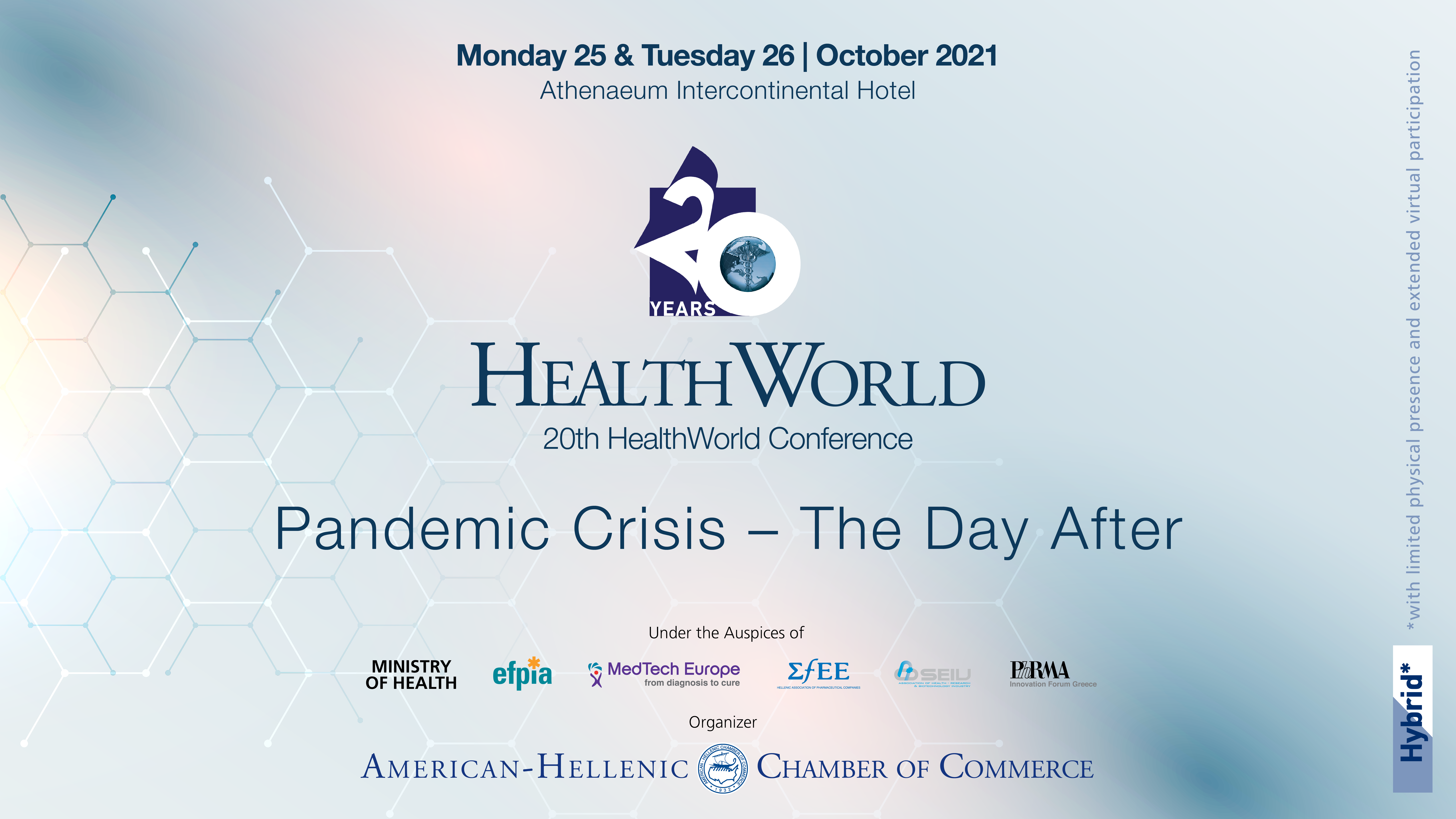 "HealthWorld 2021 Conference entitled: Pandemic Crisis – The Day After", organized by the American-Hellenic Chamber of Commerce on October 25-26 was completed with unparallel success.
Healthworld CONFERECE which celebrated its 20th Anniversary, is the American-Hellenic Chamber of Commerce's established Conference on major healthcare policy-related issues, having been established as the most emblematic and influential conference for the healthcare sector in Greece.
The Conference is traditionally held under the Auspices of the Ministry of Health, the Hellenic Association of Pharmaceutical Companies (SFEE), the Association of Health Research and Biotechnology Industry (SEIV), the Phrma Innovation Forum (PIF), the European Federation of Pharmaceutical Industries and Associations (EFPIA) and Medtech Europe and took place at the Athenaeum Intercontinental Hotel in a hybrid mode with limited physical presence and extended virtual participation.
Distinguished speakers from Greece and abroad honored the Conference by their presence and productive discussions on how to achieve a sustainable health ecosystem based on international practices and widely tested models, took place during the 2-Day conference.
The role of science as the cornerstone for the protection of human life, investment in research and development, the global vision for a sustainable health system, the digitization of the Healthcare sector, the paramount importance of innovation in HC, the need to increase funding for HC, the need for strengthening of the Primary Health Care, the social dimensions of the pandemic and other key issues were pointed out and examined during HealthWorld from a variety of perspectives, providing a broad spectrum of ideas and experience by the distinguished speakers.
900+ live viewers attended the conference proceedings during the two conference days and the number of views from the announcement day and until the end day reached 7500+.  More than 100 delegates attended the conference with physical presence due to Covid-19 restrictions set by the Greek Government.
AmChamGR extends wholeheartedly thanks to HealthWorld 2021 70+ speakers, the sponsors who traditionally contribute to its success and the virtual and in-person delegates for their dynamic participation to this year's anniversary conference.
Upon completion of the conference, Speakers and Sponsors were honored with commemorative awards showing AmChamGR's appreciation to all of them who contributed to the establishment of such a successful institution.