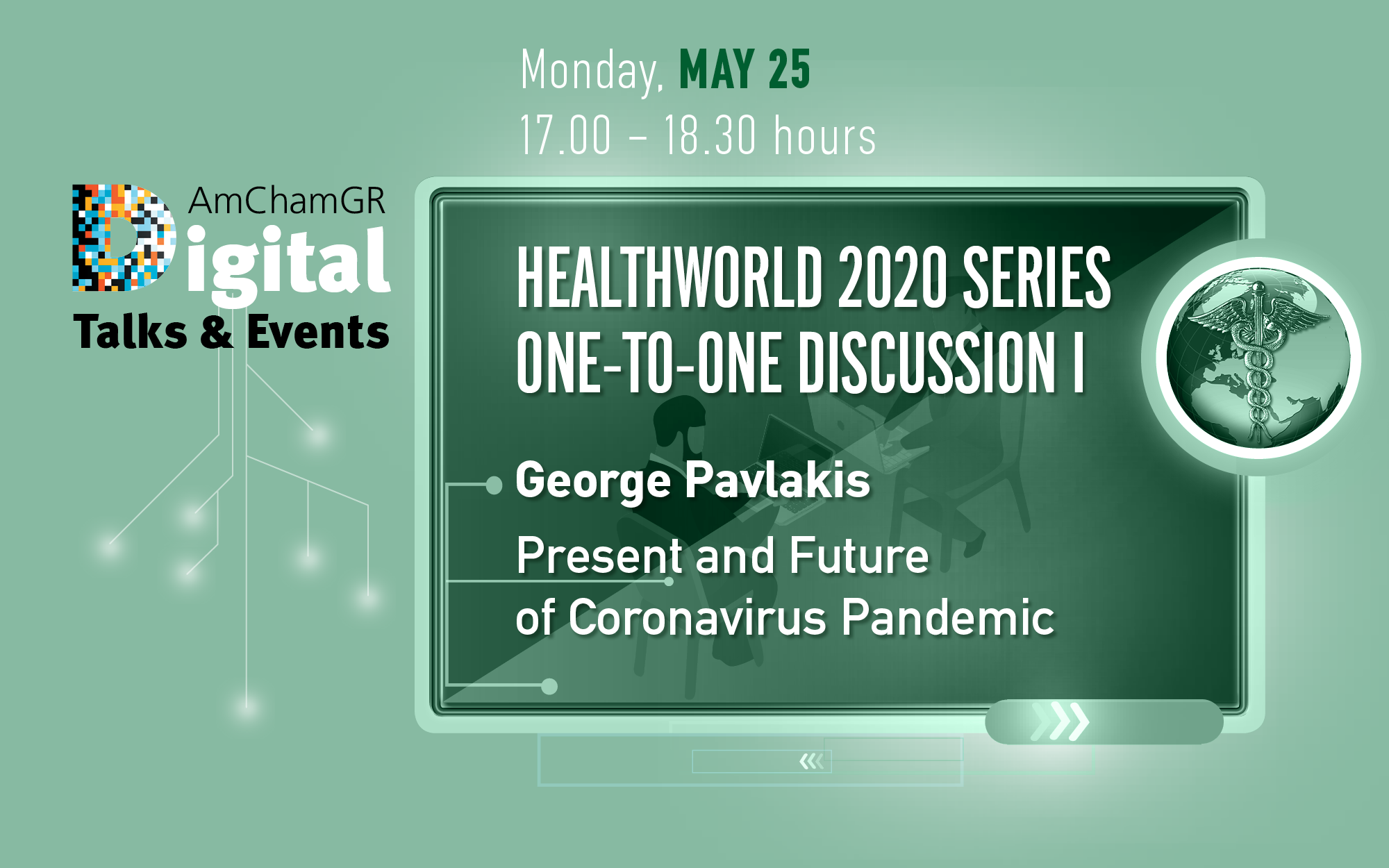 he American-Hellenic Chamber of Commerce continues its successful AmChamGR Digital Talks & Events – Healthworld Series with the 1st One-to-One Discussion on the Present and Future of Coronavirus Pandemic. The digital discussion was held May 25, 2020, 17.00-18.30 hours. Dr. George Pavlakis, Chief, Human Retrovirus Section, Vaccine Branch, Center for Cancer Research National Cancer Institute, USA and Professor Athanasios Skoutelis, Internist-Infection Disease Specialist and Director or the 2nd Internal Medicine & Infectious Diseases Department at Hygeia Hospital participated at the interactive discussion, moderated by Ms. Natassa Spagadorou, Health Correspondent, CNN Greece and On-Med. The audience's concerns were expressed through key questions that were answered in detail by the experts.
Amcham.GR expresses its sincere thanks to Dr. George Pavlakis and Professor Athanasios Skoutelis for their excellent presentations and Mrs. Natasa Spagadorou for the exceptional moderation.
These highly focused added-value digital discussions are under the umbrella of the annual HealthWorld conference, scheduled to be held September 15-16, 2020 in a hybrid mode with limited physical presence and extended virtual participation.
George Pavlakis, Chief, Human Retrovirus Section, Vaccine Branch, Center for Cancer Research National Cancer Institute, USA
The views expressed by Dr. Pavlakis are strictly his own and do not reflect official policies of DHHS
Athanasios Skoutelis, Internist-Infection Disease Specialist and Director or the 2nd Internal Medicine & Infectious
Diseases Department at Hygeia Hospital