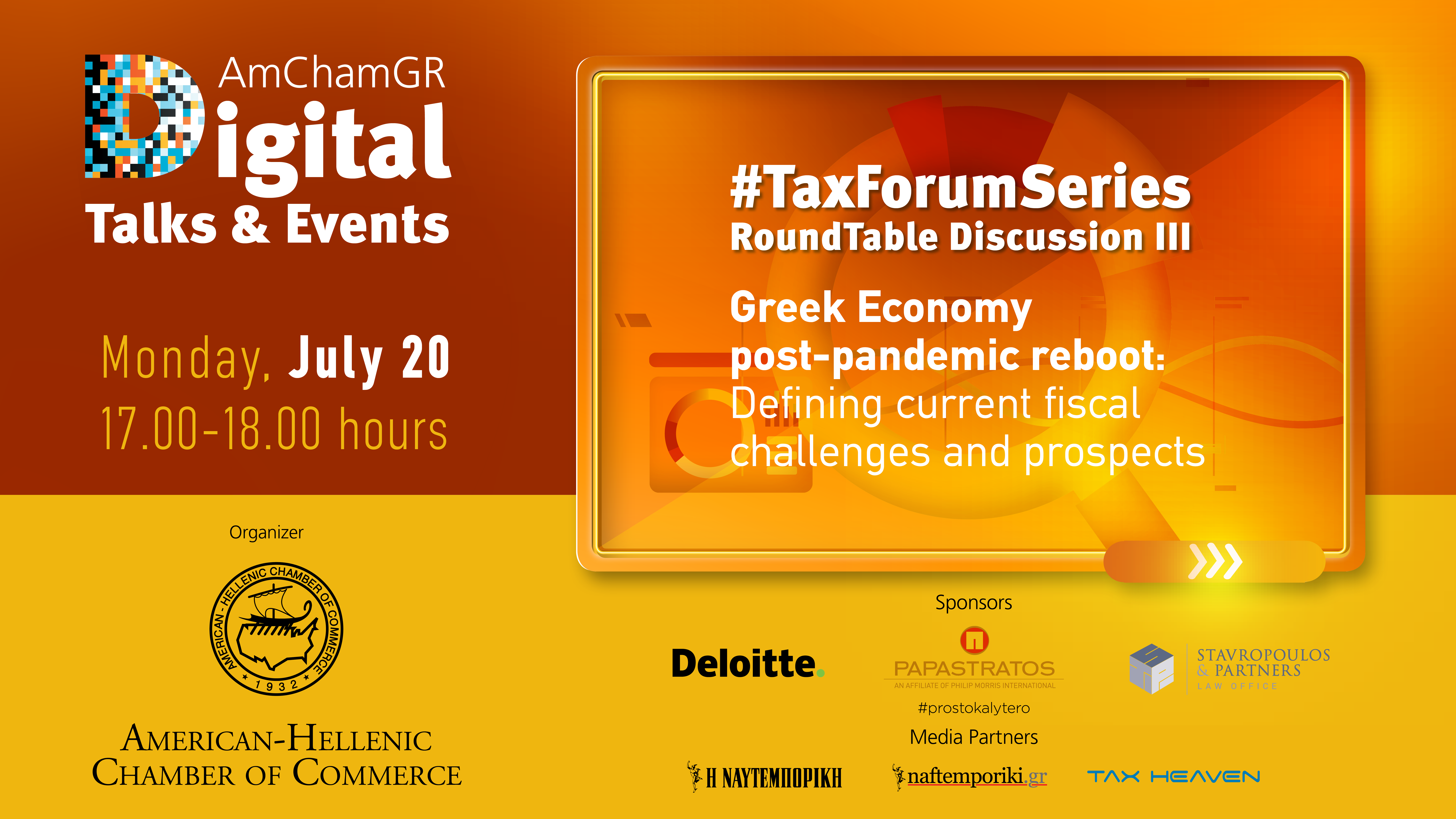 The digital discussion on current fiscal challenges and prospects took place with great success on Monday, July 20, 2020, completing the AmChamGR Digital Talks & Events series of the American-Hellenic Chamber of Commerce.
The recession caused to both the European and the world economy due to the crisis caused by the COVID-19 pandemic showcased the challenges that must be addressed in order for the Greek economy to recover as well as the reforms needed to restart. The digital session was moderated by Efstathios Bakalis, Head of Tax Controversy and Tax Litigation, KBVL Law Firm, Member of Deloitte Legal Network and was attended by: Christos Staikouras, Minister of Finance, Giannis Antonopoulos, Director, Tax-Customs & Incentives, Mytilineos Holdings, Ioannis Athanasiadis, Manager Fiscal Affairs, Papastratos, Vangelis Morfis, Marketing & Operations Director for Microsoft Greece, Cyprus and Malta, Olympios Papadimitriou, President of SFEE and Paris Varfis Managing Partner, Finance, Grivalia.
In his opening remarks, AmChamGR President, pointed out that the goal of the digital debate is to emphasize aspects of the economy, where there are multiple and high comparative advantages, always with favorable results. The reference to all of the above is the decline in revenue due to lockdown in 2020, the high cost of support for the pandemic (10 billion), the prospects of active inclusion in the benefits of the ambitious multi-annual monetary plan for the recovery of the European Economy (Next Generation EU), but also the correct utilization of the proposals made by the Pissaridis Committee.
During his closing remarks, AmChamGR Executive Director, thanked all the sponsors, speakers, Government officials, the presidents and the members of AmChamGR Committees, as well as all the Executive Officers of the Chamber who were involved in the formation and implementation of Digital Talks & Events, an excellent multidisciplinary and highly up-to-date digital discussion program. Addressing Minister Staikouras, after thanking him, AmChamGR Executive Director accepted on behalf of the Chamber the proposal – invitation addressed by the Minister, to continue and update the discussion and cooperation at all levels with all the committees and executives of the Chamber in the collaboration with the government for a sustainable upward course of the country.