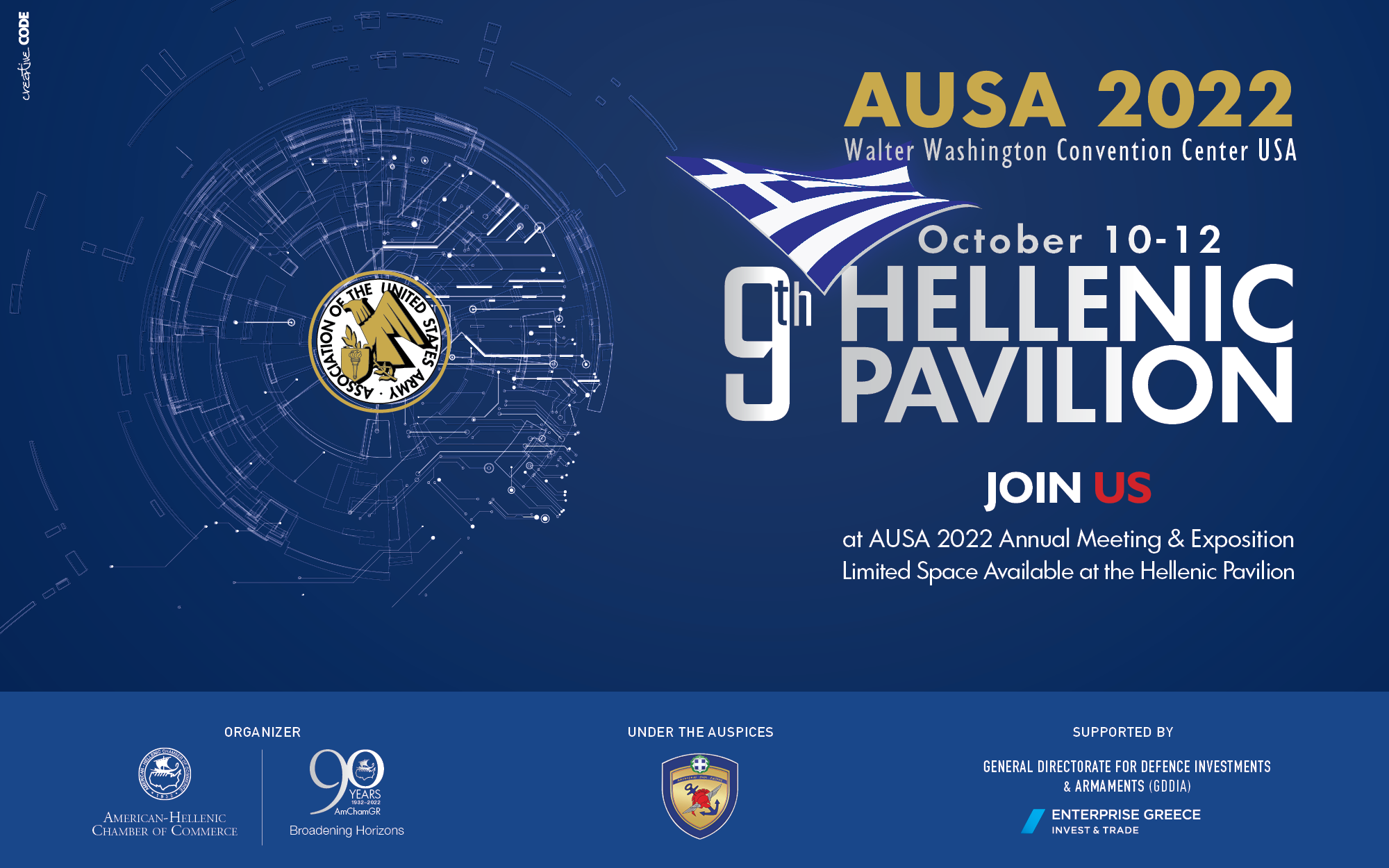 Greece's Defense Industry Showcases its Expertise, Capabilities, and Innovation at the Association of the US Army (AUSA) 2022 Annual Meeting
The American-Hellenic Chamber of Commerce organized for the the 9h consecutive year the Hellenic Pavilion at the Association of the US Army (AUSA) 2022 Annual Meeting. Held under the auspices of the Ministry of National Defense, in collaboration with the General Directorate for Defense Investments and Armaments (GDDIA) and with the support of Enterprise Greece -Greece's official state investment and trade promotion agency-, the Hellenic Pavilion consisted of 18 Greek Defense Industries – an impressive combination of traditional Hellenic Pavilion Exhibitors, demonstrating state-of-the-art defense equipment and new companies who bring Greek Innovation at the top of this year's event by presenting their revolutionary equipment at AUSA 2022!
Aeroservices, Alpha Systems, DEFEA-DEFence Exhibition Athens, Hellenic Defence Systems, Lambda Automata, National Centre for Scientific Research "Demokritos" with 2 sub-exhibitors: Sotiria and Lefkippos Attica Technology Park, Scytalys, SAS Technology – Spirit World Group, and at the common EELEAA-SEKPY Booth Akmon, Althom Engineering, Altus LSA, Elfon, FEAC Engineering, HED Engineering and Miltech.
We thank them all for their participation and contribution to this year's success!
Held every October in Washington, D.C., AUSA is the largest land warfare exposition forum in North America. The three-day event brings together the biggest names in the industry and attracts over 30,000 attendees, including senior officials from the Department of Defence, members of Congress, industry leaders and foreign dignitaries.   AUSA has become a flagship event for the modern Army and a fitting platform for Greek defence companies to meet potential new clients and strategic partners, build international brand exposure, and demonstrate their exceptional capabilities and their reliability as a valuable partner and supplier of advanced technology defense equipment to USA and other Allied Countries.
Greece and the United States maintain excellent relations in defense and security sectors, and in this framework AmChamGR always encourages initiatives that ensure the evolution of technological progress and promotes Greek Innovation globally.
The Inauguration – Ribbon Cutting Ceremony of the Hellenic Pavilion was held Monday, October 10, and was attended by high-ranking military executives and representatives from the worldwide defense community. AmChamGR President Nikolaos Bakatselos conducted the ribbon cutting ceremony of the Hellenic Pavilion together with Nikolaos Hardalias, Deputy Minister of Defence, General Robert Brown, AUSA President and CEO, General Andrew Poppas, Commanding General, U.S. Army Forces Command, Patrick Mason, Deputy Assistant Secretary of the Army for Defense Exports & Cooperation, Alexandra Papadopoulou, Ambassador of the Hellenic Republic to the United States, Lieutenant General Georgios Kellys, HNDGS Deputy Chief of Staff Betty Alexandropoulou, Executive Director & Member of the BoD, Enterprise Greece and Aristeidis Alexopoulos Director General of the General Directorate for Defense Investment and Armaments.
HELLENIC PAVILION @ AUSA 2022 INFO
MESSAGE OF THE MINISTER OF NATIONAL DEFENCE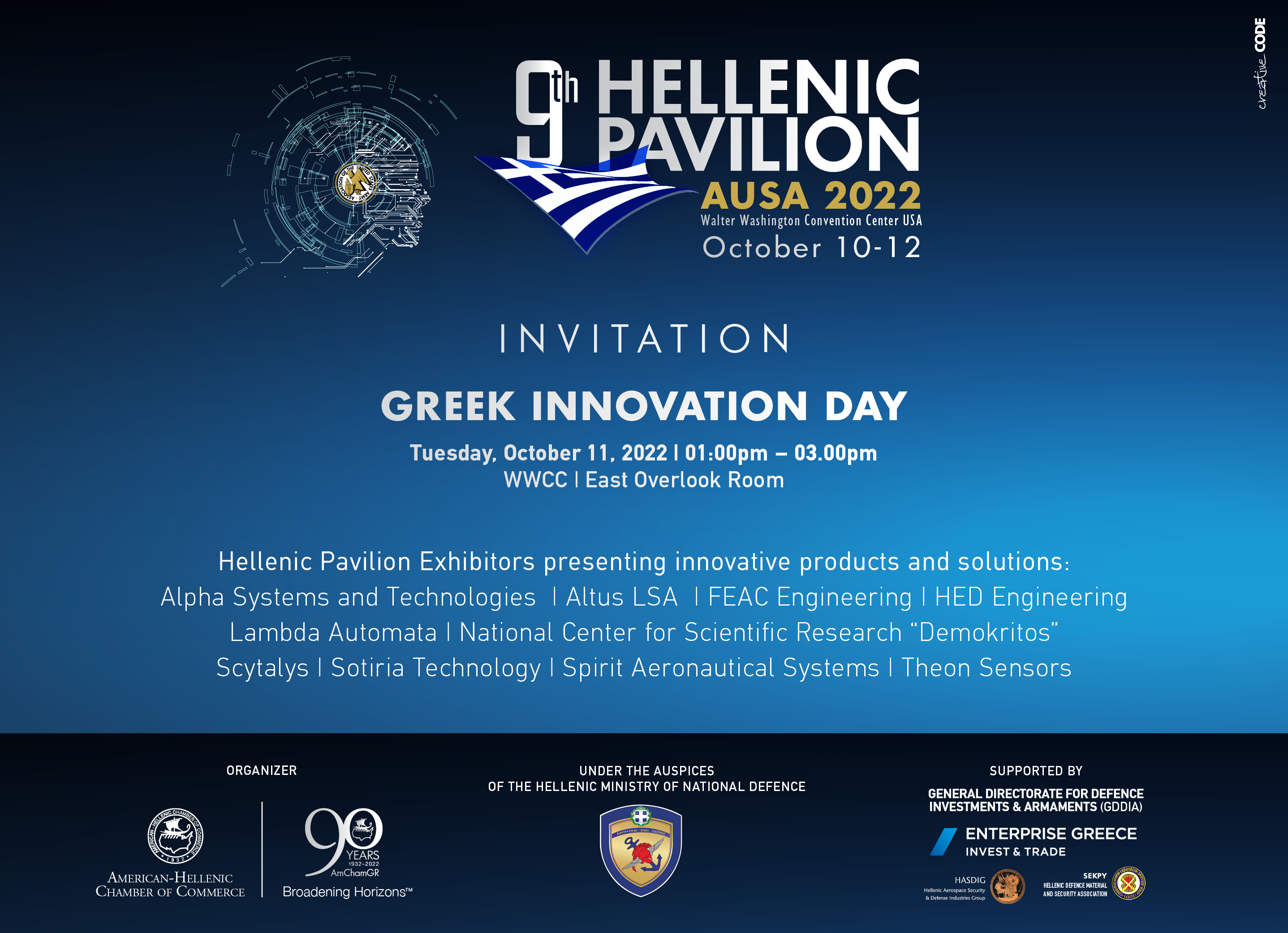 During the 2nd day of the exhibition, October 11, the Greek Innovation Day Event was held with great success and participation of more than 70 U.S. firms' representatives and U.S. Army Officers who attended with great interest the value-added presentations from 10 Greek companies -Alpha Systems, Altus LSA, FEAC Engineering, HED Engineering, Lambda Automata, Demokritos, Scytalys, Sotiria Technology, SAS Technology–Spirit World Group and Theon Sensors – presenting their innovative products to this highly specialized audience.
GREEK INNOVATION DAY | PRODUCTS PRESENTATION
Για συμπληρωματικές πληροφορίες