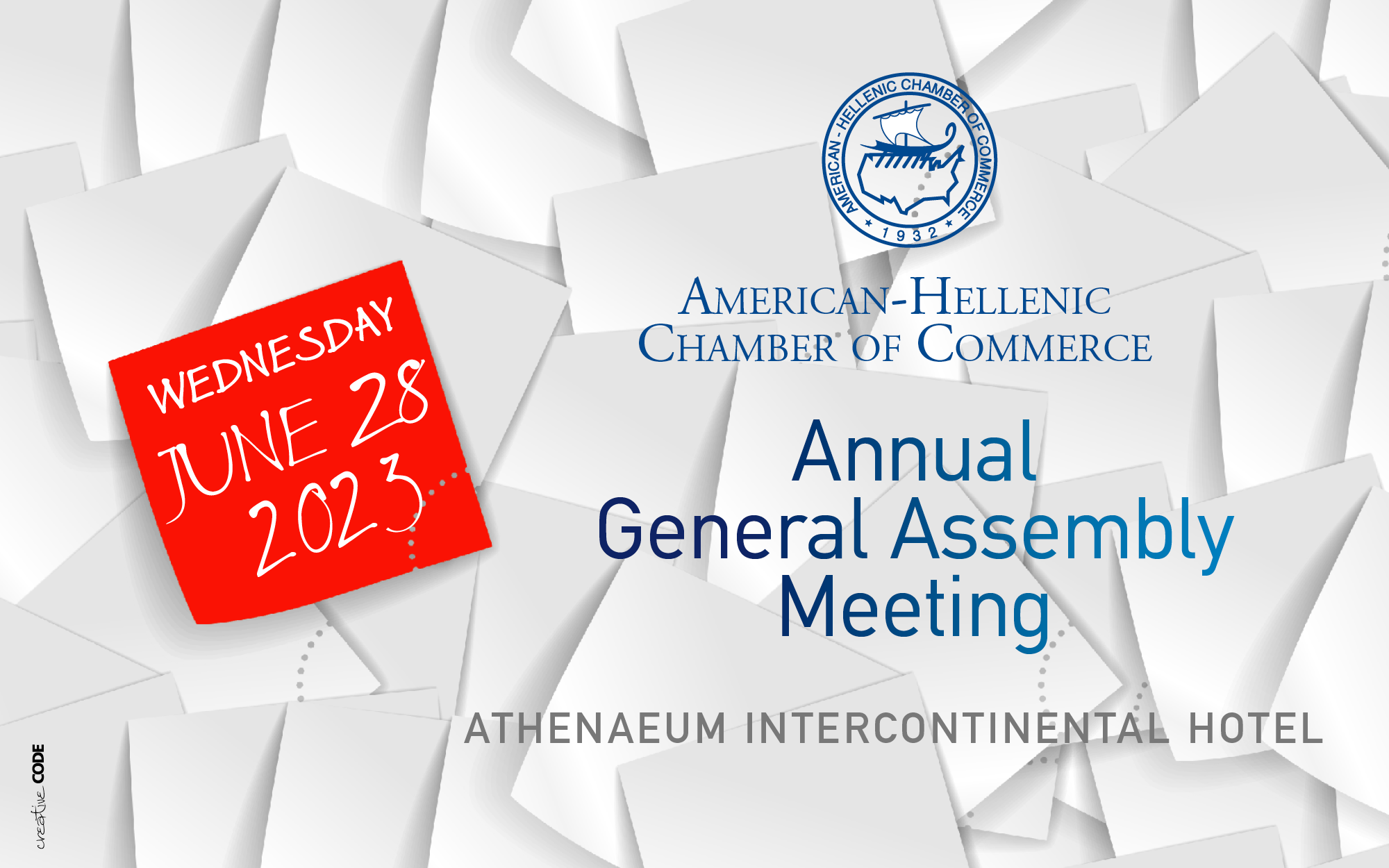 The Annual General Assembly of American-Hellenic Chamber of Commerce took place on Wednesday, June 28, 2023, at the Athenaeum InterContinental Hotel.
The President, Nikolaos Bakatselos welcomed Ambassador George J. Tsunis and thanked him for his address to the AmChamGR members. He stressed that the Ambassador is a passionate man with a deep love for our country – the birthplace of his parents – and deeply committed to promoting cooperation and friendship between the two countries. The American-Hellenic Chamber of Commerce, and he personally, are committed to being helpful in his work and friends by his side. AmChamGR will continue to explore opportunities and extend its presence and activity in the United States, making the most of the excellent environment in Greek-American relations and the positive contribution of the US Embassy in Athens.
AmCham President presented the AmChamGR activities for 2022 in Greece and in the USA and afterwards the members approved all subjects of the General Assembly Agenda.
He referred to his promise when he was re-elected as President that he will do his utmost for the further development of a strong and competitive business environment in our country and will support and develop ever stronger ties of cooperation between the US and
He stressed that 2022 marked 90 years of service and contribution of AmChamGR the most active bilateral chamber Greece, that has contributed to the continuous effort to ensure stability, prosperity, and social cohesion.
2022 was an exceptional year for AmChamGR as an overwhelming number of major conferences and forums, dinners, workshops, and other high-profile events were successfully organized. AmChamGR continuously support sustainable development, connect the public and private sectors, empower entrepreneurship, and showcase our country's, potential to promote an attractive and effective business environment that will lead to more investment opportunities.
The President, Mr. Nikolaos Bakatselos mentioned that with the support of AmChamGR Committees, White Papers have been prepared to assess how the various business sectors have been affected and responded to the crisis and compiling recommendations for the country's further development. The overall recommendations will be presented to the Government.
Closing, he thanked AmCham Executive Committee and Board of Directors, the Chairs and Members of the very active committees, the Executive Director and staff for their support and dedication to serving the common goals, and finally, all the AmChamGR members for their support and contribution.