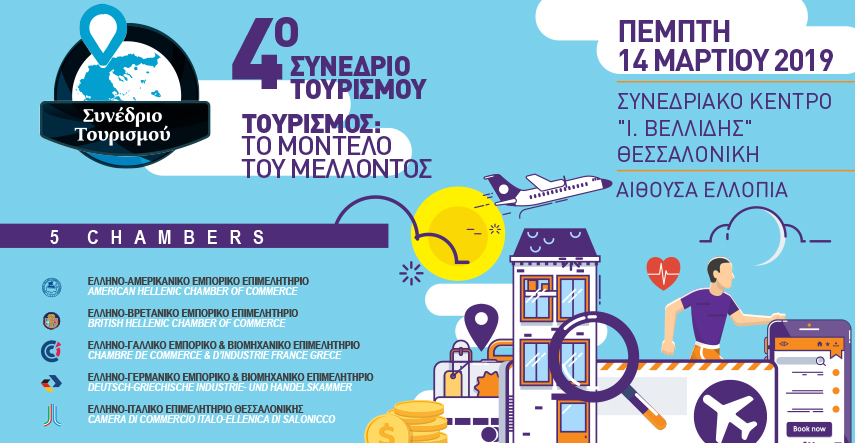 Τα 5 διμερή Επιμελητήρια:
Ελληνο-Αμερικανικό Εμπορικό Επιμελητήριο
Ελληνοβρετανικό Εμπορικό Επιμελητήριο
Ελληνογαλλικό Εμπορικό & Βιομηχανικό Επιμελητήριο
Ελληνογερμανικό Εμπορικό & Βιομηχανικό Επιμελητήριο και
Ελληνο-Ιταλικό Επιμελητήριο Θεσσαλονίκης
συνδιοργάνωσαν με επιτυχία το 4ο Συνέδριο Τουρισμού τη 14η Μαρτίου, στο Συνεδριακό Κέντρο "Ι. Βελλίδης" της Θεσσαλονίκης, με τίτλο:
"Τουρισμός: το μοντέλο του μέλλοντος"
Το Συνέδριο επικεντρώθηκε στην τεχνολογία ως μονόδρομο τουριστικής ανάπτυξης, στο σύγχρονο θέμα των βραχυπρόθεσμων μισθώσεων, στα χρηματοδοτικά εργαλεία τουριστικών έργων καθώς και στον αθλητικό τουρισμό.
Στην εκδήλωση συμμετείχαν αρκετές εκατοντάδες επιχειρηματίες, μέλη των 5 Επιμελητηρίων, εκπρόσωποι του τουριστικού και τραπεζικού κλάδου, σύμβουλοι, τοπικοί φορείς, ακαδημαϊκοί, σπουδαστές και στελέχη της αρμόδιας διοικητικής ηγεσίας της χώρας.
————————————————————-
The 5 bilateral Chambers:
American-Hellenic Chamber of Commerce
British-Hellenic Chamber of Commerce
French-Hellenic Chamber of Commerce and Industry
German-Hellenic Chamber of Commerce and Industry and
Italian-Hellenic Chamber of Thessaloniki
have successfully organized the 4th Tourism Conference on March 14, 2019 at the "I. Vellidis" Conference Center of Thessaloniki, titled:
"Northern Greece: Welcoming future trends"
The Conference focused on technology, as the one-way path for tourism development, the sharing economy, the financing of tourism projects and the sports tourism.
The Conference brought together several hundred businessmen, members of the 5 Chambers, representatives of the tourism and banking sectors, consultants, academics, students, local authority officials and executives of the relevant administrative authorities.
KONSTANTINOS LIVANOS, Aruba Territory Manager Greece & Cyprus, Hewlett Packard Enterprise, Building the new experience… The future of hospitality today
ANDREAS TAPRANTZIS, CEO, AVIS Smart mobility and reinventing the car rental experience
THANOS PASCHALIS, CEO, Ellinair Η αεροπορία σήμερα
GEORGE FASSAS, Anjunct Professor, ACT a Division of Anatolia College Analytics for Hotel Reservations
GIULIO DEL BALZO, Public Policy Associate, Airbnb Italy, Greece and Croatia Airbnb For Everyone – Becoming a 21st-Century Company
KONSTANTINOS SAKELLARIDIS, Account Manager, Booking.com Το Μεταβαλλόμενο Τοπίο του Τουρισμού
HELEN VARELA, Partner, Smartbnb Be a Smarthost!
DIMITRA PAPANDREOU, Principal Manager, Advice for Small Businesses, European Bank for Reconstruction and Development Get the right expertise for your business? Know how
PANAGIOTIS LEKKAS, President, CNL Capital Κεφάλαιο Κίνησης για Τουριστικές Επιχειρήσεις
PANAGIOTA DIONYSOPOULOU, Director General for Tourism Policy, Ministry of Tourism Η Ανάπτυξη του Αθλητικού Τουρισμού ως Αυθεντική Ταξιδιωτική Εμπειρία
MARINA KOUTARELLI, CEO, Communication Lab Ένα Πετυχημένο Case Study Αθλητικού Τουρισμού
LAZAROS TSALIKIS, President, Nautical Club of Thessaloniki Ναυταθλητικός Τουρισμός στην Ελλάδα: Ευκαιρία για Προβολή και Οικονομική Ανάπτυξη