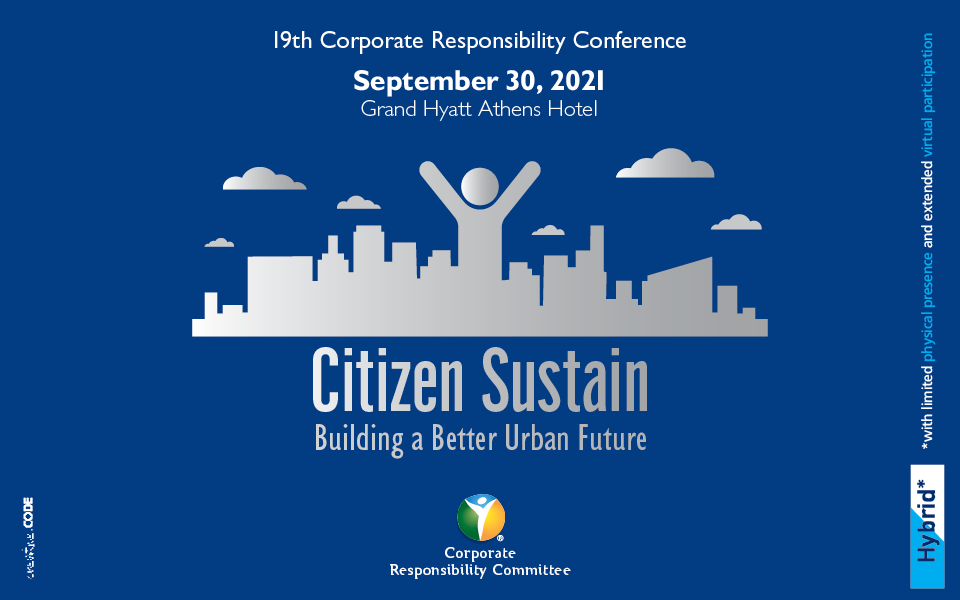 The American-Hellenic Chamber of Commerce, in conjunction with its Corporate Responsibility (CR) Committee, will hold its 19th annual Corporate Responsibility conference, Citizen Sustain: Building a better urban future, on September 30, 2021 at the Grand Hyatt Athens Hotel in a hybrid fashion (with limited physical presence and extended virtual participation).
AmChamGR's CR Conference will address the changing urban conditions for business and citizens, presenting the opportunities for sustainable and purpose-driven growth towards societal prosperity. Our goal is to challenge conventional wisdom and the current conditions in the urban environment and highlight new trends and insights that advance the agenda of urban resilience and sustainability in the post-pandemic era.
This conference aims at setting the post-pandemic urban scene from a human-centric perspective and at driving policy-changing discussions in an inclusive collaboration among state, city authorities, business, and civil society.
The Citizen Sustain conference will feature four areas of discussion (4 elements of urban life sustainability) that constitute the aspiration of AmChamGR to make a step towards balanced societal growth: Social Resilience, Urban Mobility Transformation, Urban Natural Environment, TechLife & Citizen Interaction.
The discussions will lead to policy objectives that the organizers of the CR Conference will commit to pursue. AmChamGR goes beyond the declarations of intent and commits to contribute to change through its members.
For more information: Angela Boyatzis, 210 699.3559, ext. 21, a.boyatzis@amcham.gr