The latest WIB Committee digital event examined the unprecedented challenges we are facing in the workplace in the post-pandemic world and looked at how we can thrive in the new normal, by learning to adapt and developing new skillsets for growth and wellbeing.
With an ear to the ground and an eye to the future, AmChamGR's Women in Business (WIB) Committee hosted a virtual event dedicated to examining the unprecedented workplace challenges that have arisen, as a result of rapid technology transitions, in the (post-) pandemic era. Titled "Hacking Wellbeing: Pivoting Norms to the New Workplace Reality," the event took place on May 19 and brought together a panel of experts and industry leaders to discuss the need to reinvent wellbeing in the workplace and explore the new skills that need to be adopted in order to turn current challenges into opportunities for growth. Speakers elaborated on the need to revisit our ability to adapt to fluid work contexts, extended working hours, building connection and communication virtually, as well as to revisit our humanity and the ways in which we make sense of this world and create solutions, highlighting one of the key elements to preserving wellbeing in the workplace: the ability to sustain strong relationships and have a balanced life beyond work.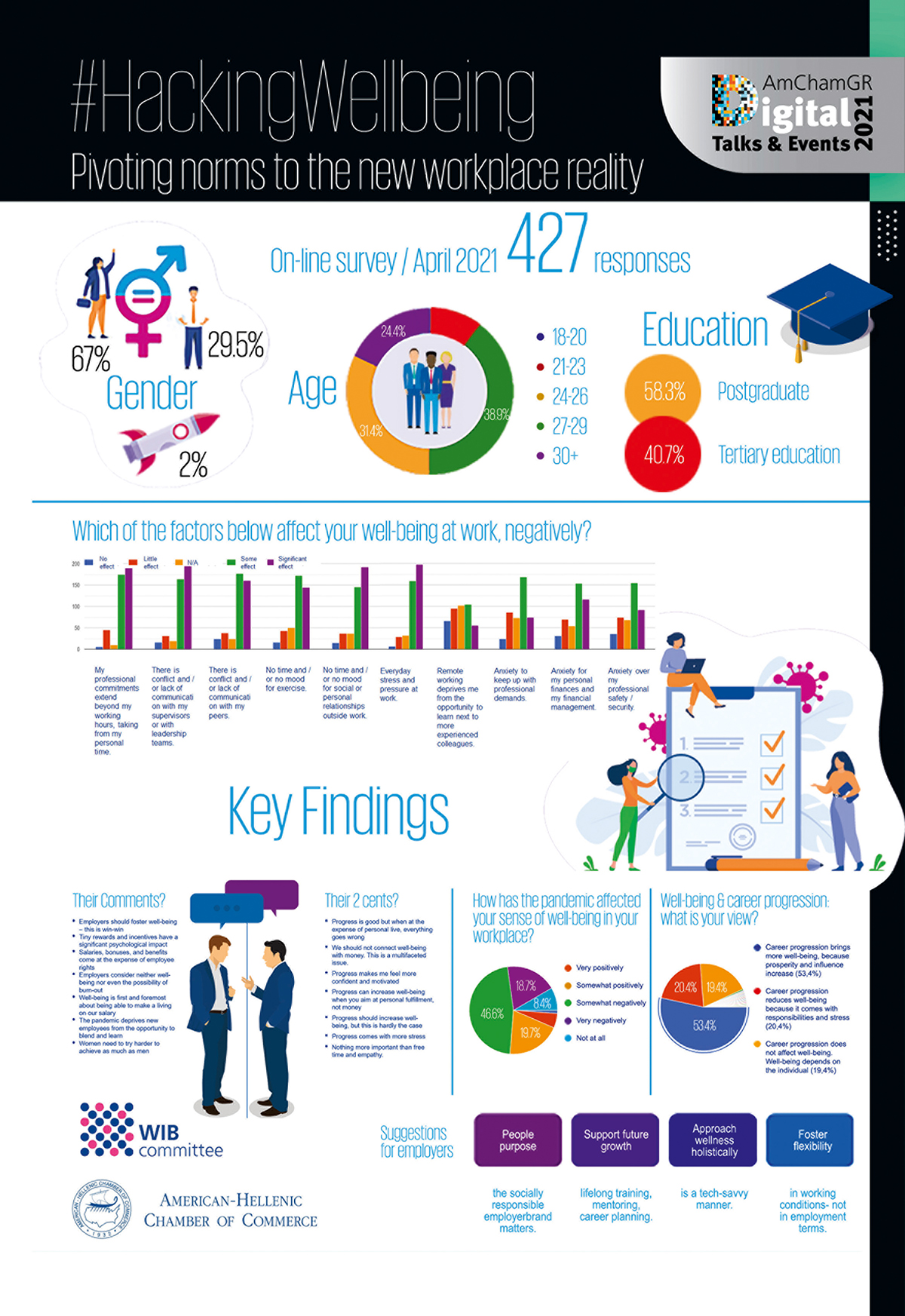 Employee Wellbeing at the Heart of a Human-Centric Productivity Model
Myladie Stoumbou, Chair, WIB Committee, American-Hellenic Chamber of Commerce
Today, after more than a year of pandemic crisis, many analysts are discussing that mental and physical exhaustion, the so-called burnout, will be the next health crisis. Wellbeing has become a universal requirement for employees, while organizations gradually focus on the topic as well. The intensification of work, the expectation that through technology tools employees will be always available and productive, the challenges to combine work from home and private life, the stress created by uncertainty and the challenging economic environment, dramatically increase pressure and anxiety among employees. Although research shows that women are more impacted than men, today wellbeing is a demand for everyone. At the same time, organizations recognize that employees' wellbeing and mental health are important to their success and sustainability, not only because it brings increased productivity and business outcomes, but mostly because it connects work to a larger purpose for employees and positively strengthens their relationship with the company.
Wellbeing is a top priority today, because it helps workers not only feel their best but also perform at their best and because it fosters a greater sense of belonging overall.
We in the Women in Business Committee believe that in the new norm the working environment must promote wellbeing, protect the balance between work and personal life, respect the human need for rest, and most importantly promote a new, human-centric productive model.
---
Wellbeing at Work Is a Matter of Self-Leadership
Agnes Mariakaki, Psychologist & Managing Director, MindSearch
Work-life balance is greatly challenged by the acceleration of remote work models and by the accelerated use of technology. New, expanded work demands come to the fore, and we will need to be the guardians of our humanity and wellbeing. Taking care of our own needs will be an act of self-leadership that will require new learning and new adjustments. What can we do today, as an expression of our self-leadership, to guard our wellness at work?
Have a voice: In the post-pandemic world, we will need to learn how to be expressive and assertive not only about fulfilling our work goals but also about fulfilling our need for life balance and inner calm.
Drop the shame: There is a permeating culture where seeking work-life balance is marred by shame because it is equated with weak ambition and weak personal goals. Growth and achievement at work need to be redefined and linked with the ability to also take care of one's wellness needs.
Be both flexible and inflexible: Flexibility at work is the new requirement. Adaptability and resilience are the new radical soft skills. Yet being inflexible when it comes to overlooking personal wellness is also an important skill that must be learned and practiced.
Take charge of your renewal: part of what will constitute wellbeing in the post-pandemic world will be the ability to wind down, to have needed breaks, to engage in focused mindfulness, to seek a balance between work and personal goals, and to renew through peer mutual support, team encouragement.
The ability to guard one's wellness at work needs to become one of the critical, emerging soft skills that will disrupt employee productivity, in the coming years.
---
Professional, Mental and Physical Wellbeing: An Emerging Challenge for the New Generation
Peggy Velliotou, Partner, Consulting, KPMG
The findings from the WIB Committee survey clearly show the changes that employers, companies and team leaders need to plan and implement to lead to a new balance that seems to be rather imperative. The successful course of the modern leader, according to research by KPMG, dictates characteristics such as empathy, humility and resilience.
At the same time, KPMG research shows that changes in organizations can be summarized in three pillars. The first concerns the way teams are run today, the second relates to adapting to corporate processes and operating models, and the third is inextricably linked to wellbeing, at work and beyond. The changes brought by the pandemic have come to stay, and at the same time, they should serve the arrival of the new generation in the labor market. In particular, the pillar of wellbeing according to the same research includes professional wellbeing, physical wellbeing, and mental wellbeing.
All three factors are equally important. Working conditions at home, the use of technology, training opportunities, career development, coaching and mentoring programs, and the importance of emotional intelligence as a priority in employee characteristics compose a new reality. This reality is coming fast and is extremely interesting, opening new horizons at work.
---
The Pandemic Creates New Opportunities for Positive Change
Arianna Huffington, Founder and CEO, Thrive Global
The pandemic gave us the opportunity to create a new reality, where we will say goodbye to the working day, we will not work 24/7 and we will be able to sleep well and connect with friends and family. Women will not have to choose between success at work and their role at home. The pandemic showed that the results of each company are linked to the wellbeing of its employees. The winners in the future will be the companies that will include this condition in their culture. Although the pandemic has hit women hardest, they are the ones who have the most important tools to rebuild a new quality culture that will be based on collaborations, creativity, empathy, integration.
---
Be a Force for Digital Inclusion
Marion McDonald, Wellness Global Practice Lead, Ogilvy
Our mindset about connecting in a virtual work environment is a leadership skill and now much more important to future success. We need to make this skill visible on the screen, and here are some tips: Have a captivating posture of confidence, by sitting up straight. Project your openness, empathy and presence by smiling. Make eye contact with people by looking at the camera. Be interesting to watch by wearing bright, solid colors. Craft your elevator pitch with focus and be a force for inclusion, by making a purposeful effort to invite all voices to speak and hear them equally.
---
Innovating Our Adaptability
Dr. Panos Kordoutis, Professor, Social Psychology in Interpersonal Relations, Panteion University
The pandemic is a new experience, and the unknown often creates passivity, fear, the desire to stick to the well-trodden past and to the security of what is familiar. Yet, the familiar is no more there, and we miss its comfort. We will need to find a way to renew the way we adapt to change and to what shifts in our lives. It is "sharing" that increases the sense of normalcy. Sharing allows us to borrow from the experiences of others, to explore in new ways, and then our ability to find new solutions increases. The narratives of others inspire our own resources and we become better able to mobilize ourselves.
---
The Ability to Detox from Technology Will Aid Its Optimal Use
Dr. Alexis Papazoglou, Author, Producer and Host, The Philosopher & The News
Today, technologies largely determine the pace of our lives via the internet, in a hyperconnected world of smartphones and screens. We do not have control, and I think to some extent the creators of these technologies do not have it either. Technology has its own character, which is imposed on us in a way that makes us see the world in the light defined by its nature, pace, and rhythm. And when it comes to preparing for the future and creating positive work environments, we will not only need to think about people, teams, collaboration, but also about the need to ensure that we create time and space that does not depend on technology and reinforces our sense of humanity.
---
Wellness Is a Survival Skill
Andreas Vouros, Managing Director, Thrive Global Greece and Romania
In a period of heightened uncertainty where VUCA—volatility, uncertainty, complexity, ambiguity—is part of our new normal, it is time to turn to nature and take lessons from organisms that survive and thrive. These organisms are the ones that show adaptability, creativity and endurance. The basis for all this is wellness. To achieve these characteristics in an organization, we must take care of the wellbeing of each cell that constitutes it, that is, its teams and employees.
---
We Work Better When We Feel Purposeful and Balanced
Marianna Skylakaki, Editor-in-Chief, αθηΝΕΑ
The past period has broken a number of taboos in relation to how we work. The aim is to apply these lessons with an open mind, with a disposition to use technology well, with an emphasis on quality of life and work. We work better when we feel good, that is, when feeling focused, purposeful, balanced, and complete.
---
Youth, Wellbeing and the Workplace
Research by AmChamGR's Women In Business (WIB) Committee
Dr. Georgia-Zozeta Miliopoulou, Assistant Professor, The American College of Greece
They are young, educated, full of dreams. They have been working for almost a decade. millennials are climbing the ladder amidst the crisis and the pandemic. How do they experience their first steps? How do they feel about progress, wellbeing and success? What do they expect of their employers?
STRESS ∙ BURNOUT ∙ OVERTIME
Millennials cherish wellbeing, acknowledging it is hard to claim in the workplace, mostly because of stress (83.84%), long hours (74.5%), tense relationships with colleagues (84%) and supervisors (79%), as well as lack of free time for themselves or their loved ones (74.5%). The lockdown has impacted wellbeing at work, preventing youth from mingling and learning from their older colleagues (72%). Beyond working hours, however, young people believe they claim wellbeing much more effectively (73%).
WHAT LIES AHEAD
More than 50% of respondents believe that career progression increases wellbeing by increasing income and influence, while 20% believe career progression reduces wellbeing as it comes with stress and responsibilities. A further 19% believe that career progression does not affect wellbeing.
BEING WELL MEANS BEING WELL-OFF TOO
Respondents acknowledge that wellbeing is about more than money but point out that their current remuneration hardly allows them to create their own household and family. Still, they invest in their careers because they believe in personal growth not just in raises or promotions. They dedicate time and effort to their work and their future, even though stress heavily impacts their everyday life.
THE GREATEST REWARDS ARE NOT FINANCIAL
83% of respondents said they need more support from their organizational leaders. They do not believe that employers respond to the signs of times nor that they realize how much employee wellbeing benefits the entire organization.
Most of all, according to our respondents, employers do not understand how much younger people appreciate intangible incentives, everyday positive reinforcement and opportunities for growth, skill development, lifelong training, or mentoring.
Younger generations always ask for more. This generation does not just ask for more money. Having been raised in a world of constant change, they seek opportunities for professional progression and personal growth. Therefore, employers should invest in lifelong training as well as mentoring or career planning opportunities and must ensure a stable working environment but flexible working schemes.
Today's organizations are the greenhouses fostering tomorrow's leaders. These young people are asking for more incentives, encouragement, opportunity, and growth in a humane yet technologically advanced environment. After all this time of crisis, lockdown and stagnation, it is finally time to admit they are right.