Among the first Greek women to be awarded a Fulbright scholarship, Rita Pipinopoulou-Panourgia embarked on her Fulbright journey right out of high school in 1955, studied in and explored the U.S. and returned to Greece to help others access opportunities and pursue their potential. A bright spirit and extraordinary personality, she talks to Alexandra Loli about the wide-reaching and life-changing impact of the Fulbright Program.
Tell us a bit about your early years. How did you become a Fulbright scholarship grantee?
In the 1950s, for a Greek, and a woman no less, studying in America seemed like a dream. Those were troubled times, after the Second World War and the Greek Civil War in the 1940s which had left indelible marks on the youth of Greece. Not to mention that to get to America back then meant a nine-day voyage by ship. And yet that dream came true for me thanks to the Fulbright Foundation's exchange program. In the 1950s, high school graduates could also apply to the program, as well as university graduates. Having excelled in my class at the Larissa High School for Girls, I sat the English Language Competition. I remember we were 500 candidates from all over Greece at Athens College in Psyhiko, where the exam took place, and only 30 were selected. I was among the lucky ones.
What was it like for you in the United States?
My experience in America was unique and truly life changing. I attended the University of Kansas at Lawrence in the Midwest, and this allowed me to discover a part of the USA I would never have known otherwise. In our eyes back then, America was New York.
Back then America was the land of miracles
But I discovered firsthand that very interesting and diametrically different people live in the vast states of the East and the West, North and South. I had the opportunity to extend my stay for a few months and travel. During every holiday, I traveled. I drove all around the country and I spent the summer in California. Adapting was not at all difficult. Back then America was the land of miracles. For me, coming from Greece, the technology they used in their everyday lives was mind-boggling. They had automatic washers and dryers. They used detergent in powder form. The girls wore stockings that didn't have to be mended! But then, there was also the segregation.
Can you share some of your experiences during the scholarship program?
At the Univerisity of Kansas, I took journalism courses, and countless times, especially when it came to international events, I monopolized the debate in class as my American classmates were not as aware of current events from around the globe. They were always interested in learning about my experience from the war. It was impossible for them to comprehend the drama of young children being kidnapped or that I had experienced hiding in shelters and the disastrous famine in Athens.
My participation in the Fulbright Foundation's exchange program did not only benefit me through my studies or the experience of living in a different culture but also by opening new horizons that influenced me in my later years.
What about when you returned to Greece?
Returning to Greece, I lived for a few years in Larissa, always staying in touch with the Fulbright Foundation and the U.S. Embassy's cultural department and participating when I was needed to help organize activities in my area, lectures, recitals or University of Michigan foreign language exams. In the early 1960s, I took a job as a secretary at the Fulbright Foundation in Athens.
But then your life took an unexpected turn.
It was during the military dictatorship. By then, I was working at the Fulbright Foundation as a translator and liaison between the Foundation, the British Council and the Universities of Athens and Thessaloniki. The English language and literature departments of the Greek universities were newly established, and there were no Greek professors who could teach English, so it was mainly British and American Fulbrighters who taught these programs. I worked closely with the American teachers. In the early 1970s I was arrested by the military police. No warrant was ever issued and they never told me what the charges were. I was held in solitary confinement before being exiled for a year on the island of Kythera. My arrest was immediately announced by foreign news agencies—the BBC, Deutsche Welle, the New York Times, the Herald Tribune and many more.
Senator Fulbright's name has been documented as a noun, meaning friendship and mutual understanding
Senator Fulbright was chairman of the Senate Foreign Affairs Committee and had repeatedly spoken out against the totalitarian regime. His support was immediate and such an honor for me. He protested my detention and exile along with the U.S. ambassador in Athens. My American friends from the Fulbright Program also asked to visit me in my place of exile. They were not allowed to do that. But four of them managed to say goodbye before they went back to America. I was only allowed for a few hours with a special permit and escort to meet with them in the town of Neapoli, in Laconia, opposite Kythera. It was an unforgettable experience that still fills me with excitement and joy.
Did you ever meet Senator Fulbright?
I personally met the Senator in 1978, four years after the end of the dictatorship. I will never forget the reception that my husband, P. Panourgias, and I held for him that year when he came to Athens to celebrate the 30th anniversary of Fulbright Greece. Our guests included members of the government and parliament and many members of the resistance known to the Senator since the junta. Senator Fulbright and I kept in touch through regular correspondence up to his death in 1995.
You have served both as a staff member of Fulbright Greece and later on as President of the Greek Fulbright Alumni Association. What was your role after the 1970s? What has the Fulbright Program meant to you?
I worked at the Fulbright Foundation until 1974, when I was transferred to the U.S. Embassy's educational department. I worked with the Library of Congress for Greek publications for nearly 20 years and traveled to Washington DC numerous times in that capacity. Until I retired from my active duties to tend to my family, Fulbright was my second home.
Many people's names have become famous throughout history for their ideas, achievements and works. Senator Fulbright's name is an exception; it has been documented as a noun, meaning friendship and mutual understanding. Mine has truly been a life full of Fulbright.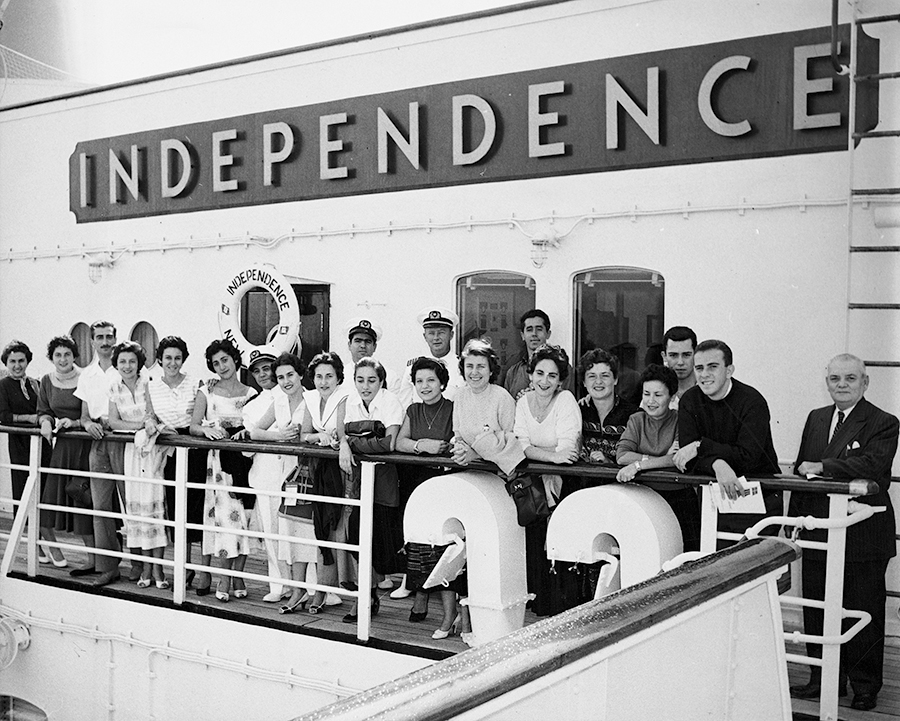 1955, Fulbright students arriving in New York on the Independence. Pipinopoulou-Panourgia Archives