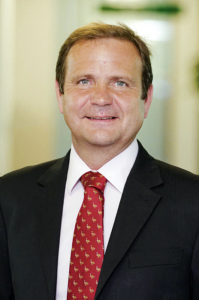 Andrew Sutherland, Senior Vice President Business Development – Technology License and Systems at Oracle, talks to Business Partners about the key role of cloud computing at the epicenter of digital transformation.

Are business customers maximizing the opportunities with cloud?
No. Not yet. However, more and more businesses are discovering that by moving their digital business to the cloud, they can not only save money but also free up skills and resources for business innovation. Considering that less than 10% of computing workloads have migrated to cloud, it is clear that businesses have considerable room for growth. At Oracle, we have designed our cloud infrastructure offerings based on innovative, next-generation architecture exactly to meet enterprise-grade computing requirements.
What makes Oracle's cloud computing services stand out?
Oracle has been building cloud applications from the ground up for over a decade. We are now building a second-generation infrastructure footprint with a new data center every 23 days. This is possible due to our second-generation cloud infrastructure delivering highly optimized region deployment technologies. It includes an open, interoperable cloud environment, making it easier for enterprises to move to the cloud with in-built security and to mitigate threats with improved automation. Our truly integrated infrastructure is what enables our analytics to integrate with applications. Oracle is the only vendor with a complete stack of cloud offerings, enterprise grade infrastructure and a rich portfolio of PaaS and SaaS solutions that all work together.
The best way forward for businesses is a multi-cloud strategy that incorporates flexibility, innovation and effectiveness
What is the best way forward for businesses?
A multi-cloud strategy that incorporates flexibility, innovation and effectiveness. It gives customers the option of having multiple cloud vendors and control over their own technology environment without compromising security. It also allows them to take advantage of innovation, for example collaborating with one cloud vendor to make use of its AI capabilities and with another to implement an IoT strategy. Finally, having different vendors' clouds that work together can help customers take advantage of their greatest asset: data. They can take data from each and combine it to get a complete view of their operations to drive efficiencies.
Can you tell us a bit about Oracle's Autonomous Database?
In order to achieve innovation, customers should use the right data in the right way. With its breakthrough machine learning capabilities, the Oracle Autonomous Database is a self-driving, self-healing, self-learning autonomous database that is used by cloud customers to see new ways of getting more value from secure data in less time. It allows customers to automate insights and manual tasks while reducing costs associated with breach and risk. The Autonomous Database redefines data management and security and allows customers to move from administering technology to using it as an innovation tool by shifting resources to higher value tasks.
What does all this mean for Greece?
We are seeing more and more enterprise customers show an active interest in or even plan their transition to cloud, with Oracle's Cloud at Customer often being the first destination for large and critical enterprise workloads. Throughout this digital transformation, we will strongly support our Greek customers as they transform themselves at their own pace and according to their own needs.