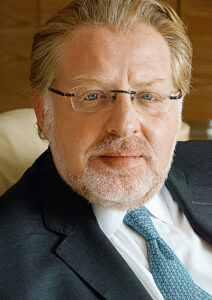 At Demo, successful entrepreneurship is not just about growth and financial results—it is also a matter of social responsibility and sustainable development. Putting action to words, in 2020 Demo allocated over €1 million to support the Greek National Health System, NGOs and employees.

Committed to contributing positively to the community, society and the environment, through its program titled "It's OUR responsibility," Demo is undertaking a number of initiatives to support vulnerable social groups by ensuring free-of-charge provision of medicines, medical materials and devices to decentralized island primary care units, non-governmental organizations, social pharmacies, and more. The company also recycles huge quantities of plastic and paper while operating its own solid waste management plan, including waste collection, transport and disposal.
2020 was a very difficult and challenging year, and as a result, the core section of our annual social responsibility program has been changed and adapted to address the needs arising at a local and global level.
Demo's CSR plan is based on four pillars: Environment, Ethical Marketing, Employees, and Society
In April, we donated 60 vital signs monitors, worth €260,000, to the country's National Health System in Covid-19 reference hospitals. In addition, as a member of the Panhellenic Union of Pharmaceutical Industries (PEF), Demo was amongst the companies that played a leading role in donating 40 high-tech ICU beds to the NHS.
Demo has taken and continues to take all protective measures imposed by the government for the safety of its workers and has even gone beyond them. It encourages teleworking and has also introduced staggered work shifts, thus increasing the number of coach buses hired to transport its workers, in order to avoid crowding. Thousands of masks have been distributed to its employees, hand sanitizer stations have been created, signs reminding of safety precautions have been put up, plexiglass barriers have been installed between office spaces, and outdoor lunch areas (kiosks) have been created. Furthermore, all employees got free Covid-19 tests from time to time, while their family members were also offered discounted Covid-19 tests. The cost of consumables, tests, transport, and spatial rearrangements in 2020 exceeded €250,000.
In addition, Demo donated medicines, masks, consumables, medical equipment, and fuel as well as laptops and tablets to facilitate remote education, with the items distributed to 14 international and Greek NGOs, prisons, local communities, and the Archdiocese. These donations came to a total of €66,000.
In the summer of 2020, following the deadly explosion in Lebanon, the company immediately responded by donating a wide range of hospital pharmaceutical supplies of a total value of €460,000. The deadly double explosion took place on August 4, at Warehouse 12 in Beirut's port, and was triggered by 2,750 tons of ammonium nitrate. The needs of local residents and medical staff were huge, as over half the city's hospitals were destroyed.
Demo, as one of the leading industries in the production of injectables in Europe since 1965, exports 84% of its annual production, and is internationally recognized as one of the official suppliers of the United Nations, UNICEF, the World Health Organization, Doctors without Borders (MSF), and the International Committee of the Red Cross. Over the years, the company has made humanitarian aid contributions to international organizations working in war zones and has sent pharmaceutical supplies to areas dealing with natural disasters.
Demo's social responsibility plan is based on four pillars: Environment, Ethical Marketing, Employees, and Society with its main focus on children and vulnerable groups.