During this unprecedented crisis, U.S. Ambassador to Greece Geoffrey R. Pyatt addressed a video message to AmChamGR members and community.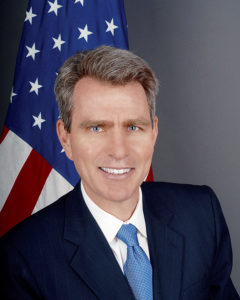 Speaking from the Ambassador's Residence in Athens, in a video message released on April 10, Ambassador Geoffrey R. Pyatt thanked AmCham President Nikolaos Bakatselos and AmCham Executive Director Elias Spirtounias for the opportunity to reach out to the members of the American-Hellenic Chamber of Commerce. Stressing that like all of us, he too is respecting the guidelines and working from home during these challenging times, he praised the Greek government's rapid and effective efforts to flatten the curve:
"I want to start by underlining how impressed we all are by the way in which the Mitsotakis government has attacked the coronavirus problem. Greece has been ahead of the curve consistently; the Prime Minister and his team have taken courageous measures which are producing real results in terms of reducing the lethality of this disease here in Greece. I also want to underline the American commitment to continued leadership as we work together to meet this challenge," he said, going on to add that, "We're going to be in this together. We're going to keep working on it. We're going to get through it."
Ambassador Pyatt noted the quick response of several AmCham member companies that have stepped up to work with the Greek government and offer services and equipment in the fight against COVID-19, highlighting how these contributions are directly supporting hospitals around the country, the Hellenic Coast Guard, as well as the ministries of Education, Interior, and Digital Governance. He particularly praised the efforts of the latter to make the most of the situation by fast tracking Greece's transition to the digital future.
Commenting on the impact of the coronavirus pandemic on the United States, Pyatt underlined the leading role of the U.S. at the forefront of scientific and technological advances and stressed that scientists and technical experts in the United States are hard at work to find a cure and develop solutions that will allow us all to get back to our daily lives. The Ambassador ended his messages with a reiteration of his country's commitment to helping Greece and strengthening the alliance between our two countries.
"I can tell you when we do get back to work, when things return to something more like normal, here at the Embassy, our number one task will be engaging the government in order to relaunch our effort to help Greece accelerate investment, return to economic growth, and build on all of the opportunities that we see here in so many sectors. We're looking forward to that day. I hope it comes sooner rather than later," Pyatt said. "In the meantime, I wish everybody a very kalo pasxa, and please stay safe, stay with your family, stay home, and we'll see you soon here back at the residence garden or someplace else as we work together to build a stronger and even deeper U.S.-Greece alliance."
To hear the whole message, go to: www.amcham.gr/amchamgr-news/us-ambassador-pyatt-addresses-a-message-to-amchamgr-members-and-community/