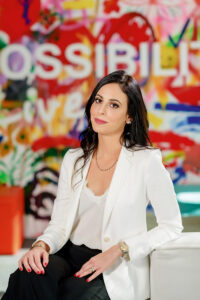 As one of the world's leading biopharma companies, Bristol Myers Squibb (BMS) has been serving its mission to discover, develop and deliver innovative medicines that help patients prevail over serious diseases for over 150 years.
Bristol Myers Squibb (BMS) started its business operations in Greece in 1961 and has since been creating its own legacy in covering unmet medical needs and helping transform patients' lives.
BMS has been increasingly focusing on accelerating development of new, biopharmaceutical therapies. Within this context, BMS proceeded in divesting its global consumer health business and aligned with this strategic decision, BMS Greece has stopped its OTC business. At the same time, the company has been augmenting its internal innovation capabilities through a series of partnerships and acquisitions. In fact, two major acquisitions – Celgene and MyoKardia – which were completed last year, bolstered its portfolio with breakthrough treatments in the core areas of Hematology and Cardiovascular Diseases, respectively.
Today we take pride on our robust portfolio of innovative medicines and our broad R&D pipeline in the major areas of Oncology, Hematology, Cardiovascular, Immunoscience and Fibrosis. But we do not stop there. As a responsible global citizen, BMS is currently leveraging its biopharmaceutical expertise and resources to help tackle the COVID-19 pandemic. Specifically, we have been collaborating with the Rockefeller University, to develop its novel monoclonal antibody treatment that neutralizes the SARS-CoV-2 virus, for treatment or prevention of COVID-19.
How is all that made possible? Innovative science is without doubt the key. In fact, Innovation is one of our core values – but scientific innovation is achieved by people. People who are passionate about creating meaningful change. So, our employees are the true driving force of our achievements. Regardless of gender or cultural differences, we share the same core values – innovation, urgency, integrity, accountability, passion, inclusion – and work together to improve patients' lives. Therefore, our success lies in our inclusive and agile workplace environment, which embraces diversity and empowers employees to meet their full potential.
After all, inclusion is one of our salient values. At BMS, we consider diversity and inclusion in the workplace a priority. Everyone is treated fairly and respectfully, has equal access to opportunities and resources and is encouraged to speak their mind and contribute to the organization's mission. In addition, we understand inclusive culture increases collaboration, builds trust, attracts and retains top talent, enhances innovation and creativity, improves customer satisfaction and allows us to be the best we can be for our patients.
However, what makes truly BMS a human-centered company is that we not only believe our workforce is our greatest competitive advantage, but we walk the talk when it comes to actively building and maintaining an inclusive, empowering and satisfying workplace. In BMS we have in place all kinds of resources such as recruitment guidelines, assessment, monitoring and recognition tools, internal campaigns, celebrations, and information to help not only people managers but all employees learn more about inclusion and how to role model it in their everyday work.
To continue serving our mission, we are committed to developing a workforce capable of discovering and developing innovative medicines for people in need. By fostering a workplace culture that embraces diversity and inclusion, we are doing the best we can for our customers and patients. In fact, I believe a good way to describe BMS, is this: "Innovation is what we do. Our patients is why we do it. Our people is how we achieve it".