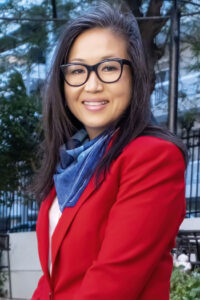 Bringing with her over 13 years of experience, including assignments in Seoul, Baghdad, and Jerusalem, the U.S. Mission to the United Nations in New York City and the Israel and Palestinian Affairs Desk at the State Department in Washington DC, U.S. Consul General Elizabeth K. Lee took up her new appointment in Thessaloniki this August. Here, she talks to Business Partners about joining the Foreign Service, the strong ties between the US and Greece, and Thessaloniki's promise and potential.

Ms. Lee, what drew you to a career in the Foreign Service, and what sparked your interest in the Eastern Mediterranean in particular?
I was the Acting Deputy Director at the Israel and Palestinian Affairs Office in Washington D.C. when Secretary Pompeo was in Israel for the signing of the trilateral mechanism with Israel, Greece, and Cyprus for regional cooperation in a number of areas, including energy. This experience piqued my interest in learning more about regional opportunities to promote and enhance economic security in the region. I sensed that something very significant was afoot. So, when the chance arose for me to become the Consul General in Thessaloniki, I knew that I had to throw my hat in the ring.
As for why I joined the Foreign Service: For me, diplomacy is one of the few careers that merge meaningful public service, the ability to shape U.S. foreign policy, and opportunities for continuous growth and learning. I was a law student when September 11 happened, and many of my law school colleagues who were poised to enter private practice decided to join the military as JAGs or some form of public service instead. I was one of those people who heard the call.
Greece is a critical partner with which the United States shares key strategic goals
I'm very grateful that my career has allowed me to work with some of the most talented, patriotic and dedicated people and to promote key U.S. policy goals abroad, and now to foster even stronger cooperation with Greece and other allies through my role as Consul General.
How do you see Greece's role in the Eastern Mediterranean, particularly given the return of great power competition and rising tensions in the region?
As Secretary Pompeo and Ambassador Pyatt have both said many times, the United States views Greece as a pillar of stability and prosperity in the region. The Secretary's recent visit to Greece underscores the importance of Greece to the United States and the very important role the US sees Greece playing in the Eastern Mediterranean. Greece is a critical partner with which the United States shares key strategic goals.
Secretary Pompeo's visit to Crete demonstrated how much our security cooperation has grown and underscored the importance we place on this cooperation to the region. The military relationship we have with Greece is one of the strongest in Europe, and our defense cooperation continues to expand and grow.
Greece and the United States already have a longstanding close relationship. What are your thoughts on this, particularly in the context of the common values and interests moving forward?
Relations between the United States and Greece are at an all-time high and the outstanding cooperation on many issues—trade, defense, and people-to-people ties—is largely attributable to the close partnership that we share in these areas. In Thessaloniki and northern Greece, US investment interest continues to grow; Pfizer's digital research hub and Cisco's digital transformation and skills center, for example, are just some of the legacies of the US presence at the 2018 Thessaloniki International Fair that continue to strengthen the Greek economy and the ties between our two countries. I'd like to build on these successes to attract even more American investment to Thessaloniki and the north.
There is enormous potential for Thessaloniki to become the technology hub of the Balkans
Meanwhile, I also want to continue to deepen our cultural cooperation. The United States has countless cultural and educational programs throughout the country and our talented Embassy and Consulate public affairs teams are always finding ways to strengthen our ties even further, building on our shared values and interests.
Tell us a bit more about what's happening in Thessaloniki right now and how the US Embassy and Consulate are contributing to this.
There is incredible momentum right now in Thessaloniki that I want to build on. There is enormous potential for Thessaloniki to become the technology hub of the Balkans, and I'll continue working hard with the Embassy to bring more U.S. investment to the city.
But while the tech industry and the knowledge economy are the ways of the future, they are facing a shortage of qualified workers. In the U.S., for instance, while tech job postings are rising rapidly, nearly a third of the most critical roles, such as tech talent, are left unfilled after five months. And on top of that, historically, in the United States, of the students that do pursue computer science and tech, less than a quarter are women.
There is a similar situation here in Greece: Not only is the industry unable to fill jobs, it is also missing out on the incredible talent and creativity women coders and other women tech professionals bring to the table. There's a lot that we can do to fill this gap, and one way is to address this pipeline early on. That's why I'm proud that the Embassy and U.S. Consulate are sponsors of Code Girls, a one-of-a-kind, innovative coding program for Greek girls ages 10-16. These are the girls who will be the top talent of tomorrow that American companies in Greece – and all over the world – will be competing to attract.
I'd also like to highlight TechCamp Thessaloniki, an initiative to increase the participation of women in business in Greece and throughout the region. I had the opportunity to virtually connect with 40 cutting-edge women entrepreneurs from Greece and the Balkans as they build their businesses, and I look forward to meeting many of these extraordinary women in person at next year's TechCamp at TIF2021.
You have been in Thessaloniki for about three months now. What's your first impression of the city you'll be calling home for the coming years.
Thessaloniki is both a beautiful and dynamic city. I'm awestruck by the layers of history that swirl together to form a mosaic of ancient and new: Greek, Roman, Byzantine, Ottoman, and present-day, all side-by-side. But it's also a strikingly modern city with a student population of over 120,000. The well-educated student body and the knowledge and resources that top educational institutions including Aristotle University, the University of Macedonia, Anatolia College, and the American Farm School provide is one of the reasons I'm confident that more and more American companies will be attracted to what the city has to offer.
I would be remiss if I didn't mention the food here. I look forward to tasting more cuisine that's unique to Thessaloniki. For instance, I want to try more Trigona Panoramatos and discover some bougatsatzidika, or patisseries that specialize in bougatsa. I hope that three years is enough time to try all of them!