A new TradeUSA column to provide information, discuss recent developments, and examine key issues of interest to bilateral trade between Greece and the United States, with particular emphasis on exports from Greece to the US and understanding the specific attributes of individual state markets.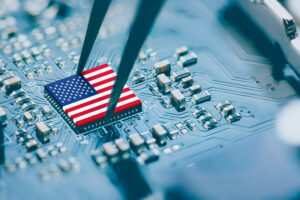 The CHIPS Act 
Semiconductors, or chips, are tiny electronic components that are essential to the economic and national security of the United States. They power our consumer electronics, automobiles, data centers, critical infrastructure, and virtually all military systems, and they are also essential building blocks of the technologies that will shape the future, including AI, biotech, and clean energy.
While the United States remains a global leader in semiconductor R&D and design, it has fallen behind in manufacturing and now holds only 10% of global commercial production. Today, none of the most advanced logic and memory chips—the chips that power computers and smartphones—are manufactured at a commercial scale in the United States.
The CHIPS and Science Act was signed into law by President Biden on August 9, 2022. Among other things, this act provides $52.7 billion in federal funding to revitalize the US semiconductor industry through R&D, manufacturing, and workforce development as well as a 25% investment tax credit for capital expenses for manufacturing of semiconductors and related equipment. This includes $39 billion, administered through the US Department of Commerce CHIPS Program Office, for manufacturing incentives for investments in facilities and equipment in the US; $13.2 billion for developing a robust domestic R&D ecosystem ($11 billion invested through the CHIPS Research and Development Office) and supporting workforce development; and $500 to strengthen global supply chains.
The domestic manufacturing incentives funding is open to applications from semiconductor manufacturers and producers of semiconductor materials and equipment that want to build, renovate, or expand US semiconductor facilities. Foreign organizations may apply, but funds must be utilized in the United States only.
How will businesses benefit from the CHIPS Act?
In addition to strengthening semiconductor production, the CHIPS Act will impact a wide range of industries by:
Revitalizing local economies
With $10 billion earmarked for regional innovation and the establishment of tech hubs around the country, the act is set to have a positive knock-on effect on all businesses.
Securing supply chains gaps
In March 2020, the global economy was disrupted due to the pandemic, and the semiconductor industry reported shortages. By focusing on increasing domestic production, these gaps will be addressed.
Building a strong and diverse workforce
The act will increase funding for STEM programs in schools, colleges and universities, contributing toward the creation of an agile, highly skilled workforce. The act sets aside more than $13.2 billion for R&D initiatives, of which "workforce training" is one.
Manufacturers will benefit from the private-public partnerships between laboratories and classrooms to train the next generation of technicians needed by regional semiconductor companies. Additionally, as the US semiconductor industry grows, companies will need to add logistics and warehouse workers in a variety of roles that are essential to an efficient supply chain.
What are some of the investments so far?
On August 9, 2022, Micron Technology Inc., one of the world's largest semiconductor companies, announced a $40 billion investment in leading-edge memory manufacturing in the United States. Micron expects to begin production in the second half of the decade, ramping overall supply in line with industry demand trends.
On August 8, 2022, Qualcomm and GlobalFoundries announced a partnership that includes $4.2 billion to manufacture chips in an expansion of GlobalFoundries' facility in upstate New York. Qualcomm, the leading fabless semiconductor company in the world, announced plans to increase semiconductor production in the US by up to 50% over the next five years.
In September 2022, Wolfspeed announced it would build the world's largest silicon carbide semiconductor plant in Chatham County, North Carolina. By 2030, the company expects to occupy more than one million square feet of manufacturing space across 445 acres at a cost of $1.3 billion.
Find out more (and access the funding opportunity notice for commercial fabrication facilities) on chips.gov
—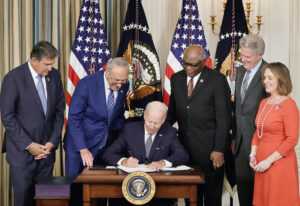 The Inflation Reduction Act
The Inflation Reduction Act is a large legislative package that was signed into law by President Biden on August 16, 2022, which seeks to improve US economic competitiveness, innovation, and industrial productivity by fighting inflation, reducing the deficit, investing in domestic energy production and manufacturing, and reducing carbon emissions by roughly 40% by 2030.
How will the act help small businesses?
The Inflation Reduction Act will help small businesses by:
Reducing their costs
The act will reduce costs for small businesses by maintaining lower healthcare costs, cutting energy costs through tax credits and support for energy-saving investments, and securing supply chain resiliency and price stability.
Expanding Economic Opportunities
The act will support small business growth and the creation of good-paying jobs in communities across the United States by doubling the R&D tax credit for small businesses, boosting US manufacturing and competitiveness, supporting local clean energy economies, expanding rural opportunities, and leveling the playing field through tax code reform.
What are some of the investments so far?
In November 2022, Norwegian FREYR selected and purchased a site in Coweta County, Georgia, for a multiphase Giga America clean battery manufacturing project, kicking off with an initial battery cell production module of approximately 34 GWh at a preliminarily estimated capital investment of $1.7 billion.
In March 2023, German carmaker Volkswagen announced plans to invest at least $7.1 billion in North America and launch 25 new electric vehicles by 2030.
Find out more
Download the Inflation Reduction Act Guidebook from https://www.whitehouse.gov/cleanenergy/inflation-reduction-act-guidebook/ 
Read the fact sheet on how the Inflation Reduction Act will help small businesses on
https://www.whitehouse.gov/briefing-room/statements-releases/2022/09/12/fact-sheet-how-the-inflation-reduction-act-will-help-small-businesses/
—
TradeUSA
The country's exports expert for the US
Established in 2013, TradeUSA is AmCham Greece's international trade department dedicated to informing, supporting and providing guidance to Greek exporters seeking to enter or expand their existing operations in the US market. It organizes events and workshops, provides up-to-date information, and serves as a forum to examine pivotal issues regarding trade between Greece and the United States, monitor developments, recommend actions and initiatives, and develop export expertise.
For more information, contact Georgios-Ilias Belidis, TradeUSA officer, at tradeusa@amcham.gr