In January this year, a group of promising Greek startups took part in CES 2019, the world's foremost gathering place for all those who thrive on the business of consumer technologies.
The ten Greek startups participated as part of the Greek Pavilion, a mission that was organized by the Greek Ministry of Digital Policy, Telecommunications and Media in partnership with the American-Hellenic Chamber of Commerce and Enterprise Greece. The joint initiative aimed to showcase Greek innovation and entrepreneurship and boost the country's thriving startup scene by providing crucial exposure and networking opportunities with top industry representatives from around the world.
CES 2019 took place January 8-11 in Las Vegas, Nevada. Over those four days, more than 4,500 exhibitors from 155 countries and regions showcased cutting-edge tech innovations to an audience of some 180,000 attendees. The event took place across an area of nearly 3 million net square feet of exhibit space at the Las Vegas Convention Center. One of the most-visited exhibit areas of CES 2019 was Eureka Park, a dedicated area for startups, which this year featured over 1,200 new companies from more than 30 countries. Arranged as national pavilions, Eureka Park showcases some of the event's most forward-thinking and out-of-left-field ideas, offering disruptive innovations and attracting major investors and representatives of big name brands.
Representing Greece's burgeoning startup scene, the Greek Pavilion hosted a selection of promising Greek startups: bubbllz, CityCrop, Norbloc, ORamaVR, Oviview, PlantBox, Ridemind, SpotlightPOS, Tekmon, and UoM Robotics. The pavilion was visited by national delegations and attracted the attention of international media representatives as well as global companies and investors.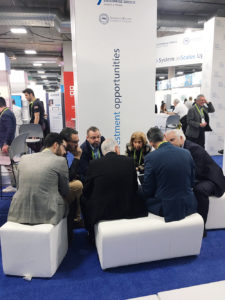 The American-Hellenic Chamber of Commerce is very pleased to have joined forces with the Ministry of Digital Policy, Telecommunications and Media, Enterprise Greece, and the country's startup community to successfully organize the Greek Pavilion at CES 2019, giving promising Greek startup companies the chance to participate in this major international trade show, demonstrate their products and services, meet with other businesses and investors, and explore all the available opportunities. At the same time, our successful presence shone a spotlight on the country's burgeoning and successful startup community, highlighting the positive impact it could have on the Greek economy.
—Elias Spirtounias, Executive Director of the American-Hellenic Chamber of Commerce
Enterprise Greece supports the efforts of talented Greek scientists and entrepreneurs to present their innovative ideas and products at major industry exhibitions such as CES. In addition to the promotion of traditional products and services, as well as of innovative Greek ideas, Enterprise Greece supports the efforts of startups to cooperate with international companies in order to achieve strategic partnerships that will contribute to overall economic growth and to boosting employment.
—Grigoris Stergioulis, President and CEO of Enterprise Greece
Through the successful organization of the Greek mission to CES 2019, the American-Hellenic Chamber of Commerce proved its strong commitment to the integrated support of the Greek startup ecosystem and its clear orientation towards enhancing extroversion and supporting the penetration of innovative entrepreneurship into international markets, with emphasis on that of the United States.
The participating startups had the opportunity to hold B2B meetings with hosted buyers from abroad, discussing their products so as to recommend startup solutions to more organized technology businesses, and gaining valuable insight into the needs of different markets from different countries.
—Litsa Panayotopoulos, Secretary General of the American-Hellenic Chamber of Commerce and Chair of its Education-Innovation-Entrepreneurship (EIE) Committee
"Bringing tomorrow, today for all Greeks." The Greek Ministry of Digital Policy, Telecommunications and Media could not have chosen a motto more to the point. Towards its implementation, there is no better partner than Greek startuppers. Scientists and entrepreneurs at the same time, full of innovative ideas and the will to turn them into projects that will conquer the world! The #DigitalGreece project, an idea by Minister Nikos Pappas, aims to help these young Greeks prove to the world that, given the right support, a Greek startupper can compete at an international level—a fact absolutely obvious to all of us who took part in the first official Greek participation in CES 2019.
—George Christoforidis, Helexpo-TIF Advisor and Head of the "#DigitalGreece powered by the Ministry of Digital Policy Telecommunications and Media" project
CES
CES, the Consumer Electronics Show, has been a showcase of consumer technology innovation since its inauguration in 1967. Over the years, it has emerged as the largest and most influential technology event on the planet. The annual trade show is organized by the Consumer Technology Association (CTA), a technology trade association representing the $398 billion U.S. consumer technology industry. Held every January at the Las Vegas Convention Center in Las Vegas, Nevada, it attracts the world's business leaders and pioneering thinkers to a forum where the industry's most relevant issues are addressed.
Participant Testimonials
CES 2019 has been an outstanding experience that could never have come true without the crucial contribution and huge support of the American-Hellenic Chamber of Commerce, Enterprise Greece and the Ministry of Digital Policy. During the event, we had the opportunity to demonstrate our revolutionary approach that utilizes robotics to aid people with autism spectrum disorder and our breakthrough educational robotics research and applications. In addition, we had the chance to communicate and discuss with remarkable people from the very best tech brands in the world.
— Apostolos Saroglou, UoM Robotics Academy
It was a great honor to present the SpotlightPOS services and the company's newest lifestyle wallet, the Spotfolio application, at this extraordinary conference. It gave us the chance to become part of the future consumer technology trends, and as ambassadors to CES 2019 in Las Vegas, SpotlightPOS wishes to publicly thank the American-Hellenic Chamber of Commerce, the Ministry of Digital Policy, and the Enterprise Greece initiative for this opportunity.
— Margarita Dompa, M.D. SpotlightPOS
CES 2019 was a fantastic experience that helped Ridemind communicate its business to a global network! The American-Hellenic Chamber of Commerce was very supportive and helped us a lot!
— Antonis Karaloulis, Ridemind
It was a great experience to be at the heart of global technology innovation and exhibit with top startups from all over the world. People from the Chamber were the key partners for us and did their best to promote us and help us in any way they could.
— Vasileios Tsipas, PlantBox
We were given the unique opportunity to promote ORamaVR's global innovation among 1,200 startups from 40 countries, in an exhibition attended by more than 180,000 visitors.
— Prof. George, Papagiannakis ORamaVR
The CES 2019 exhibition in Las Vegas was definitely a tremendous experience. The Oviview team received great feedback and gained positive experience, helping us to improve our services but also to create business relationships through networking on the international level. It was a great opportunity, especially since our services seemed to be more than desired and acceptable. Taking part in such events so to promote endogenous entrepreneurship by advertising it at the international level is a very creative action for Greece and the American-Hellenic Chamber of Commerce. Especially for companies such as Oviview, which is now targeting international markets, the trip to the CES 2019 in Las Vegas has been a stepping stone for many more!
— Asterios Kritikos, Oviview
CES 2019 was a great experience. Thanks to AmCham, we participated in the biggest expo and conference for innovation and made contacts that would never have been possible without our presence at CES 2019! All the support we had was at a top level of interest from all members of the AmCham team! Thank you, AmCham!
— Konstantios Batsiolas, bubbllz
Greece's Ambassadors to CES 2019
bubbllz: Users post! Everybody wins!
CityCrop: Grow your own food at home with just a click of a button!
norbloc: The premier blockchain KYC platform
ORamaVR: VR solution for surgical revolution
Oviview: HR Business Tool
PlantBox: Gifts from Nature
Ridemind: Real cars, great value
SpotlightPOS: The new way of cashless living
Tekmon: Automated collaboration for blue-collar teams